10 Best Places To Visit In Canberra, Australia 2023
Canberra is the capital city of Australia and is also its cultural capital. With a plethora of national monuments, museums and galleries, this city will provide the very best to those who want to gather more historical, cultural, social and scientific knowledge. This being a well-planned city, one can enjoy all its facilities in a seamlessly effortless manner. The focal point of Canberra is Lake Burley Griffin, an artificial lake created with great planning and forethought. All institutions and major places of attractions have been built around this Lake. Here in this piece, we will carefully go through the 10 best places to visit in Canberra, Australia. This list of best places to visit in Canberra will arm you with prior specific information about what to expect from these places so that you can pick and choose your destinations in advance according to your taste, inclinations and time.
Read More: Why Canberra Is Such A Great Place To Bring Up Families
1. Tidbinbilla Nature Reserve
Tidbinbilla Nature Reserve is the traditional area of the Ngunnawal tribe. This 54.5 sq km of the protected area is a short distance from Canberra, This nature reserve has a large valley which is steep and has sufficient evidence of Aboriginal use. The Birriagi Rock Shelter and the Bogong Rocks Shelter are the oldest signs of Aboriginal occupation.
Walking trails abound this Nature Reserve. These trails have been designed to cater for various levels of fitness of the visitors and vary from duration lengths of 30 mins to 6 hours. With your family, you can take Congwarra Trail of 4 km walk for an hour. The Trails finishes at Nature Discovery Playground, which is also a picnic area. However, for tough hikers, there is Gibraltar Trail which is 8.2km long and should take about 3 hours to finish. Birrigai Time Trail, Turkey Hill Trail, Xanthorrhoea Loop, Church Rock Heritage Loop and Sanctuary Loop are some of the other popular Trails you could opt for.
2. Lake Burley Griffin
Lake Burley Griffin is the epicentre of activities surrounding Canberra's Capital Hill. Numerous national institutions and public places are situated overlooking this majestic Lake. With a wide range of aquatic and recreational activities that the Lake offers, it can easily be termed as the lifeline of Canberra. Coupled with these activities, the surrounding areas of the Lake are dotted with beautiful parks, splendid cafes and restaurants for outing and refreshments. Lake Burley Griffin is divided into six areas, each earmarked for specific activities in an orderly fashion. East basin is meant for water sports like rowing and windsurfing. West Basin is for triathlon swimming. Central basin is for yachting. West Lake is the largest of them all, where you can hire kayaks. Tarcoola Reach is popular with rowers. Yarramundi Reach is dedicated to rowers with rowing lanes for training and rowing regattas. Lake Burley Griffin has three assigned swimming enclosures at Yarralumla Beach, Weston Park Beach and Black Mountain Beach. With so many activities happening around the Lake, you will not be able to forgive yourself if you miss the action at this pristine location.
Read More: Top 10 Biggest Lakes in Australia
3. Parliament House
The new Parliament House building was inaugurated by Queen Elizabeth II in 1988. It has 4700 rooms, many of which are open to the public. The new Parliament House is the hosting ground for major events and functions of Australia. This building is also used for public and private events, which makes it a unique Parliament House in the world. You can see the stupendous design of the Parliament House upfront and realize that most of the building is buried under Capital Hill, with a massive spire carrying the Australian Flag at the top. It was designed in such a manner that when observed from a distance, it seems to sit above the Old Parliament building. The new Parliament House was initially meant to be open to the public fully, but now some restrictions have been imposed due to the perceived threat of terror attacks. However, about 1 million visitors throng this majestic building year after year. You must make sure to visit this iconic edifice and behold it in all its splendour.
4. Australian War Memorial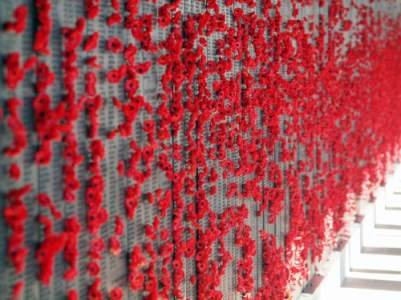 The Australian War Memorial has a shrine, an international standard museum, and an archives section. It also has an elegant sculpture-garden with numerous monuments. It has been built to commemorate all Australian soldiers who have laid down their lives and those who have served Australia in a war zone. Good news is that the entry to this memorial is free. You can choose to take any one of the 30. 60 or 90-minute tours, depending on which specific portion you wish to visit. This war memorial has a direct line of sight when viewed from the Parliament House. The Hall of Memory sits at the heart of the commemorative area, where inside you will find the tomb of the unknown Australian soldier.
The Memorial is a double storied building and the upper storey is entirely dedicated to WWI and WWII. You will find the largest display of Victoria Crosses, anywhere in the world, at the Hall of Valour which occupies the heart of the building. This piece of history is not to be missed at any cost.
Read More: Top 10 Museums to Visit in Australia
5. National Gallery of Australia
National Gallery of Australia, located in Canberra was established as a public art museum for the nation. It holds over 166,000 artworks and is one of the leading art museums of the world. The building was initially conceptualized to be developed on Capital Hill with other national institutions. However, with the decision of the new Parliament building to be located at Capital Hill, the Gallery building site was chosen beside Lake Burley Griffin. This was part of a plan to include this building in the Parliamentary Triangle, comprising of Parliament House, National Gallery of Australia and National Library of Australia. With the vision of inspiring the citizens of Australia, the National Gallery of Australia has a gigantic collection of artwork which includes Australian Art, Western Art, Eastern Art, Modern Art, Pacific Art, International and Australian Photography, International Crafts and a Sculpture Garden. Come visit this extensive and exquisite collection of art at the National Gallery of Australia, Canberra.
Read More: What are the Best Places to visit as Backpackers in Australia?
6. National Library of Australia
As the largest reference library of the country, the National Library of Australia is responsible for developing and sustaining a collection of library material connected to Australia and its people, and also of the world. The Library has a collection of over 6,500,000 printed items and 2,500,000 manuscript documents. It has mushroomed into the nation's most vital resource of materials of Australian cultural heritage. It forms part of the Parliamentary Triangle of buildings. This building has various reading rooms. Main Reading Room with internet access is on the ground floor. The first floor comprises of Special Collections Reading Room and the third floor has Asian Collections Reading Room. With a massive collection of reading the material in all formats, be it books, websites, music, pictures, maps, photographs, manuscript papers and oral history recordings, National Library of Australia is ranked amongst the foremost libraries of the world. You may judge the scale of its operations by paying a visit to this gigantic Library.
Read More: 10 Most Beautiful Australian Islands for a Perfect Holiday
7. National Zoo and Aquarium
National Zoo and Aquarium, is the only composite zoo with an aquarium in Australia. It has the largest contingent of lions and tigers in Australia, which is the biggest attraction for this zoo. Apart from various Australian species, the zoo has inducted species from all across the world. The zoo administration makes sure that there is plenty for every visitor to get involved in the wonderful experience of interacting with the animals. As per your choice, you can indulge in being the Keeper of the Day or be part of specially designed interactive tours like ZOO Venture Tour, Walk on the Wild Side, Meet a Cheetah and many more out-of-the-world experiences. If you are fond of exotic Australian animals, you will find little penguins, western grey kangaroos, emu, koalas and wombat. And if you revel in watching the large cats then you can meet up with Royal Bengal tigers, white lions, cheetahs, African lions, Sumatran tigers and snow leopards to name a few. You will not be able to detach yourself from the zoo if you are an animal lover. That's a promise!
Read More: Top 10 Most Dangerous Animals in Australia
8. Telstra Tower
Commonly known as the Black Mountain Tower, Telstra Tower derives its name from its owner- Telstra Corporation. It is a communication and look-out tower which offers a 360 deg panoramic view of the entire city of Canberra and its surroundings. It is the most imposing structure that you will encounter as you enter the capital city, with its 195-metre high structure above the mountain summit. Telstra tower provides communication to Canberra and all-round observation from an indoor observation post and dual open platforms. It also allows visitors to refresh themselves in a Cafe and take home souvenirs from a Gift Shop situated inside the tower.
Telstra Tower dominates the Canberra skyline with its gigantic structure. It attracts more than six million tourists annually. Take time off in Canberra to go up to the open observation platforms of the tower to witness the sheer beauty of the panoramic view of Canberra and its countryside.
Read More: Top 10 Stunning Australian Waterfalls
9. The National Dinosaur Museum
The National Dinosaur Museum is situated in Gold Creek village in Australian Capital Territory. It is a unique museum which exhibits the evolution of life on earth, with special emphasis on the era of Dinosaurs on this planet. The museum started functioning in 1993 and has continuously improved itself with its earth science and dinosaur centric displays. Today the museum draws more than one hundred thousand visitors on an annual basis. This tells the tale of the rising popularity of the museum. It is next to heaven for children and those inquisitive enough to scientifically know about the evolutionary journey on earth in general, and the rise and fall of dinosaurs in particular.
The museum has 12 animatronics dinosaurs and an impressive collection of a replica of dinosaur models, right down to their sizes. If you have an urge to keep up-to-date with the most recent discoveries in geological sciences and dinosaurs, this is the place to head to. You could even buy a piece of meteorite from the Gift Shop of the museum, amongst a variety of other curios.
Read More: Top 10 Museums to Visit in Australia
10. Australian National Botanic Gardens
The Australian National Botanic Gardens, located in Canberra, have the biggest scientific gathering of native plants of Australia. The treasure chest of these gardens has over 6200 species of plant with over 70000 individual plants. Sourcing of most of the plants is done from the wild. The gardens carry out relentless scientific research to generate and preserve diversified botanical resources. The gardens are also active in cultivating native plants which are under threat of survival in the wild. National botanic gardens are laid out in a rather systematic manner in which thematic sections have been created. Grouping of plants is done based on these themes. These groupings can be ecological as existing in nature or could be according to their common taxonomy. Take, for example, Sydney Region plants found in Sydney basin, Rock Garden plants occurring in the desert to the alpine region, and Rainforest Gully plants occurring in rainforests of the country. The natural splendour displayed in these Gardens must not be missed at any cost. Do take time off to visit this beautiful place.
Read More: Top 10 Gardens to Visit in Australia
Conclusion
Lake Burley Griffin is the centrepiece of activities in Canberra. It gives Canberra the edge to attract visitors and hook them up with wonderful and riveting experiences in various captivating tourist attractions. Everything a visitor would require to make a perfect holiday is at the offer in and around Canberra. This list of places to visit in Canberra, Australia has been carefully crafted to suit the needs and taste of every visitor. Do soak in the information and promptly make your choice of best places to visit in Canberra.
References
Also See : Top 10 Things to do in Wollongong NSW