Facebook Page Creation Step by Step
Step by Step Procedure to Create an Account in Facebook
Facebook Page Creation – Explored within this article will be the creation of a Facebook page from start to finish. Upon completion of this page you should be able to confidently set up a new page. Facebook pages allow you to express your business needs, your band, artwork and community features.  While social media can reach the entire world, having a great land page will ensure you stand out from the crowd.
Facebook Page Creation – Getting Started
Firstly click the home button, upon completion on the left hand side you should see "Pages", under the heading Explore.
Facebook Page Creation – Create Page
To begin the page creation select the Create Page in the top right of the screen, you can see this highlighted in yellow in the image below.
Facebook Page Creation – Selection of page
Congratulations you can now select the page that best suits your needs, in this case, we will be offering a community service.  Take time to explore what area best suits your needs and be sure to read the FB complete terms and conditions to avoid being in violation that can result in page closure. See terms and conditions here – FB PAGE TERMS.
Facebook Page Creation – Picking a title.
For the purpose of this page, the detailed article will behold in Australia Unwrapped. The page will offer information to Facebook users, and if they are sufficiently interested in your page, will lead to a click onto your provided link and website. Think Search Engine Optimisation and use a slightly different title from the original posting on the website you will link to. Type your title into the available box.
Facebook Page Creation – Select a Profile Picture
Selection of a profile picture is an essential hook. Remember with a huge amount of data available, you need a hook, appropriate image selection can offer your page the edge it needs to be noticed. Where can you find these awesome images, Pixabay click here. Ensure you use the images on the site and not on their adverts as they advertised images are from a paid service.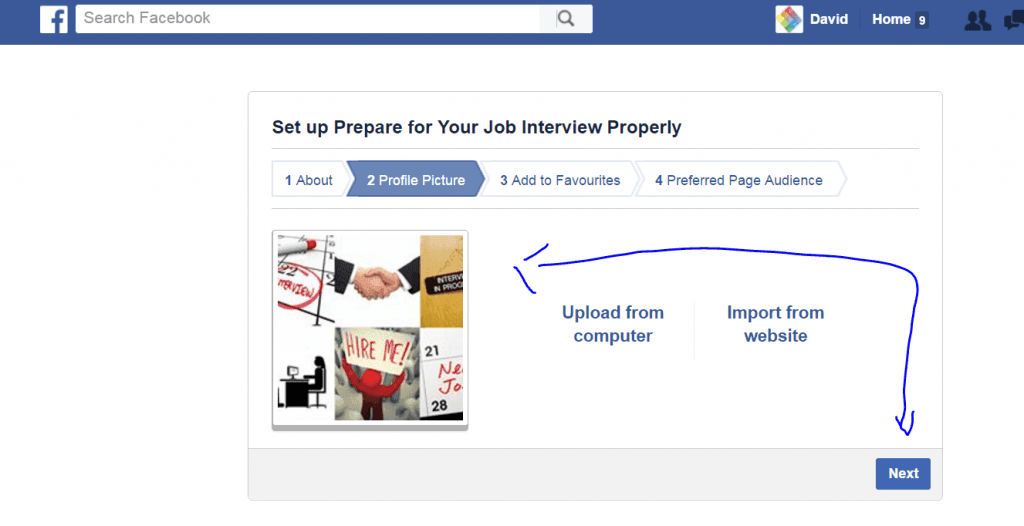 Facebook Page Creation – Add to favourites
I would recommend you add your newly created page to favourites. Adding to favourites enables you to easily and quickly navigate to the page, so you can respond to your comments and questions. Time is money thus the ability to speed check the latest is essential.
Facebook Page Creation – Choosing your Countries
Targeting your Facebook pages to your audience is essential. If you are offering local services then laser pointing your spot will offer great search benefits. However for solid advice that global boundaries know no bounds select some nations you feel our the best fit or indeed leave blank.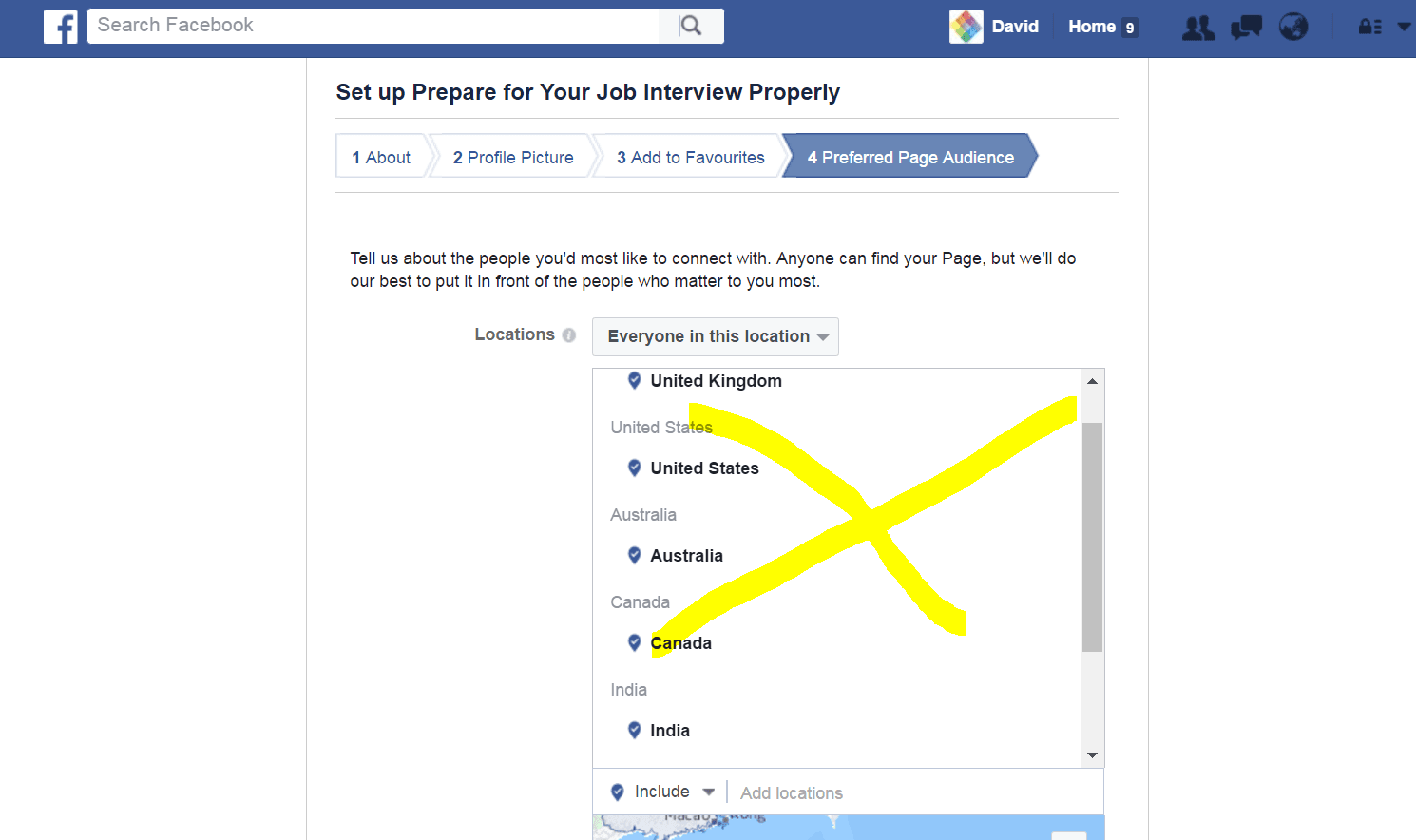 Facebook Page Creation – Selecting the Banner
Banner selection is essential, a huge visual cue as to the service you are offering gives the viewer a clear message. Here clearly this Facebook page will offer assistance to someone who is needing assistance with job interviews. Users can confidently know they are in the right place. Either use a public domain image, or alternatively have a custom banner created for you by a professional.
Facebook Page Creation – Adding a button
Calls to action or buttons offer your users a intimidate interaction portal. Review what is suitable for your needs, for the purpose of this article we will utilise Contact Us. Upon clicking the contact us button the user will be taken to the website and article offering the additional information. Upon entering your required data or link click Add Button.
Facebook Page Creation – Insert article link
Add your articles link and share a brief synopsis of what is entailed in the article. Furthermore it's important to ensure you give good data and enough to interest people. Ultimately you want them to engage with you and your message, be interesting and enticing.
Facebook Page Creation – About the Page
About the page, proper use will increase the ability for your page to be found, complete as many details as possible to ensure maximum visibility and improved user experience. Effective use of this section can make the difference between the page being lost to the internet or success.
Select the available data, and ensure you enter a long description, this should be uniquely worded and on message with your target audience.
Facebook Page Creation – Step by Step
Concluding this article on Facebook Page Creation, through effective Facebook pages, you can boost your website, business, product, brand, band or ideas. I wish you a very successful journey in all that you do and hope my guide to building awesome FB Pages helps.
To get the most out of your business also see:
Write Professional WordPress article's – Exceptional Blogging
Use of Google Adwords for Keyword research
Main Image Source : Pixabay
Also See : Supreme Court Ruling: Parliament must give Article 50 go-ahead
United Kingdom Withdrawal from the European Union Could Take 5 Years