A Traveler's Paradise: The Top Destinations to See in Australia
Planning a trip especially with your family or friends can be daunting. There may be different likes, preferences, and inclinations on where to go, what to do, and what activities to participate in. Luckily, a traveller's paradise exists in the form of the world's smallest continent. Australia has everything that you will want in your dream destination: beautiful natural scenery, historical museums, sacred indigenous sites, wonderful manmade structures, and breathtaking outback. There are so many activities that you can do when you visit the top destinations to see in Australia, from diving to camping and from guided tours to relaxing stays. One visit may not be enough to see all the wonderful sites that this country-continent can offer, but here are ten of the must-see attractions that you shouldn't miss.
1. Great Barrier Reef
Considered as one of the world's Seven Wonders, the Great Barrier Reef stretches over 2,000 kilometres along the coast of Queensland. It is one of the top destinations that should not be missed in Australia. The GBR is the world's largest living structure, the barrier reef system so big that it can be seen from outer space! The natural wonder of the GBR is breathtaking with over hundreds of islands and 3,000 corals. A diver's paradise, there are other activities you can do to enjoy. You can snorkel, visit the underwater viewing stations, get on glass-bottom boats if you want to stay dry while observing the colourful aquatic life, or even rent a helicopter for a tour of the massive structure. With unparalleled marine treasures, the Great Barrier Reef truly lives up to its name and fame.
Read More: The Great Barrier Reef
2. Daintree Rainforest
While in Queensland, take a tour of the Daintry National Park where one of the oldest rainforests of the world exists at more than 100 million years old. Home to the Eastern Kuku Yalanji Aboriginal people, the area holds great spiritual significance to the tribe. In Daintree, the rainforests connect to the reef along the coast, creating this very unique spot where two ecosystems exist. This is a nature lover's dream – thousands of plant species abound the area together with animals like kangaroos, crocodiles, and butterflies. You will be able to appreciate the land more with a Dreamtime tour from one of the indigenous guides. You can even do paddleboarding on the Mossman River then stay in a treehouse at one of the lodges while enjoying the sounds of this ancient forest.
3. Fraser Island
This piece of paradise on earth is the world's largest island that is purely made of sand. With a beach that's over 75 miles long, it's a dream destination for summer-loving travellers. Nature lovers will also revel in the island as it is the only place on earth where rainforests grow on sand. One of the most exciting things that you can do on Fraser Island is to rent a four-wheel-drive vehicle and drive through the beach – which you will share with aeroplanes as there is an airport on the beach! Experience a wild ride on this top Australian spot that should not be missed as you are treated to sand dunes, shipwrecks, and tidal pools. Book your stay in one of the hotels or resorts and spend more time exploring the natural beauty of Fraser Island.
Read More: Top 10 Biggest Mountains in Australia 
4. Great Ocean Road
One of the best destinations to visit in Australia is the Great Ocean Road. Whether you have one day or one week on your vacation, do not miss the chance to take this ultimate road trip. If you are taking a day trip, visit the Port Campbell National Park where you will see the scenic spots like Loch Ard Gorge and Twelve Apostles, the famous towering limestone structures that rise about 45 meters above the ocean. While driving along the coastal drive is a delight, take the Great Ocean Walk to experience the rugged coast. There are routes that you cannot take with a car. Don't rush through the Great Ocean Road since this may be a once in a lifetime experience for you. Take lots of pictures and if you can, go on a helicopter ride as well to fully take it the beauty of this natural wonder.
Read More: Top 10 Australian Road Trips
5. Uluru
This UNESCO World Heritage site is considered sacred by the Anangu people, the Aboriginal group that is the traditional owners of the area. It is prohibited to climb up the rock to show respect to its significance to the Aborigines. The Uluru, formerly known as the Ayers Rock, is an imposing structure of about 348 meters. The reddish rock formation is a popular stop for both local and foreign tourists. There are many lookout spots around the area where you can wait for either the sunrise or sunset. Watching the latter is considered a spiritual experience. The landscape changes its colour once sunlight hits it, leaving visitors in awe. You can choose to walk, cycle, ride a camel, or go on a guided tour to explore the base of the Uluru.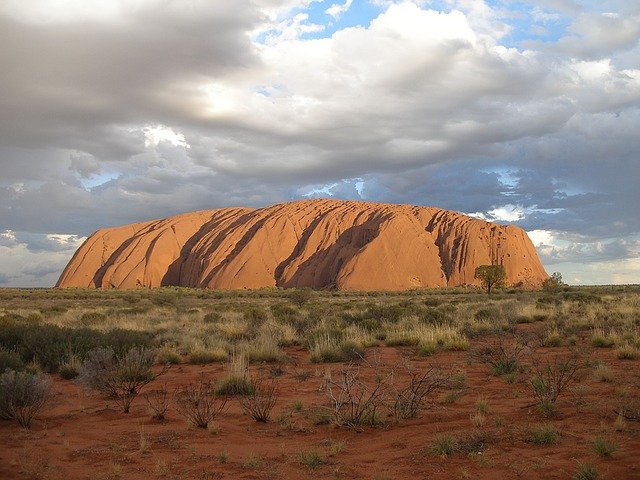 6. Kangaroo Island
If you are looking for the perfect mixture of adventure, wildlife, scenery, and luxury, head to the coast of South Australia and pay Kangaroo Island a visit. It will probably take you a few days to fully experience all the sights and activities that the island can offer. Visit the Remarkables, a sculpture of granite boulders that have shaped for over the last 500 million years, for a spectacular natural view especially at sunset. An array of Australian wild animals can be seen on the island, like kangaroos, koalas, seals, and dolphins. There is also a Birds of Prey centre, a rehabilitation area where you can learn about the continent's indigenous birds. This island is so diverse that you will see landscapes ranging from farmlands to forests to sand dunes and beaches. You can book a safari with the accredited touring companies so you can enjoy your trip without worrying about your accommodation, meals, and itinerary.
7. Barossa Valley
An hour's drive from Adelaide reveals a scenic area that food and wine lovers will surely enjoy. Barossa Valley houses the most famous vineyards of the country. It is becoming one of the top destinations to see in Australia because of the beautiful countryside that you can enjoy through a tour. Take your time in exploring this scenic region as it is home to the most famous vineyards of the country. Hire a car and driver so you will have someone to take you to the loveliest spots in the valley and explain to you the history of the region, all while enjoying the wine offered by some 80 cellar doors and over a hundred wineries since you don't have to worry about driving back! You can even join a make-your-own-wine class, where you will don gowns and work in a lab to make your perfect blend of wine. If food and wine are on top of your Australian tour list, be sure to take time to visit and enjoy Barossa Valley.
Read More: What are the Best Places to visit as Backpackers in Australia?
8. Blue Mountains
Another famous attraction in Australia is the Blue Mountains. Located about 50 kilometres from Sydney, is a perfect family destination. There is something for everyone, from guided walks of the area through the forested valleys, streams, cliffs, and waterfalls, to the just taking in the view of the Three Sisters, to exploring the Jenolan Caves for its show caves and underground rivers, up to the stunning views that you will enjoy when you visit the Blue Mountains Botanic Garden. This heritage area is the perfect place to listen to Dreamtime stories from the local Aborigines who serve as tour guides while admiring the marvellous rock formations and impressive bushland.
9. Rottnest Island
Just a 30-minute ferry ride from Perth brings you to an island paradise that is heaven to marine-loving travellers. This beautiful island is home to over 60 beaches blessed with clear waters, white sand, and rich marine life. Rottnest Island is a top spot for many activities involving water – kayaking, fishing, swimming, snorkelling, and of course diving. You can rent a bike to explore the rest of the island, fondly called "Rotto" by locals, where you might catch a glimpse of quokkas. These cute animals look like small kangaroos, but be ready they are not afraid to jump on humans even if it is to take pictures with their admirers.
10. Sydney Opera House in Circular Quay
The country's iconic landmark is not to be missed when you visit Australia. The Sydney Opera House is one of the most famous structures in the country. You will be able to admire the Opera House when you go to Circular Quay. The Quay is the main transportation hub of the capital, where you will also see the Sydney Harbour Bridge. When the weather permits, you can walk around then rest at one of the outdoor restaurants and cafes lining at the harbour. Since you will be in the commercial business district, it will not be difficult to go around since public transportation is accessible. You can spare an hour or two in exploring the interiors of the Sydney Opera House to admire its unique architecture. Catch one of the shows or events at the Opera House, get your souvenirs from their shops, and take your selfie with the landmark as your background to complete your Australian tour.
Read More: Top 10 Holiday Destinations in Australia
Conclusion
Australia is blessed with both natural and man-made structures that make it a traveller's paradise. Taking a trip to this country can be a combination of many things – an adventure, an educational tour, a relaxing getaway, a luxurious vacation, or a cultural and historic expedition. With so many sights to see, activities to enjoy, cultures to learn, and local cuisine to taste, it is no surprise that Australia has fast become a popular tourist spot. Pack your bags and head to one of the top destinations to see in Australia to enjoy a once-in-a-lifetime experience on this piece of heaven on earth.
Fun Fact
What is famous for Australia?
Australia is world famous for its natural wonders and wide open spaces, its beaches, deserts, "the bush", and "the Outback". Australia is one of the world's most highly urbanised countries; it is well known for the attractions of its large cities such as Sydney, Melbourne, Brisbane, and Perth.
Also See : 7 Australian Actors Who Have Achieved Cult Status in Hollywood
Worst To Best Birthday Presents With Acceptable Prices You Can Buy For Your Kids – Age 8 To 12