Looking for Canberra's Cheapest Laser Eye Treatment?
Get Your Laser Eye Treatment in Canberra At An Affordable Cost
Canberra's Cheapest Laser Eye Treatment – We're sure you do.
No one likes to overspend on expensive services – especially surgeries.
You see, laser eye treatment will set you back a large amount of money. On average, fixing a single eye can cost you $2500.
So you need to pick your ophthalmologists carefully. After all…
It's a Sensitive Surgery – Canberra's Cheapest Laser Eye Treatment?
Laser eye surgery is refractive. Its focus is to eliminate use of glasses and contact lens as much as possible.
Through laser, your cornea is reshaped by a specialist. And this is fundamental to fix a host of eye issues.
For example…
Myopia & Hyperopia
Also known as near-sightedness and far-sightedness.
Both issues are different, but they operate under similar principles. Namely, the light entering your eyes doesn't hit the cornea.
Instead, the light may land in front of your retina (leading to myopia), or behind the retina (leading to hyperopia).
With the first, distant objects appear as blurry. With the second, close objects end up blurry.
Both are dangerous conditions. If left untreated, they could evolve to legal blindness, or inability to carry out daily functions.
For example, inability to see distant objects means you can't drive.
Inability to see close objects means difficulty reading, or using devices.
Corrected with Laser Eye
Again, laser eye surgery reshapes your cornea. Thus, light entering your eyes lands where it should be.
And so it fixes both issues, even though in many cases, myopia and hyperopia are largely genetic.
Deals with Astigmatism
That's another genetic problem whose causes are unclear. But fortunately, this issue can be fixed with laser surgery.
With astigmatism, you suffer from blurred vision. And this is dangerous in a world of bright lights and excess glare.
Undealt with astigmatism can lead to headaches and eyestrain.
Correcting astigmatism with laser eye surgery is a possibility. And it's probably the only long-term solution to this problem.
Didn't Know Laser Eye Surgery Was Excellent…
It is, but it comes with its fair share of risks.
The eyes are a sensitive organ. And risk factors are to be expected, but they're minimal as laser eye technology improves.
Dry Eyes
A common post-surgery problem. It's report by over 90% of laser eye patients.
With dry eyes, the tear ducts fail to make enough moisture. And this leads to a painful dryness, with a constant reddening of the eye.
It's something we all experience in cold windy environments – where the need to blink is quite intense.
Laser surgery has medium-term drying effect on the eyes. And it's an expected result.
The dryness can last from weeks to months depending on the person. But, it can be fixed with prescriptions.
Subconjunctival Hemorrhage
Much rarer than dry eyes, but still common enough. This issues happens post-surgery 10% of the time.
Here, small blood vessels in the eye may rupture, leading to a reddening of the eyeballs. Depending on the severity, only part or all of the eyeball may go red.
While this issue looks scary at first glance, it's quite harmless. It does not affect vision or the eye in any manner.
Treatment here is minimal, where artificial tears may be prescribed for a few days.
Any Other Risks?
Canberra's Cheapest Laser Eye Treatment?
There are, but they happen less than 1% of the time.
This makes laser eye surgery a safe treatment option. While there are issues to deal with after surgery, those are temporary and easy fixed.
But, to minimize any after-surgery complications, you need to look for the best. And below, we have a recommended specialist for you!
Try Sydney Eye Clinic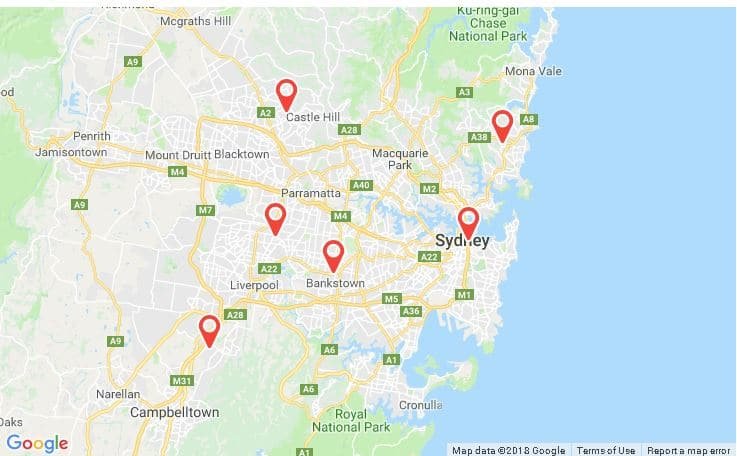 This is a clinic that operates in Sydney. And it's one of the most renowned in Australia.
This clinic is composed of a 5 specialist team, with close to 22 years of experience. And they're true specialists in laser eye surgery.
Not to mention – they're the most affordable.
Their services cost just under $1300 per eye, or ½ the average price of Australian laser surgery.
You can fix your eyes with quality, and on a budget too!
And their clinics offer top-notch customer service. Every client at Sydney Eye Clinic is special, and their problems are handled with the utmost care.
Affordable to All
Canberra's Cheapest Laser Eye Treatment?
Affordability and quality are what you get with Sydney Eye Clinic.
Not to mention free consultations. You get free consultations on Monday, and specifically in Banks Town.
Through a free consultation, you evaluate your need for surgery at no charge.
There's nothing more to wait for. Visit their website, and check out their services now!
Main Image Source : Pixabay
Also See : Looking for Sydney's Most Affordable Laser Eye Treatment?