How to Get a Refund form Hotels.com for Paid for Accommodation
If your like me and you have holidays booked in the near future then it looks very much like you are going to have to cancel your plans. I booked my USA trip in November 2019 and obviously at that time we peasants had no idea COVID-19 was coming, but it's a new reality and I have to deal with it. I like many others booked online with Hotels.com then you will be in an uncomfortable position wondering if and when you should cancel, furthermore if you had a non-refundable policy you are likely, as I am worried your hard-earned money is lost forever.
Read More: Coronavirus 2019 What we know about it. Covid 19 Clinical Features
1. Hotels.com Cancellation for a Refundable Policy
The lucky part of my trip was eligible for a full refund as I had a reservation with a refund policy that covered this. So the cancellation process was as simple as a few clicks.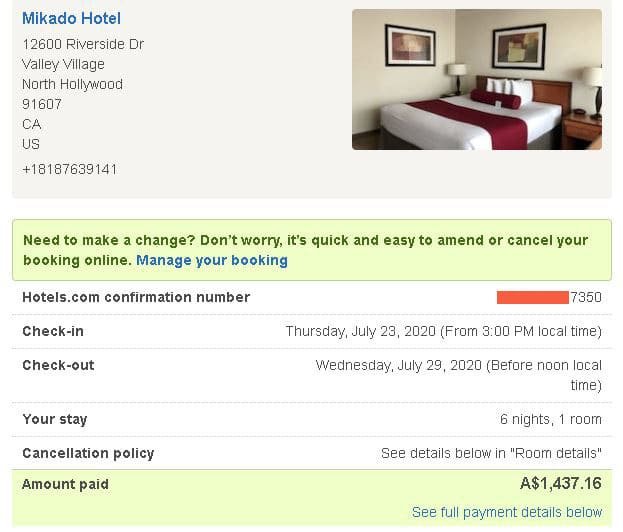 In this case, it takes up to 30 days for the money to be deposited into your account, but hey no better than a kick in the balls. The process was easy to follow and seamless with a confirmation email coming through quickly confirming the cancellation.
So are for the case when a refund policy is in place then everything seems straightforward. I will update the article with the exact time frame for the refund, however in the email an up to 30-day warning was issued.
2. Refunds on Non-Refundable Hotels Not Straight Forward.
When I booked the holiday I intended to go, and I thought to myself if I am stupid enough to break a leg or something then so be it thus saving 200 dollars on the non-refundable room seemed like a winner. Unfortunately, neither I nor Hotels.com saw the coronavirus coming and so I guess one could say I rolled the dice and lost.
I feel it's more complicated than this though, as it's something so far from normal surely special consideration should be taken into account. Anyway here is the process for my Non-Refund.
The start of the process was super simple and it looked like I was going to be able to follow the same process to lead to a refund. Just the click of a button took me directly to:
This looked very positive and I checked both the changed booking and cancel booking policy, however, unfortunately, the news was not great.
I thought not to worry, in this madness, the company will likely still offer a refund, and by July there is about a 0 per cent chance of me being able to go to New York in any way shape or form. So I called the company Hotels.com and following putting in my booking details received an automated message along the lines of…
Your hotel stay is more than 10 days away, we cannot help you, call back nearer the time.
Give or take a few words, thus I am left in total limbo if I will receive a refund from the company Hotels.com. Anyway not to be defeated I called the Hilton Times Square directly and spoke to a delightful lady called Sarah who was extremely helpful polite and apologetic, she informed me that as I booked with Hotels.com and not directly her hands are tied, and I need to go back to the 3rd Party Company I booked through, she said next time book direct and I could have helped you. Qudos to The Hilton the staff member was amazing but ultimately due to factors out of her control unable to help.
3. What's Next for a Refund from Hotels.com
I am not going to get too far into the ethics of all this I booked a non-refundable ticket and I have to wear that I guess. Yet it's still annoying as it's not as if I have any say in the matter, I won't be able to go even if I wanted to as Australia rightly so have a travel ban.
Ultimately though there is still hope:
It looks like Hotels.com is taking positive steps due to the madness that Covid 19 has caused.
For customers who booked a non-refundable rate prior to 19 March 2020 for stays between 20 March 2020 and 30 April 2020, we will email you in the coming days to ask if you wish to keep or cancel your existing booking. If you decide to cancel, you will be eligible for a full refund or, in some cases, a voucher allowing you to rebook the original property at later dates. There is no need to call us, but you must cancel your booking at least 24 hours before check-in in order to be eligible for this offer.
So for now it's a case of sit tight, and it looks like Hotels.com will do the right thing.
4. Hotels.Com COVID-19 (coronavirus) Refund Problems / Get a Refund for Your Non-Refundable Hotel Bookings Conclusion
So far it looks like while it could be a long wait that Hotels.com are going to do the right thing and offer refunds on non-refundable tickets. This is a huge relief to me, as I saved for 5 years for this trip with my wife and kids. My next battle is American Airlines.
Read More from Our Covid 19 Coverage
The Australian Economy in Times of COVID-19: Ideas and Reflections
Baby Booms after COVID-19 Lockdown
Top 10 Tips: Do Not Panic If You Do Not Have Tissue Roll
Also See : Very British Revolution – Post – Brexit Britain
How-to Guide For Book Marketing and Promotion for Self-Published Authors in 2020