Prague – Symbol of Beauty and Witness Of Centuries
Get To Know Prague's Culture and History
If you're into travel… Wait, what? Who isn't into travel? Silly me. However, choosing a destination is kind of hard, especially if you're travelling with a partner. First, you have to decide where you wanna go, then your partner has to do the same, and then you both have to agree on one destination. Because you can't both be in two places at the same time, or can you? Maybe Elon Musk invented some new machine for that, who knows, the guy's a genius. Anyway, to save you the trouble – we'll decide for you. If you still haven't visited Prague, do it now. Especially if you're not from Europe.
Beer and… well, just beer
Prague is considered to be one of the prettiest cities in Europe. It's an ancient capital of Czech Republic, lying on the shores of the river Vltava. The river has 18 impressive bridges if you can imagine. The whole city is "decorated" with hundreds of old-style towers. It has magnificent ponds, lavish fountains, parks, flowers everywhere… You can even get a gondola ride. I mean, it's like some magical land out of this world. But best of all, it's a magical land with magical beer! Some of the best beers in the world are brewed right there. Legend has it – once you start to drink, you can't stop. Some of the most famous brands are Pilsner, Staropramen, Budweiser, Plzen, etc. But you should ignore those you can buy anywhere else in the world and try something new. Try a local beer, such as "Březnický ležák". Having a hard time reading it? Well, relax, so do I. But do not let that stop you from drinking it. If you can't pronounce it, show the bartender a picture! And don't worry, because everything is allowed on vacation. What happens in Prague stays in Prague. So, get drunk and get "magical", friend! And get drunk you shall since the bartender keeps bringing you a new cup of beer as soon as you empty the previous one. Doesn't even asks if you want another. So, maybe you should consider bringing your own beer mug, so the poor guy doesn't have to do so many dishes! However, if you're one of those party breakers, we'll give you a piece of advice on how to avoid this – simply stand up (if you can), give the bartender money and run. Run like the wind!
Fun fact: back in the early days of modern Prague, around 40-50 years ago, some true beer-lovers, used to sit at a table for 24 hours, drinking and not moving. And you know what "not moving" implicates? Right, you guessed it – peeing. But how and where do you pee if you can't stand up to go to the toilet? Well, like every normal person – you open up an umbrella underneath the table and… well, you get the picture. And, the funny thing is that no one considered that embarrassing or inappropriate. Or so the story goes.
Still, though, it's not all vice and man-pig behaviour. There's a lot of beautiful open cafes and gardens all around the city in which you can sit, enjoy the scenery and have a cup of coffee or lemonade. Or beer poured fresh, directly from the tank that came from the brewery that very hour. OK, enough about beer – people well think that Prague is a perfect place for alcoholics.
Rich history, culture and tradition
Actually, Prague is insanely rich with history, amazing culture and tradition. It's mostly built in gothic style. There are centuries-old castles that you can visit, medieval kings palates, gothic buildings, forests, cute little alleys paved with cobblestones and many more.
Also, don't forget to visit "The Old Town", which is the very heart of Prague. This is a medieval settlement of Prague. To go there, all you have to do is walk over the Charles Bridge that connects the new and the old Prague. So, you basically have two beauties in the same region. Dare I call it a threesome?
Charles Bridge
One more thing you absolutely have to visit is Petřín. Again, don't ask me to pronounce it, okay? Anyway, that's a small hill (327 meters) in the very centre of Prague. What more can I say? Get the hell up there and enjoy the breathtaking view.
Looking for something a little more contemporary?
The Dancing Building
For those of you, that sort of like history and culture, but not too much though, don't worry – Prague is a perfect combination of modern and old. It's a place for everyone – a wonderland. And, yes, there are shopping malls.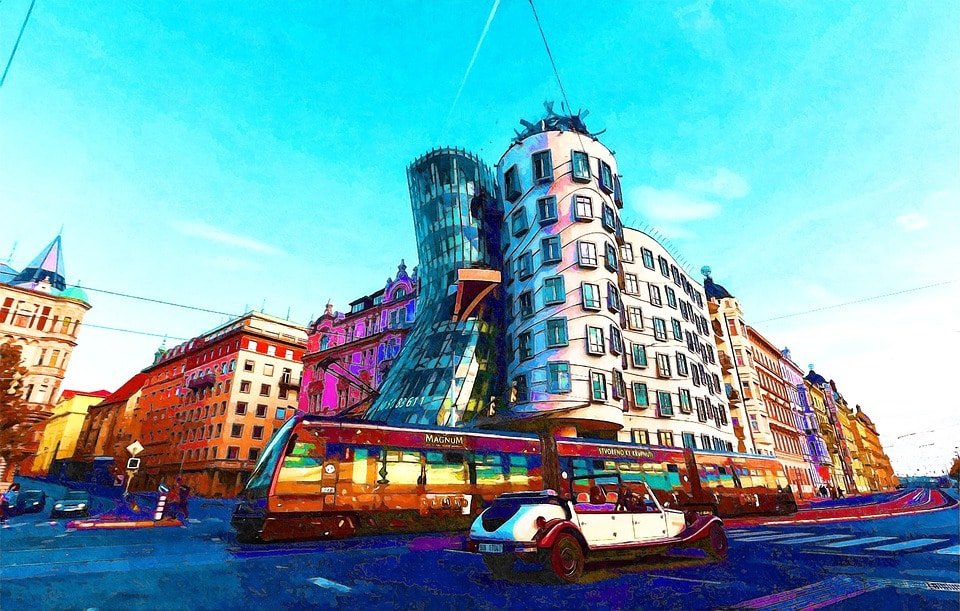 However, before booking your ticket, be sure to make a list of the essential things you must bring with you:
A safe backpack
This one is waterproof and has an anti-theft design. It also has a USB charging port and many other useful little gadgets. Most importantly, it's big enough to fit all those irresistible souvenirs, right?
A selfie stick
Maybe you already have one, but if you don't, you're definitely gonna need it. Prague is not just a place for perfect pictures – it is THE place for perfect pictures. Some might even say it's very, and I mean very Instagram friendly. And no filters, cuz Prague is a filter itself. It makes everyone look beautiful, even if you're wearing sandals over socks.
External phone battery
Since you'll be walking around the city the entire day, taking photos and videos, you're absolutely going to need this. It's compatible with your backpack too.
And now, let me give you a few tips.
Although Prague is a very safe place, understandably you should always take care of your things like you would in any foreign country. This is where the mentioned backpack comes in handy. But all in all, you really have nothing to worry about.
Exchange some money into Czech Koruna (crown) currency while you're still in your home country. Most places accept Euros as well, but it's safer this way. It'll make your life a lot easier.
Remember to buy bottled water to carry around with you. Restaurants can be pretty expensive, although cafes have more or less decent prices.
P.S. You can watch a short promo video of Prague on YouTube, and be even more amazed!
In conclusion, we'll quote Franz Kafka: "Prague never lets you go… this dear little mother has sharp claws."
Main Image Source : Pixabay
Read More:
Australia's 10 Haunted Places That Will Curdle Your Blood