Australia's 10 Haunted Places That Will Curdle Your Blood
These 10 Haunted Places In Australia That Will The Hell Out Of You
Australia's 10 haunted places that will curdle your blood remain an adventure to die for. Australia proved to be a region that makes us awestruck with the beauties; however, it allows us a paranormal experience. A person who finds it thrilling to visit haunted places this opportunity may become a memorable experience for us. Apart from this, they say everyone loves a superb ghost story, especially when it's true, and Australia has many to tell you.
Here are the 10 most haunted places of Australia which will send chills down to your spine.  
1. Monte Cristo Homestead
It reports the Monte Cristo Homestead to be the site where 7 deaths took place in the period of the 1800s. They report it as one of the most haunted places of Australia, or to be specific the most haunted house of Australia. The place has a frightening past which will send chills down your spine. People there either faint got asthma attacks, hear or see unusual things as they murdered a caretaker there, lodged a mentally disabled boy and a boy died by falling off from the stairs. Also, a maid fell from a balcony, the stable boy died from the fire and even the hosts of this house died there. They believed the ghosts seen present the spirits of these people.
2. Curdle Your Blood Experience: Ararat Lunatic Asylum
It is the largest abandoned lunatic asylum in Australia and inaugurated in 1867 for the mentally unstable and incurable patients. This happened during the 1800s. It reports an estimated number of people who died there to be 13,000 during the 140 years of operation. It is perhaps one of the most haunted places in Australia. As the place also contained evil prisoners, so the paranormal experiences people feel here remain terrifying. People feel a bitter taste in the superintendent's ward as he died of suicide consummating a bitter chemical. Hearing the sounds of "People banging heads on the wall" is yet the most terrifying paranormal experience (it can cause you to bang your heads as well).
Read More: 10 Great Places to Stay in Australia
3. Ballarat Gaol
If you are up for a thrilling and terrifying experience, then Ballarat gaol is the place for you. They executed 13 people as it acted as a security prison for people. The place also contains remains of seven people and still kept there. You never know when one gives you a surprise visit. The ghost tours mainly operate at night. Australia's haunted place Ballarat Gaol can make hair erect off your back.
4. Top Haunted Place: Beechworth Lunatic Asylum
This Australia's haunted place marked by the ghost tours of several spirits of departed patients. The sights you will see scare the pants off you. People even smell the rotting flesh and knowing that very few patients came out alive, it will give you the worries. But don't fear; it will only give you an unforgettable experience as a tourist.
5. Australia's Haunted Place: Brisbane City Hall
Well, with all the circulating stories of this Australia's haunted place, you don't want to stay there alone at night. This haunted place has reports of not sparing anyone, as workers died while laying the foundation. The death of maintenance men, lift attendants, American soldiers, and multiple suicide stories have made this place on the list of Australia's most haunted places. The Brisbane city hall gives you a paranormal unforgettable experience.
Read More: Top 10 Remote Places in Australia
6. Curdle Your Blood
Australia's 10 haunted places that will curdle your blood. Let us talk about Dreamworld. The destination makes our dreams haunted and disturb our sleep at night. This theme park became noted as a haunted place since the "Big brother Australia" show. The staff of the production team witnessed a youthful girl and fog appearing late at night. They also heard the voices of a child. The employees of the theme park told about the sightings of another murdered man, Jack Darke.
7. Haunted Places: Macquarie Fields in Australia
Australia's haunted place in Macquarie Fields allows a thrilling and terrifying experience for us late at night. Sobs and cries of a girl many people detect in the southwest of Sydney train station. It happens when all the trains pulled out and it's still at night. The "faint crying" of a girl leaves us puzzled and terrified in the breezes of the Station. The Macquarie field station will give a haunting experience at night and different from other train stations we know of.
8. Fremantle Arts Centre and Prison
Australia's 10 haunted places that will curdle your blood include the Fremantle Arts Centre and Prison. The Fremantle Art centre originally operated as a Psychiatric hospital and one woman visitors note frequently. They admitted the woman because of depression after people kidnapped her daughter; she committed suicide while undergoing the treatment. Apart from these cold spots, sounds of crying, laughter, and yelling became more frequently heard. While 44 executions took place in the Fremantle prison, resulting in the unexplainable occurrences and sightings, making them one of the most haunted places in Australia.
9. Top Australian Haunted Places: North Head Quarantine Station
The frightening part of this Australia's haunted place will test your nerve, whether you are a non-believer or a person finding thrills in ghost stories. Around 500 deaths took place there because of smallpox and Spanish flu. They offer several ghost tours, including a large cemetery to visit.
10. Australia's Haunted Place That Will Curdle Your Blood: Princess Theatre Melbourne
We cannot call it a haunted place because we consider the appearance of Federici in the dress circle during the rehearsals as a good omen. Federici died there while he kept on singing for Federici in Princess Theatre.
Australia's 10 Haunted Places That Will Curdle Your Blood: Conclusion
Australia's 10 haunted places that will curdle your blood offer an energetic opportunity to us. Australia can give you some paranormal experiences as well with the help of some terrifying haunted places with frightening pasts. If you are ready for some thrill in your life, then these haunted places are a must-visit for you.
Also Enjoy: Harriet Evans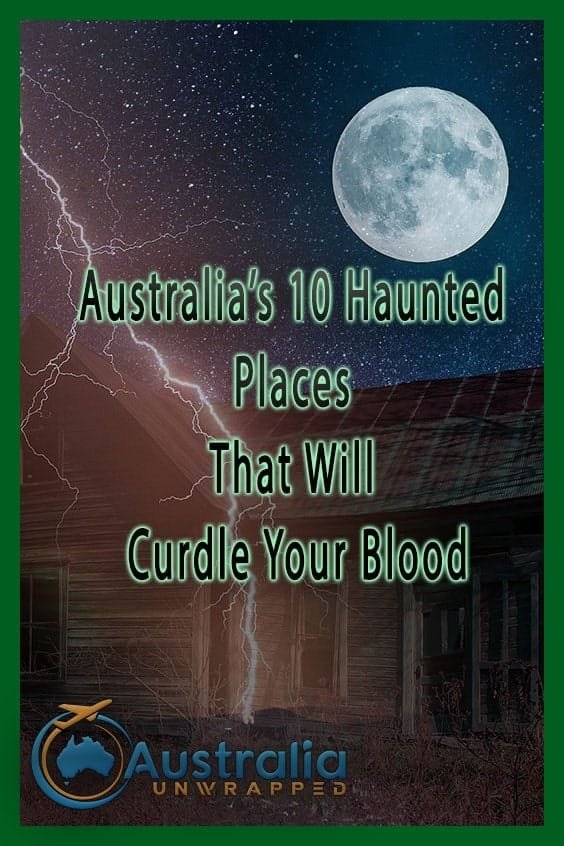 Main Image Source : Pixabay
Also See : Top 10 Air-BNB Recommended Places in Australia in 2020