The Women's National Basketball Association is full of players of different nationalities and it is what makes the games better. Athletes from all around the world that play basketball professionally have set a goal to compete in the WNBA just because it is one of the toughest and most competitive championships for women's basketball.
The WNBA has grown in popularity in the past couple of years and it is without a doubt the most popular professional women's basketball competition in the world. The uncertainty of matches, the competitiveness, and incredible talent have resulted in a huge spike in WNBA viewership. No wonder why this is the ultimate goal for every professional basketball player from all around the world.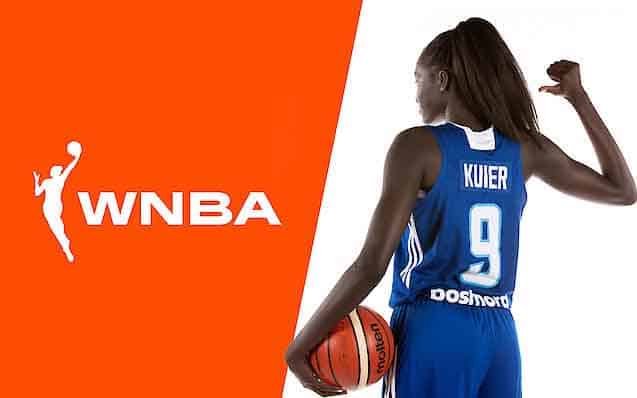 With that said, it is fair to say that the league is dominated by Australian players. In this year's roaster, we have nine Australian players across six organizations.
So, this got us wondering, who are the best 5 Australian players in the WNBA lines? Let's find out.
Liz Cambage
Liz Cambage is a professional Australian basketball player who plays for the Los Angeles Sparks. If we look at her achievements, it is easy to see why she is on the top list of our best Australian basketball players board.
She has played for the Australia national team winning the gold medal in the 2018 Commonwealth Games, Silver in the 2018 World Cup, and Bronze in the 2012 Olympics.
On top of that, she currently holds the WNBA single-game scoring record, after her outstanding performance against the New York Liberty in 2018 where she managed to score 53 points. She also participated in 4 WNBA All-Star events and became the WNBL Champion twice.
So, she is without a doubt one of the best Australian players in the WNBA.
Kristy Wallace
Kristy Wallace is a young player in the WNBA and she still got a chance to prove herself. However, going through her past history playing basketball professionally, we can see that she is an incredibly talented basketball player that will dominate the WNBA in a couple of years.
Kristy Wallace is an Australian basketball player, playing for the Atlanta Dream. At the beginning of her semi-professional career, she played college basketball for Baylor Lady Bears earning the Big 12 All-Freshman team in 2015 and the Big 12 All-Defense Team.
She also represents Australia's national team, and managed to earn Bronze in FIBA Asia Cup in 2021, Gold in Summer Universiade in Taiwan, Bronze in FIBA Under-19 World Championship in 2015, and Gold in FIBA Under-18 Oceania Championship in 2014.
She is one of the youngest players in the WNBA, but extremely talented behind the ball.
Ezi Magbegor
Here we have another young Australian player that is just 23 years old, and one of the most talented athletes in the league. She currently plays for the Melbourne Boomers in the Women's National Basketball League and the Seattle Storm of the Women's National Basketball Association.
She also managed to win the WNBA Championship in the first year after moving to Seattle Storm, and she was named Commissioner's Cup Champion in 2021.
It is great to see young athletes with so much success behind their names in the early stages of their careers.
Sami Whitcomb
Sami Whitcomb is an American-Australian professional basketball player that currently plays for the New York Liberty in the WNBA. She started her semi-professional career playing college basketball for the Washington Huskies, after making a name for herself in Australia playing for the Rockingham Flames in the SBL and Perth Lynx in the WNBL.
After signing with the Seattle Storm, she managed to record three points and three rebounds in under seven minutes. She managed to build a name for herself which is why soon after she signed with New York Liberty. Sami continued with her incredible performance and in one of the last season's games, her second-half three-pointers tied the WNBA record for most three-pointers in a half.
Throughout her professional career, she managed to win two WNBA championships (2018 and 2020) and participated in three WNBA All-Star events.
Erin Phillips
Erin Phillips is the true definition of an athlete. Even though she is now retired, her past results were so impressive that forced us to include her in the list. Erin Philips is an Australian rules footballer playing for the Port Adelaide Football Club in the AFL Women's competition.
However, she managed to create a successful career competing in two different sports, including the WNBA. Throughout her career, she won two WNBA Championships, FIBA World Championship Gold, and Won the AFLW Premiership Player Award three times in a row.
She spent nine seasons playing basketball professionally and switched five different teams throughout her career. She also represented Australia on the women's national basketball team, winning the gold medal in 2006. After finishing her professional career as an athlete she was also a WNBA assistant coach and a radio host.