Check These Top 5 Best Websites to Know Everything About ASX Stocks
The year 2022 was perhaps the most turbulent year for business and economy since 2008-09. Pandemic induced lockdowns, business closures and downsizing have damaged the global economy and the impact on the global economy is still coming. Although the vaccines are being rolled out, it remains to be seen how quickly mass immunisation can be achieved.
The global economic environment is still uncertain and uncertainty is the anathema of business. However big money investors use uncertain conditions to look for suitable areas for investment because every crisis creates some opportunities.
The pandemic for instance has very badly impacted certain sectors like the travel and tourism sector, airlines and education sector, restaurant and hospitality sectors. On the other hand sectors like telecommunication, e-commerce, biotechnology and pharmaceuticals have benefited greatly from the pandemic.
The pandemic has changed or modelled our behaviour which has been very beneficial for these few sectors. Why is this information important? Because these trends and patterns are very important for investors. So for instance investors with foresight would have shifted their investment from the negatively affected sectors to the positively affected sectors.
In this article therefore we are going to look at 5 best websites that can help amateur investors learn about investing in the Australian Stock Exchange (ASX).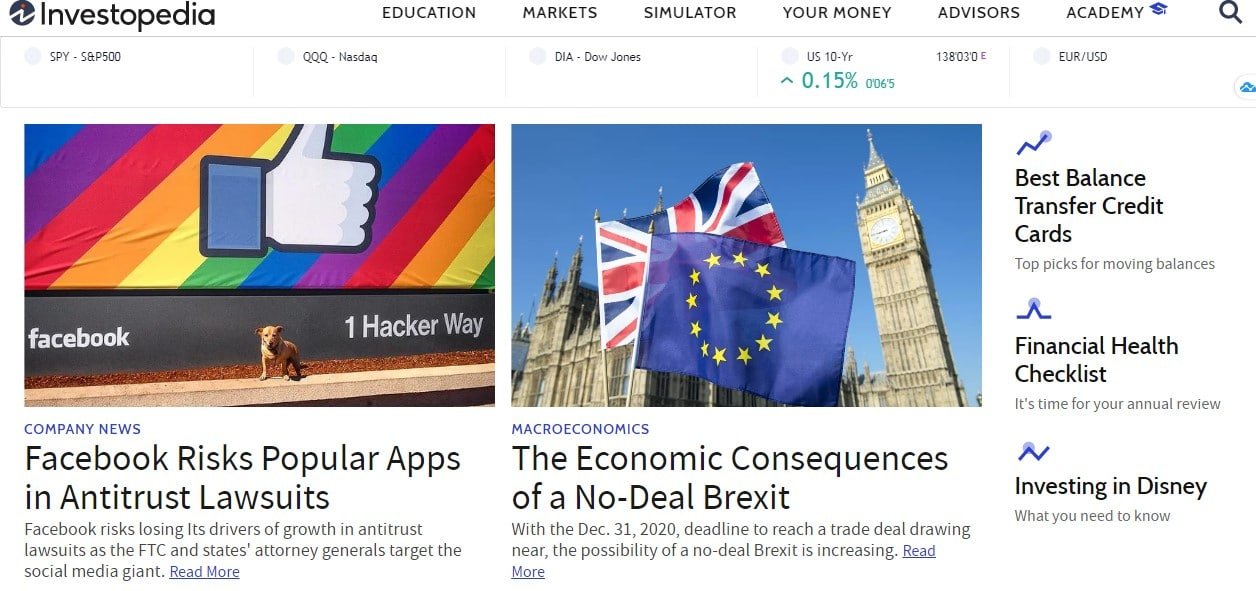 The first recommendation on this list is Investopedia. Why? Because investopedia is a treasure trove of investment related knowledge and advice. Investment requires a lot of information about the market before any decision can be made. This is why it is very important to learn about investment techniques, methods and strategies before one can think about making any sort of investment.
Investopedia contains short to medium length articles about various topics on investment. It will not make one an expert on investment, but it will give you enough information to know what you are doing and then a little further research on your own will help you out.
Investopedia also regularly hosts articles that guide their readers about best investment courses online and other resources that can be used to gain more investment related knowledge. The resources can prove to be invaluable for beginners who are trying to understand how to learn to invest.
The official site of the ASX is also a very important resource for those looking to learn about investment. As mentioned above, Investopedia is like an encyclopedia and you have to know what you are looking for in order to effectively use an encyclopedia.
The courses provided on ASX`s official site are courses that are directed towards investors with varying levels of trading experience. The ASX has courses on
Share trading
Options trading
ETF trading
Bonds
Australian government bonds
These courses are sufficient for a beginner to intermediate level investors. These courses will teach investors about the basics of investing in the above-mentioned securities. These courses will teach investors very important trading strategies.
Also See: How to Find the Next Hot Stock and When to Sell
The moneysmart website is another site that is very helpful in learning about how to invest. It provides comprehensive personal financial management advice, guidelines and instructions.
Investors looking to learn about how to invest in Australia must make use of the resources available on this website because there is a treasure trove of investment related knowledge that is available here. Out of the three sites discussed so far, this one is the best in terms of resources because it focuses on personal financial management which is very important and is a prerequisite before any investor can start to invest in the stock market.
You cannot become a good investor if you are not good at managing your personal finances. Money smart therefore starts by addressing the root cause of the problem and then builds up the knowledge level of the investors to teach them about the basics of investment. Thus as compared to the other two sites, moneysmart has a structural step by step approach.
Ideally one should start off with money smart, then use investopedia to learn more and then use the ASX site to learn about practically investing into the securities.
The live wire markets is a financial news website that has got the latest happening news in the market as well as trading strategies and advice for the investors. Once you have gained the necessary understanding and knowledge by using the last three websites, then you must head on to Livewire markets to know what is actually happening in the markets.
Knowledge and understanding of investment will not help you much if you do not understand the market. An investor needs to know which sectors of the market are worth investing in and which sectors are risky. For instance, as long as the pandemic lasts, any sort of investment into the hospitality and travel sector is going to be a foolish mistake. Whereas pharmaceutical and biotechnology sectors are seeing a lot of funding coming in because investors are taking out investment from other sectors and investing into these sectors.
These are the things that investors can only develop once they know what is happening in the market, for this reason livewire markets is an ideal place to get your market information and insights.
Also See: Top 5 Cannabis Stock in ASX
Small caps is one of the leading websites in Australia when it comes to companies with small capitalization. Therefore investors who are interested in investing into small capitalization companies can head over to Small caps to find out all of the latest news and information about the market.
Our preferred order would be to learn as much knowledge as possible through investopedia, ASX and MoneySmart website and then spend time on the Livewire markets and Small Caps to understand how the markets operate, identify the trends and learn how the markets move up and down, before thinking about investing your savings.
Australia Unwrapped provides only general and not personalised financial advice and in no way has taken your circumstances into account. Investments go up and down; any questions, talk to a financial advisor. This blog is opinion only, and in no way should investment decisions be based on this information.
Australia Unwrapped does not endorse or vouch for the accuracy or authenticity of postings, comments or the article.
Also See: THC -CBD Medicinal Cannabis Could Help Australia Financially
New Zealand Votes On Legalisation Of Cannabis Creating A New Industry