There are multitudes of websites and applications in Australia that can help investors buy shares in the ASX but not all of them are top notch. Some are good sites while others are excellent, meanwhile some sites are simply poor and scam. It is therefore very important to know which site is good for buying shares.
In this article we will go through some of the best investment sites, however, we cannot cover every site or application that is out there. For this reason, we will first go over criteria which you can use to determine whether an online broker is worth it or not.
How to Identify a Good Broker?
Investing into stocks is not a very difficult thing if the investor is aware of the investing strategies and market conditions. At the simplest level the brokers simply allow investors to invest into shares by charging a small commission for each trade. If we keep this simple criteria in mind then the first thing to look for in a good broker are their rates.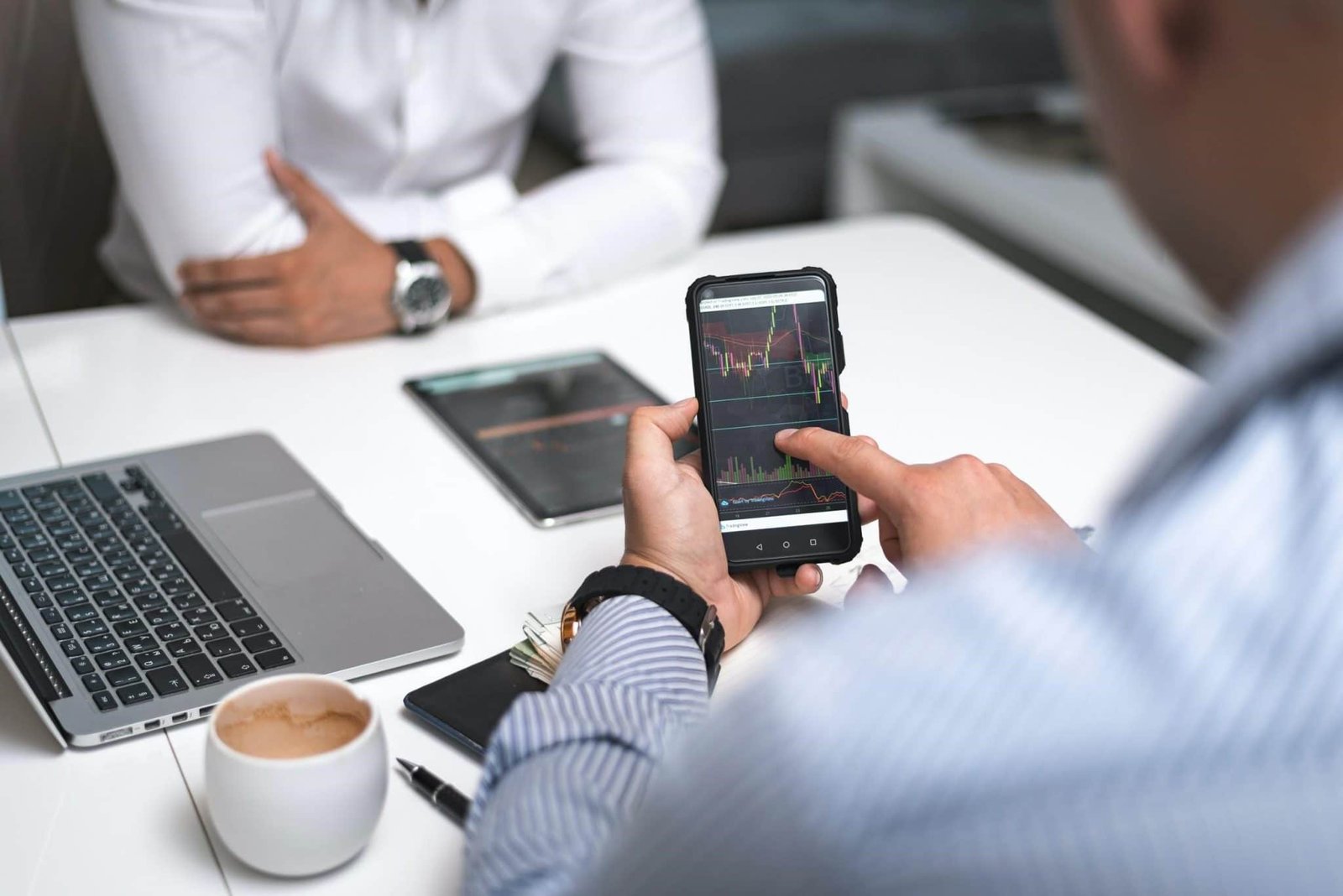 The commission charged by the stock brokers should not be high enough that it takes away a lions share of your trading profit. It should also not be lower than the average commission charged by other brokers in the market.
A high commision simply means that the broker is taking advantage of the investors. On average the commission rates vary between 0.15% to 2.15%. Anything above this would be predatory no matter how many additional services are being offered by the stock broker.
A low commission may hint towards poor services or possible scams. Brokers generate revenue through commission so any broker offering lower than market commissions, must be cutting corners.
The investors are therefore required to carry out their own due diligence before choosing the stock brokers. Have a look at the rates charged by the brokers, look for additional services and discounts. If you are going to trade frequently then look for discounts as the commission on every trade can amount to a lot.
Apart from rates, the investors also need to look at the services being offered by the brokers. As mentioned above, at the bare minimum the brokers allow the investors to simply trade. Such a trader would have a very low rate structure.
Some brokers also offer instructional courses to help investors learn how to invest, some also offer mentorship programs and personalised training lessons. Some traders also offer advanced analysis of the market and trending shares to give their clients that extra edge over other traders in the market. The rate structure will increase with the level of services offered, so this is where the traders have to carry out their due diligence.
Read More: 5 Best Websites to Learn About Investing in The ASX in 2021
Let us now look at 3 of the best trading platforms in Australia.
CMC Markets
The CMC Markets app is the top notch investment application in Australia. It is particularly helpful and useful for beginners because the application is loaded with advice and information about the markets that the beginners can use to increase their understanding of the market. Any investor without prior knowledge of investing into shares can use CMC markets platform to learn about trading.
It can be seen how CMC markets can be used to learn about investing into different assets such as shares, etfs, cryptocurrencies and CFDs etc. CFC markets also allow margin trading, which only experienced investors can handle, as the risk in margin trading is quite high.
Their trading platform also comes loaded with features. As seen below
In addition to this CMC markets also offers in depth analysis and insights of the markets, thereby allowing the investors to have an edge over other investors.
CommSec
CommSec is one of the best online trading platforms available in Australia. It has got educational and instructional videos for beginners and investors who want to brush up on their trading skills. The educational resources are freely available and in addition to this expert analysis and insights are also available for the members, these insights can help investors develop in depth market knowledge that they can use in their trading.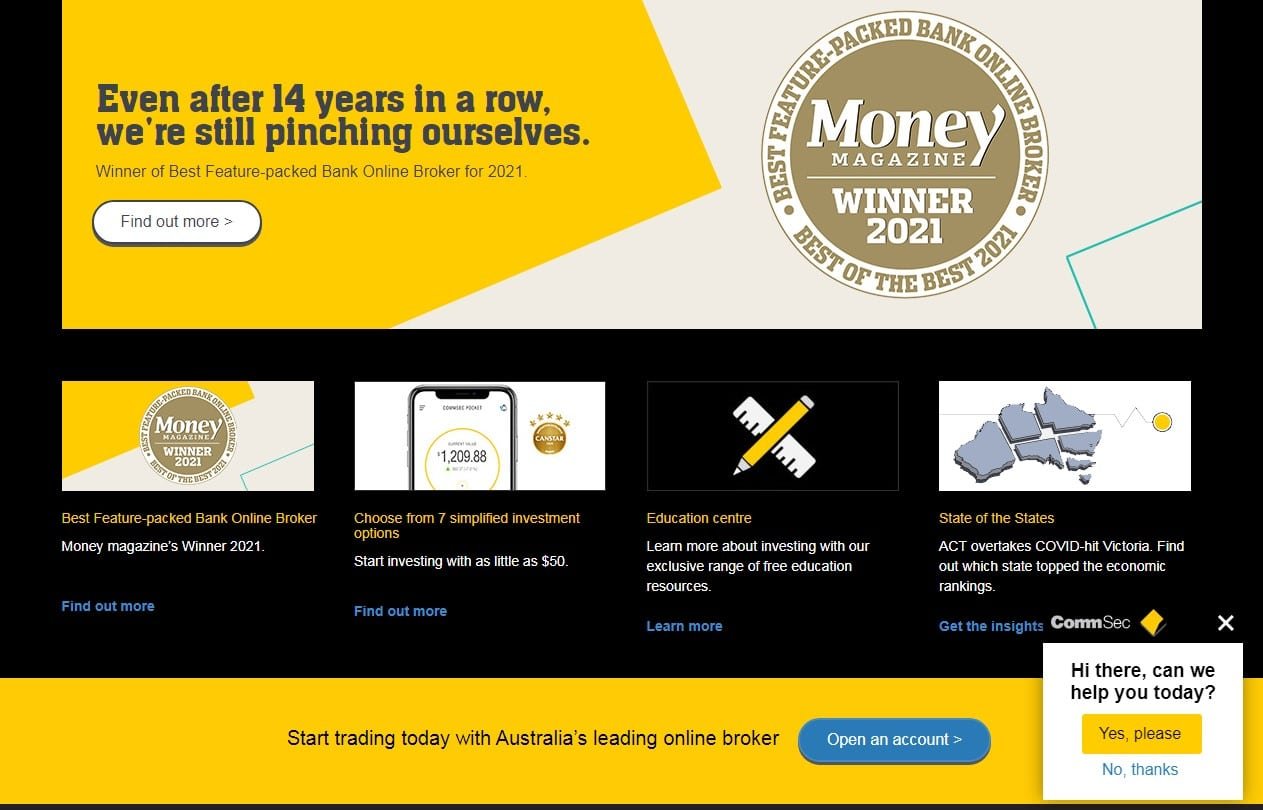 Apart from this CommSec has also got a market news section that has indepth analysis, news and coverage of the market and latest developments that the investors can use to their advantage.
The product offering by CommSec is also quite diverse. CommSec allows the investors to not only share in the ASX but also in the international market. Options, futures and ETFs are also offered as well as fixed income securities for those looking to set up retirement accounts.
Also See: How to Find the Next Hot Stock and When to Sell
IG
If you are an experienced investor looking for an app that provides you with quality service and features without wasting your time with options that are more suited for beginners, then IG is the application you are looking for.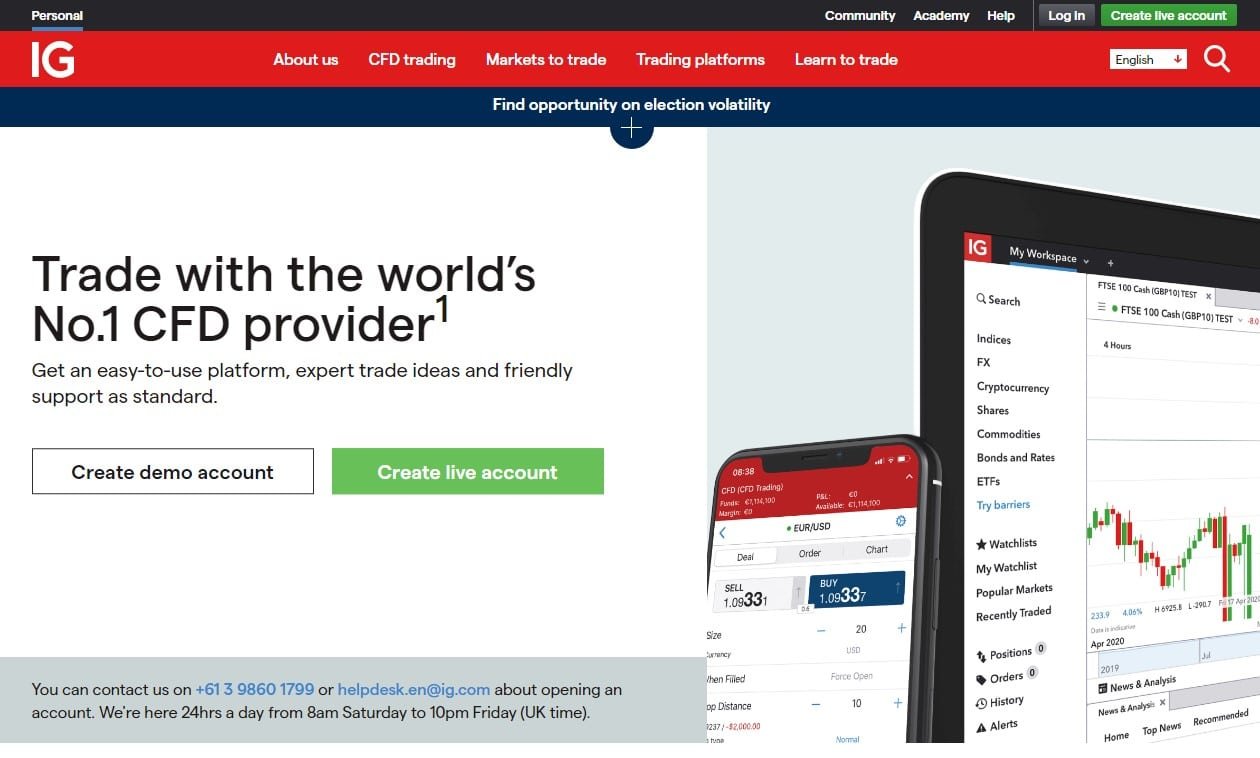 IG is the fully powered trading investment platform aimed at experienced investors. This however does not mean that IG excludes the beginners. There are courses and modules that beginners can also go through in order to learn how to trade but the platform in general is set up in a manner that is more suited for the more experienced investor.
IG gives investors access to over 17000 markets, across the world thereby allowing the investors to diversify their portfolio.
Even the experienced traders can take advantage of the insights and analysis offered by the mentors available on IG. In addition to this IG has got in platform Reuter and Twitter feeds, which keep investors up to date with the latest happenings in the markets in real time.
These were the 3 of the best applications for trading available in Australia. All three of these platforms allow investors to not only invest in Australia but in markets across the globe. Which is good for diversification. All three platforms have extensive educational material for beginners and experienced investors alike.
Also See: Will The Economy in Australia Bounce Back in 2021?