Bottoms Up With The Top Beers of Australia
Whether you are celebrating a family event, partying with friends, rejoicing for a job well done at work, or just winding down after a hard day at the office, a cold glass of beer will surely make everything better. Australians are by no means the largest consumers of beer in the world, but they are no stranger to a good bottle or two of this popular brew. Imported beers have been slowly inching their way into the Australian market in the past years. However, with microbreweries scattered in most major cities in the country, local brands still dominate the market. From ale to lager to stout, here are the top beers of Australia that will surely tickle your taste buds and quench your thirst.
Read More: Top 10 Pubs to Visit in Australia
1. Balter IIPA
Big in size, big in taste – this is what Balter IIPA is. Packaged in a 500ml can with alcohol-by-volume (ABV) of 8.6%, its size is perfect for sharing with your mate. Its light colour, close to being golden amber, gives way to the hoppy and sweet flavour of the brew. The hop flavour is complex, stronger than usual and slightly bitter. The higher alcohol content gives it a delightful finish but balanced with hints of citrus, pine and pineapple. The tangy taste reminds one of a fruit salad, improving its drinkability. Made by Balter which is a relative newcomer in the brewery business since it was only established in 2016, IIPA has been voted as Australia's best beer of 2019. Baltar IIPA is a stand-alone beer but it can also be paired with salty and fatty foods since they can cut through the strength of the drink.
2. Victoria Bitter
Perhaps the most famous beer in Australia, this iconic brand has been using the same advertisement since 1960s – this is the beer for your "hard-earned thirst". Victoria Beer has a long and proud history. The brewery was founded in the 1800s and very little has been changed in its formulation. It has a higher bitterness because it uses the "pride of Ringwood" hops which can be found in Victoria and Tasmania. There is a gentle fruitiness in the aroma that compliments the maltiness. With ABV of 4.9%, it retains its flavour even when it is ice cold. This is thanks partially to the packaging of the beer. The brown bottle actually protects the beer from developing a stale-like flavour when hit by sunlight. Because of this, Victoria Bitter is able to keep its taste fresh and always ready to be enjoyed.
Read More: Top 10 Nighttime Adventures on the Gold Coast
3. XXXX Gold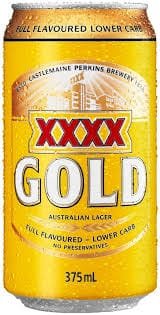 The pride of Brisbane is one of the most popular beers in Australia, XXXX Gold. Pronounced as four-ex, this beer uses golden cluster hops and other fine ingredients like malted barley to achieve its full flavour. The XXXX is a product of another of Australia's brewery with a long history. This Australian lager is considered a middle-strength beer with ABV of 3.5%. The mild bitterness of the beer is complemented by a sweet trace given by the extra malt. Available in different packaging, XXXX also prides itself in being preservative-free, 99.9% sugar-free and with only 1.9% carbohydrates. These will make drinking this refreshing beer truly guilt-free as well.
4. Stone & Wood Pacific Ale
One of the youngest and newest players in the brewery business, Stone & Wood was established in 2008 in Byron Bay. The original idea was to create a village brewery where everyone can enjoy a refreshing drink after the day, and this vision stays until this day. A proudly independent company, the makers of Pacific Ale wanted a drink that is inspired by their community. Using Galaxy hops, barley and wheat, the golden Pacific Ale was born. The middle strength beer with ABV of 4.4% has a fruity aroma, with hints of passion fruit, citrus and tropical fruits. This gives the beer a refreshing finish, perfect for the locals to enjoy in their backyards, or for visitors who drop by and relax by the beaches in town.
Read More: 10 British Reasons to Visit Australia 
5. Hahn Super Dry
If you are still hesitant to drink beer because of the carbohydrate and sugar content plus the calories you will get per serving of this refreshing drink, look no further. Hahn Super Dry is certainly one of the top beers to drink in Australia because of its low carbohydrate content at only 0.7%! It took a long time for the makers of Hahn Super Dry to perfect this drink, but it certainly paid off as it has become one of the top beers of Australia today. The drink is 99.9% sugar-free and also preservative-free. The Hahn Super Dry has a crisp and dry finish, with very light aroma and mild fruit sweetness. The lager has ABV of 4.6%, making it the perfect companion for a night with friends or a relaxing evening at home.
6. Coopers Original Pale Ale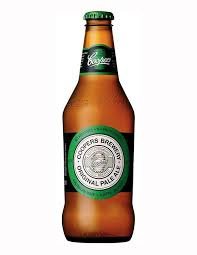 Perhaps the proudest of all of Australia's breweries, Coopers stands tall as an icon of Adelaide. With a long history of over 150 years of brewing experience, Coopers is Australia's oldest brewery that is owned and ran by a family. It has survived numerous challenges, withstanding government changes, wars, market changes and even takeover attempts, but it still stands today being carried on by the Coopers family. At the helm of their numerous line of beers is the Original Pale Ale. The traditional method used at the Cooper brewery gives the Pale Ale a cloudy appearance caused the sediments produced by the brewing method. Pride of Ringwood hops is used in this drink together with malt and yeast that gives way to a crisp and bitter flavour. This middle strength alcohol with 4.5% ABV is balanced by floral and fruity hints, making it a beer that is perfect for all occasions.
Read More: Top 10 Of the Best Rose Wines
7. Cascade Stout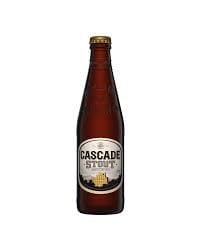 Hailing from the oldest brewery of Australia established in Tasmania, Cascade Stout is made from Pride of Ringwood hops, the unique yeast train developed by the brewery and roasted barley. With ABV of 5.8%, Stout has a smooth body that finishes with a slightly bitter taste. Cascade has a special place in the history of Australian brewing industry because it is the oldest operational brewery in the country. Nothing much has changed except for the adaptation of modern technology. The Stout remains to be a favourite among the Cascade brewers because of its caramel and toffee notes. This makes it the perfect companion to desserts, especially chocolate-based ones that will complement the mocha tones of the beer. It will cut through the decadence of the dessert and allow you to have another bite of your sweet course.
Read More: 10 Great Places to Stay In Australia
8. Tooheys New
The iconic stag on the bottle will remain to be the preferred brand of the locals of New South Wales. Founded in Sydney in the late 1800s by Irish immigrants, Tooheys remains to be dedicated to its vision of serving only the finest beers. Tooheys New is an Australian Lager developed in the early 1930s when ale was the trend among beer drinkers. The hop aroma and the smooth character brought by malt is deemed perfect for the hot weather of Australia. This light and crisp beer with a hint of fruitiness are best paired with meat – from meat pies to juicy grilled beef. With ABV of 4.6%, Tooheys New is preservative-free and 99.9% sugar-free, making it a guilt-free nightcap companion.
Read More: Top 10 Australian Wine to Taste
9. Carlton Draught
Coming from a brewery with a long history of changing names, changing hands and changing brewers, the Carlton Draught still retains the same fresh taste that was first made in the 1800s. This brewery that was established in Victoria decided that lighter beers compared to the heavier ones from Europe are more appropriate for the hot Australian weather. Originally called Carlton Ale, what is now known as Draught is enjoyed both on tap and in a bottle. This beer is known to have a "brewery fresh" taste. A staple at most Australian bars and pubs, it has a mild aroma, clean hop taste and a slightly dry finish. This is perfect for winding down after a day's work, relaxing at a bar or at home.
10. Pirate Life Pale Ale
Completing the list of the best beers that you can get in Australia is the Pirate Life Pale Ale. The Cascade and Mosaic hops play a vital role in the flavour of this beer. The hops provide a darker and deeper character to the drink. The aroma is a mix of herbal and fruity with hints of pine and tropical fruits. Your taste buds will be tickled with the citrusy elements that blend perfectly with the caramel malt and biscuit malt that give it a hint of toasty flavour. With ABV of 5.4%, it is slightly bitter with sweet and dry finish, a definite overall sense pleaser, with its amber colour, fluffy foam, medium body and smooth carbonation that leads to an enjoyable beer experience.
Read More: 10 Most Popular Coffees in Australia
Conclusion
Being one the world's current top tourist destinations, Australia is no stranger to offering its guests a good vacation time. Along with its impressive landscape and exotic flora and fauna, local cuisine offered in numerous restaurants and bistros is best paired with the most famous alcoholic beverage – beer. Both locals and foreigners will have a great time choosing among the top beers of Australia. Brewed locally using only the finest ingredients, a wide variety is available in pubs, bistros and even convenience stores in different sizes for you to choose from. Enjoy the best local beers ice cold in bottles, cans or from the tap and make your celebration more memorable with Australia's finest brews.
Fun Fact
Top 10 Of The Best Beers In Australia
Victoria Bitter, The famous green tin is Australia's most iconic beer. Known as Very Best, Vitamin B and Victory Beer to fans, or a number of less flattering monikers to detractors ('Vomit Bomb', to name one of the less profane options), VB is the classic Australian lager.
Also See : Top 10 Trips By Train In Australia
10 Great Gay-Friendly Must-See Locations go Downunder in Australia