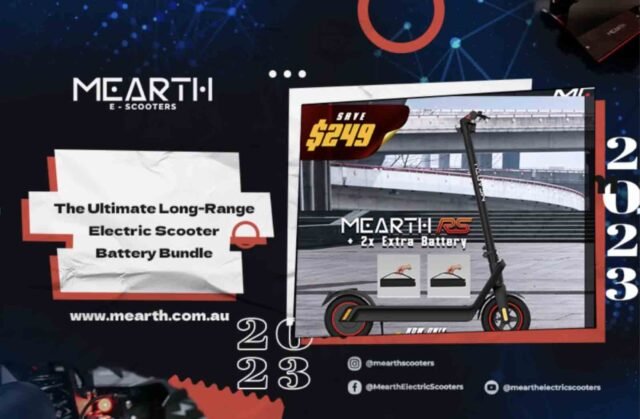 OH WOW! WHATTA BUNDLE OF AWESOME TREATS!
Exclusive to residents of Southern Australia, Australian Capital Territory, Tasmania & Victoria only.
From March 13 to 17, 2023, pay only $2,048 when you buy MEARTH RS, the ultimate long-range electric scooter.
Get duo savings, a whopping $249 discount, that's because you get 2 extra batteries – at no extra charge!
This one-time bundle offer is an exclusive offer from MEARTH, for a limited time only.  
What is MEARTH RS?
Powerful, unrivaled. The MEARTH long-range portable electric scooter is considered the ultimate in its category. It's built with the lightest, strongest metal for a sleek, stylish finish. Guaranteed to indulge your yen for freedom beyond the trails. Desiring to ride out into open spaces? You can safely exceed the 40km limit.  
How the RS long-range electric scooter differs from other brands on the market today is in the motor, range, battery capacity, and price. All these give riders the flexibility to choose MEARTH's RS for exceptional performance at a price that fits the rider's lifestyle.
Easy, one-click folding mechanism for easy carrying. The no-hassle folding structure allows the rider to fold and unfold it easily, quickly, and safely – is convenient to store almost anywhere. The stem locks firmly into place to ensure its stability while riding.
Highly efficient battery and premium motor. The Mearth RS has a highly efficient and concentrated lithium battery that turns kinetic energy (the rider's movement) into electric energy. The battery is safe, durable, and stands the test of time. In addition, this battery also comes with six intelligent protection mechanisms, including short-circuit, over-current, double-over-charge, double-over-discharge, temperature anomaly, and under-voltage. (automatic sleep) protection. What's more, the Mearth RS comes with a 500W high-speed brushless motor, allowing you to power over all types of terrain. 
Three Riding mode options. The three riding modes for different environments help the rider to easily switch between Eco, Sport, and Sport+ with the press of a button.
Large LED Display. The large HR LED screen display lets you access easily all your riding modes, and check your speed, power, and more.
Wear-resistant, water-resistant. Add to that explosion-proof 10-inch pneumatic tires, allowing riders to pass through difficult paths easily. Durable tires provide good shock absorption to improve ride quality.
Durability and stability on the road. The MEARTH RS electric scooter weighs 23 kg and it lets you ride at a top speed of 40 km/h (capped at 25 km/h as per Australian e-scooter law), and offers a max load of 100 kg. It can take on different terrains, such as flat roads, cement, mud, gravel, and uneven paths, and can also ride hills with a climbing angle of up to 25 degrees.
The MEARTH RS has multiple braking systems for extra safety on the road, like front and rear disc brakes, a rear foot brake, an anti-lock electric brake, and a double handgrip brake.
There's more to love about MEARTH RS long-range electric scooter. Its wide, non-slip grip texture deck (18.3cms provide the rider with a more stable and comfortable riding position), buzzers and bells to warn oncoming pedestrians and vehicles, and tough magnesium alloy. 
Take a look at the impressive specs of MEARTH RS:
COLOR        –   Black
MOTOR        –   850W
BATTERY     –   500W Motor, 36V (Max 850W output)
POWER MANAGEMENT –   6 intelligent protection mechanisms, including: short-circuit, over-current,
double-over-charge, double-over-discharge, temperature anomaly and under-voltage
(automatic sleep) protection.
RANGE        –   65km
MAX SPEED   –   25km/h (in line with Australian public safety regulations), up to 40km/h
(on private property)
CHARGING TIME  –   8-9 hours
LIGHTS        –   LED high-brightness front light, rear LED light
DISPLAY     –   HD LED
BRAKES        –   Efficient dual disc brakes
LIGHTS        –   LED High-brightness front light and rear LED taillight
WEIGHT        –   23KG
MAX LOAD     –   100KG
DIMENSIONS     –   Open 111cm x 50cm x 123cm; Folded 111 x 599 x 540cm
CONSTRUCTION   –   Magnesium Alloy
TIRES        –   10″ explosion-proof non-slip rubber tires
INCLINE        –   25 degree grade ability
WATER        –   Water resistant (IPX4)
Hurry now! Go to the nearest retail outlet in your area and avail of MEARTH's FLASH SALE and get a big discount for a limited time on the RS Bundle Deal!
This exclusive FLASH SALE promo from MEARTH is valid from March 13 – 17, 2023 only.
(Note: This promo is not valid in conjunction with any other promos and discounts. Other terms and conditions may apply).