We all have heard at least one ghost story? Terrifying and bone-chilling stories regarding people who have experienced tapping into the spiritual realm—whether through a medium, contact of an apparition, or body possession—ultimately introduce you to either a brand-new fear or already an existing one. You could also recognize other stories adapted into novels, comics, films, television shows, and many media for us, the consumers, to have a taste of such occurrences and the chance to feel the petrifying intensity they have gone through. Most notable films regarding ghosts and haunting events, like The Conjuring, Insidious, Ouija, Paranormal Activity, The Shining, Poltergeist, and other classical horrors, have accurately depicted the world's perception of ghosts.
But for those who have not yet read or watched a single book or film, we should focus on just one specific area of ghost narratives for you to get a better grasp of the subject. So, in this article, the primary source of our information regarding this matter would be Australia. A piece of Australia's urban legends of the supernatural came from haunted locations. We will take an insider look at what were events unfolded within those nerve-racking places famous for their historical sites and their surrounding lore.
Now, let us tackle the top ten ghost stories documented in the history of Australia.
1. Aradale Mental Hospital 
Real spooky stories from people with similar experiences often inspire paranormal films and shows. Those incidents are also conventionally experienced within locations of crowded people. Hospitals with dark histories are among the most viable places for a supernatural occurrence. And the Aradale Mental Asylum's past is no exception.
The residents of Ararat, a rural city in the southwest of Victoria, Australia, initially built this psychiatric settlement to host most of the criminally insane people, or "lunatics," as the doctors would refer them to be. After its first inmates or "patients" settled there in 1865, it soon housed mentally disabled persons as well. It has detained a few of the most infamous criminals, like William (Bill) Wallace and Gary Webb.
While its 130 years of operation were taking place, over 13,000 worth of prisoners, patients, and staff members died here. It has left a grim mark on Australia's history. Most people consider the place the most haunted out of all the others. Reports of sudden nausea, mysterious pain, and fainting were the common occurrences described by the tourists when they visited the asylum. It is like those who have tragically passed away in that establishment were making themselves known in the physical realm. Not to mention, the public reportedly saw ghastly manifestations of Gary Webb and a late nurse called Kerry, who haunts within the Women's Ward section.
2. Adelaide Arcade
When people familiar with horror tales think of a scary event, the idea of a shopping arcade might not cross their minds first. Despite the establishment flamboyantly displayed with its glamorous storefronts, it holds a rather gruesome record in the Australian history of deaths.
Many witnesses have described seeing the famous ghost of the mall's late caretaker, Francis Cluney. According to authorities, Cluney's distorted body got identified in the electrical power system of the arcade. Assumingly, his death was an accident; people suggest it was a murder case. They stationed the Manhattan Dry Cleaners store at the same spot where Cluney died. Based on the staff, paranormal incidents usually happen in that area. Some of the security staff tell stories of witnessing the ghost during their shifts.
3. Young & Jackson Hotel
Hotels always get featured in most horror stories because of murder, rape, kidnapping, and criminal acts that may happen there. It also gets applied to the Young & Jackson Hotel in Melbourne City from the mid-1800s to the present day.
The hotel's haunting events take action outside the main building, on the street surrounded by glamorous lights and advertisement posters. The responses of the hotel's residents regarding the haunting scenarios happening on the street were all the same; a fair lady standing beside a lamppost.
The witnesses often described her as somewhat beautiful, youthful, and adored in late-fashioned clothing. But they all discovered one frightful detail when they first saw her appearance; she had a slit on her neck from ear to ear. Nobody knows the story behind her tragic death, but some say the restless spirit was a murdered prostitute.
Enjoy: Funniest World Records from Bizarre to Insane
4. Kapunda
 Deserted or ghost towns get typically depicted as spiritual settlements for conjured, lost souls in most countries, with isolated places they consider haunted. Kapunda, like the others, is of the same kind. It is most well-known to be the most haunted town in Australia.
The town itself gets considered a place for troubled spirits, but the North Kapunda Hotel was notorious enough to get labeled as the spookiest structure there. It holds many of the usual ghosts appearing within its vicinity, of which the likes of two young girls and a despicable entity fully coated in black. The two little girls notably seen in the hotel seem to protect the staircases from other evil spirits. The man in black was also regularly seen in the hotel harassing and attacking women in a misogynistic manner, who were visitors of the town.
There is also the infamous Dr. Blood, as the locals call it. He got previously seen performing devilish experiments on humans, particularly during his past life. His spirit may just be lingering around the hotel, looking for victims to harass.
5. Old Melbourne Gaol
Jail facilities are also places that can hold some dark lore behind them. From inmate violence to gang police-offenders, prisons somewhat hold reputations for having indoor outbreaks and disputes amongst the detainees. It was famous too for housing one of the most dangerous criminals in Australia, Ned Kelly, a bushranger, gang leader, and convicted police murderer. But the Old Melbourne Gaol digs deeper into its dark history, involving ghosts and malicious spirits.
On a particular note, they considered a cell to be a catalyst for mysterious and violent occurrences. Cell 17 caused malicious actions dealing with inmates within or near that cell. Reports are that most of the supernatural attacks from the jail cell were scratches, bites, and bruises, whose ghosts responsible for these offenses are still unbeknown to them.
Also See: The Seven Deadly Sins in Day-to-Day Life – Catholic list
6. The Princess Theatre
I consider big stadiums in the list of places possible for paranormal activity. But a theatre? Well, that is something new, at least for most horror fans. Albeit the glamour and stylish acting of the actors do within theatres, you would not suspect a supernatural event could take place in such a loud and broad space of the area. But surprises are never late, right?
The Princess Theatre gets considered to be a famous landmark in Melbourne. The location was used for several shows and has retained its good status over the years of its establishment.
The place may get haunted by an actor known as Frederick Federici, who died amid a performance during the 1800s. He seems to wander across the halls of the stadium ever since his passing. Actors who performed before in the theatre said that they sometimes feel a cold touch on their backs, implying that someone unnoticed is with them but with no reported violent intent was done to them.
7. Monte Cristo Homestead
Haunting spirits within manors were usually a trope in horror movies and series when the concept of characters visiting an old establishment is at play. The idea of restless souls just wandering carelessly inside a manor is a good storyline in terms of variety and creativity. So fanatics of such a genre would want to visit the Monte Cristo Homestead.
A local pioneer named Christopher Williams Crawley constructed this late Victorian-style manor in 1885. It was a site for several dreadful incidents, like the death of a stable boy, burned alive, and a maid who fell from the balcony. Until now, many visitors claim sometimes seeing the maid there. The boy appears lurking on the grounds too. Other reports include visitors finding families with three members in the middle of the night, staring blankly at them.
8. Richmond Bridge
In Australia, if one with geographical knowledge about the country thinks of visiting places around it, they would not initially go to Tasmania. You might wonder why. It's because Tasmania got reckoned to be the most haunted place in the country. It holds many titles as well. Not only does the state's Richmond Bridge has the record for the oldest bridge in Australia, but also the most haunted.
Some locals that the spirit of George Glover resides at that bridge, brutally murdered while doing some repairs on that location. An intense feeling of aggression and hate were the usual reactions of some locals from the vengeful soul, with many also reporting that he stalks them whenever they go to see the bridge.
Unwarp more: "Doomsday" Glacier
9. Port Arthur
Ports can also be an inspiration for ghost stories. General ideas like a mysterious ship or boat floating on the waves of foggy weather in a port (or wandering spirits walking across the port's roads and trail ways) are some of the few scenes that were sort of familiar within the concept of horrific tales.
Port Arthur in Tasmania is one of the oldest ports in Australia, with a history of being the original penal colony. Thus, acquiring a reputation for being a haunted place in the state. According to legends, the famous Blue Lady lives in the port, hoping to find her long-lost baby while wandering menacingly.
10. Larundel Mental Asylum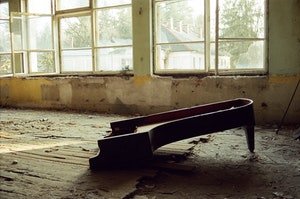 As all collective asylum stories told, they always hold some dark past filled with unreal and bewildering happenings. The same principle applies to the Larundel Mental Asylum. Published documents show that Larundel houses patients with severe mental conditions like psychotic and psychiatric disorders. After the place got demolished, some see it as somewhat akin to the aftermath of the color factory explosion. But of course, that is not all. It keeps terrifying ghost stories as well.
One of the most frightening stories shared about the place was a young girl sometimes glimpsed to be playing a music box that would echo in the long halls of the asylum, sending a chilling tune to almost anyone who hears it.