A Complete Guide to Reddit For Beginners
To all the internet fanatics out there, if you haven't taken the benefits from Reddit yet, then you have wasted the entire time you have ever spent online. Jam-packed with tons of features, Reddit is known as the father of all sites which isn't wrong! This site is ranked the sixth on the top-rated sites in the United States. It contains a huge assortment of discussion forums where you can find all sorts of content covering everything happening in the world. Makes sense? No? Don't worry! Let's get simpler.
So, Reddit is a social website which revolves around sharing, discussing and commenting. It is about sharing everything from news to pictures to links and almost anything you can think of.
This is How it Looks Like:
Seeing it For The First Time?
If you are confused after looking at the above picture then chances are that for the first time you are visualizing world's most wonderful site. Did you get confused after looking at it? It seems like this site is all about posts and boxes just like any other social site. Isn't it?
Well, that is not the case. This website is loaded with the features you cannot ever imagine unless you sign it up and starts exploring the wonders which are hidden in this website.
So, before taking you to the complete guideline of how to sign up and staring using Reddit, let's just understand its core design and jargons.
The Interface
Don't be scared when we say that the interface of Reddit is not friendly at all! For a layman, a lot of time is required to understand it completely. Moreover, it lacks colours and appealing graphics. So, it is much daunting for any mew user to understand it. All you are going to find on this site is "TEXT" and "LOTS OF TEXT"!
But that's the beauty of Reddit, it focuses more on the quality and content rather than on graphics and visuals. You might find it boring initially but as you move on, you will be fascinated by the idea on which this site is developed.
As a Reddit user, you will come across some common jargons frequently. In fact, you need to know about these jargons if you want to understand the working of Reddit. The most common and highly used word is "Subreddit".
A Subreddit is a part of the big Reddit network. In simpler words, Reddit is the main site in which there are tons of small groups or societies known as subreddits. Consider it as a country with many cities in it. Just like every city has a specialty, similarly, each subreddit has a distinct topic and it has its own refrains, directions and prospects.
Enough with the discussion, let's just move on and see how each page of Reddit looks like and how can you add your own customized subreddit.
The Homepage
This is how the Reddit homepage looks like. Remember that this version of homepage is when the user hasn't signed in yet. Anyone of the internet will visualize the homepage like this.
So, what do you think about it? There are posts, comments and in short, a whole feed from many different subreddits.
Try opening it now and click on one of the titles of any post. What do you see? Lots of comments, images and links? That's right! You are on the right page! Let's move on.
Now try looking for a number in front of the Reddit posts. You will see that these numbers epitomize the score of that post with up and down arrows next to them. These arrows give you the right to upvote or downvote that particular post. Look at the following image if you are still unable to understand.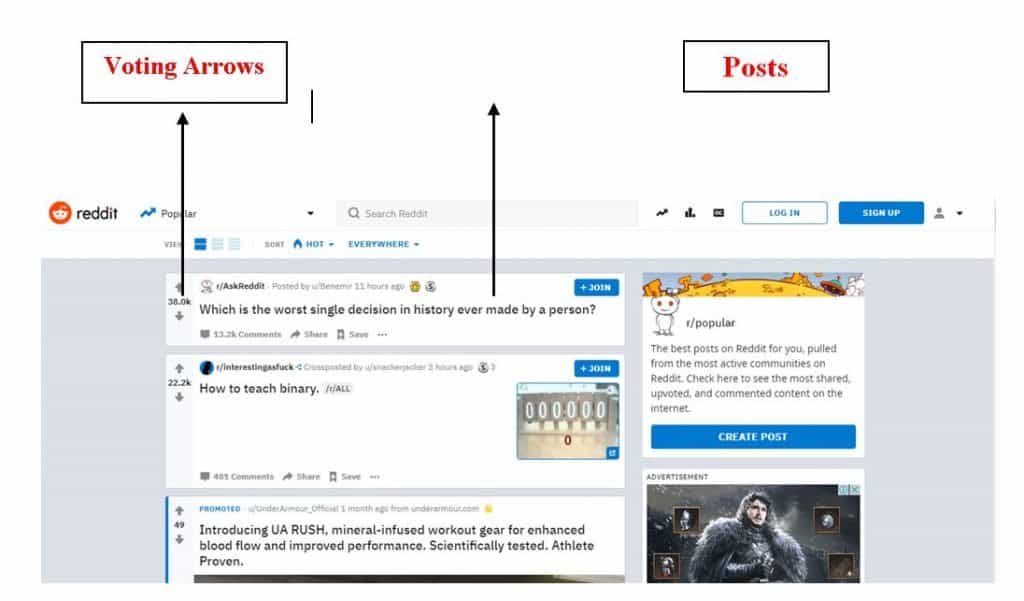 If you are confused about the terms "Upvoting" and "Downvoting" then don't be confused anymore.
Upvoting simply means that the particular post should be visible to more people on Reddit. On the other hand, Downvoting means that post isn't that informative and people shouldn't waste time reading or commenting on it. So, it's entirely your authority to make a post popular or unpopular on Reddit.
The posts you just saw in the above picture are the top posts who received the maximum votes from Reddit users and that is why it became the headline of Reddit homepage.
What if you are not interested in posting on Reddit?
Reddit is not just for few particular groups of people who are interested in posting or commenting on the posts. If you are the one who doesn't want to post anything or participate in any forum, even then you can enjoy the perks of Reddit.
However, we recommend you to create an account first as only then you will be able to fully benefit from the amazing features of this amazing website.
How to Sign Up?
Signing up on Reddit as simple and easy as you sign up on any other website! To sign up, open the homepage by typing www.reddit.com in the address bar.
Have you done it? GREAT!
Now click on the Sign-Up button which is on the top right-hand side of the homepage.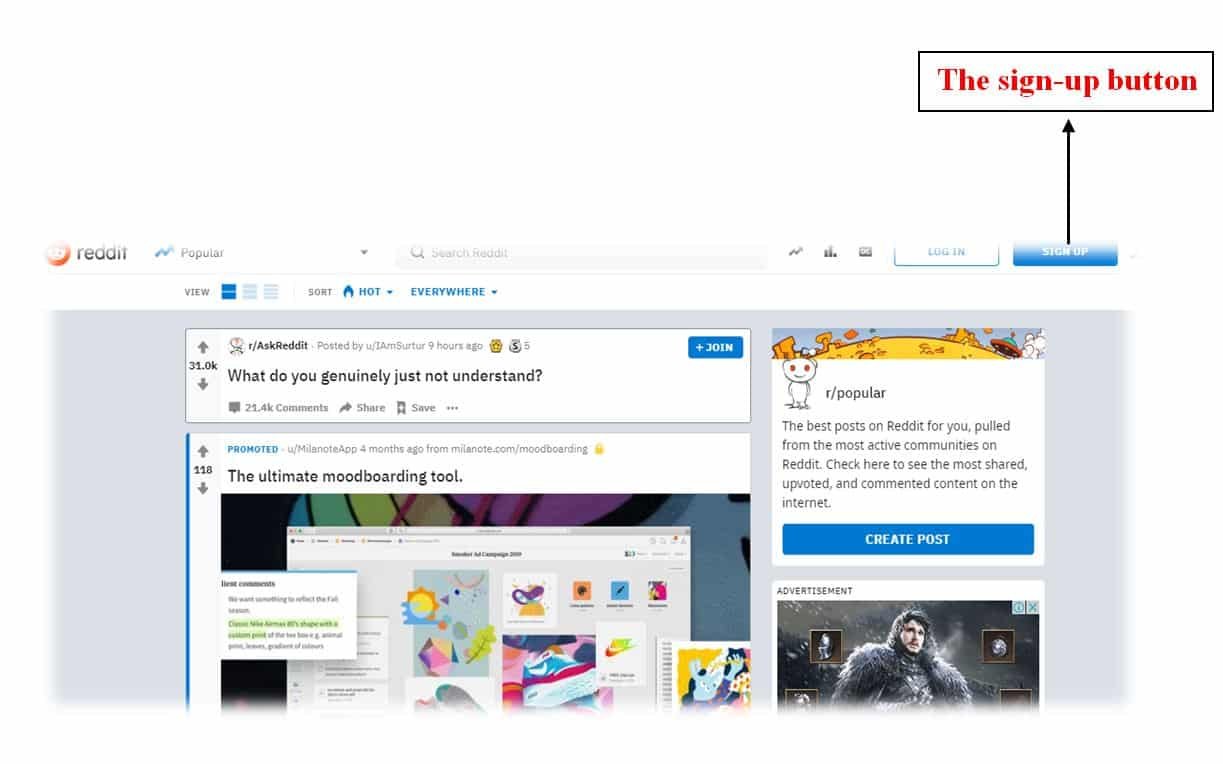 After clicking the sign-up button, a dialogue box will pop open on the homepage which will demand your Email address. Type in your email address here and Click NEXT.
The sing-up process will begin! You can look at the image below for further clarity of the process.
The next page will ask you to enter you USERNAME and PASSWORD. You can pick a username of your choice and enter the password.
While choosing your username, you must be very careful regarding the general rules and trends of Reddit.
Click on Sign-up button and there you go!
If you have reached the page which is shown in the immediate above image then CONGRATULATIONS! You have successfully declared yourself as a member of Reddit's global community.
Click on the FINISH button and start exploring the wonders of Reddit!
P.S: DONOT FORGET TO VERIFY YOUR EMAIL BY SIGNING IN THE EMAIL YOU PROVIDED.
You can simply login to your id on which you registered your Reddit account and click on the confirmation link.
Once you confirm your link, you will become a part of the Reddit community officially.
If you have signed-up on Reddit then you are done with half of the work. Next step includes understanding the basic structure of Reddit, search, discuss, comment and post anything you like.
Ready?! Let's go!
After Logging In
Now that you signed-up on Reddit, open your account and you will see the main page. This page is different from the Homepage and is dedicated to the Reddit account holders only.
On this page you will see the posts as well as an option of creating your own post. It looks like this: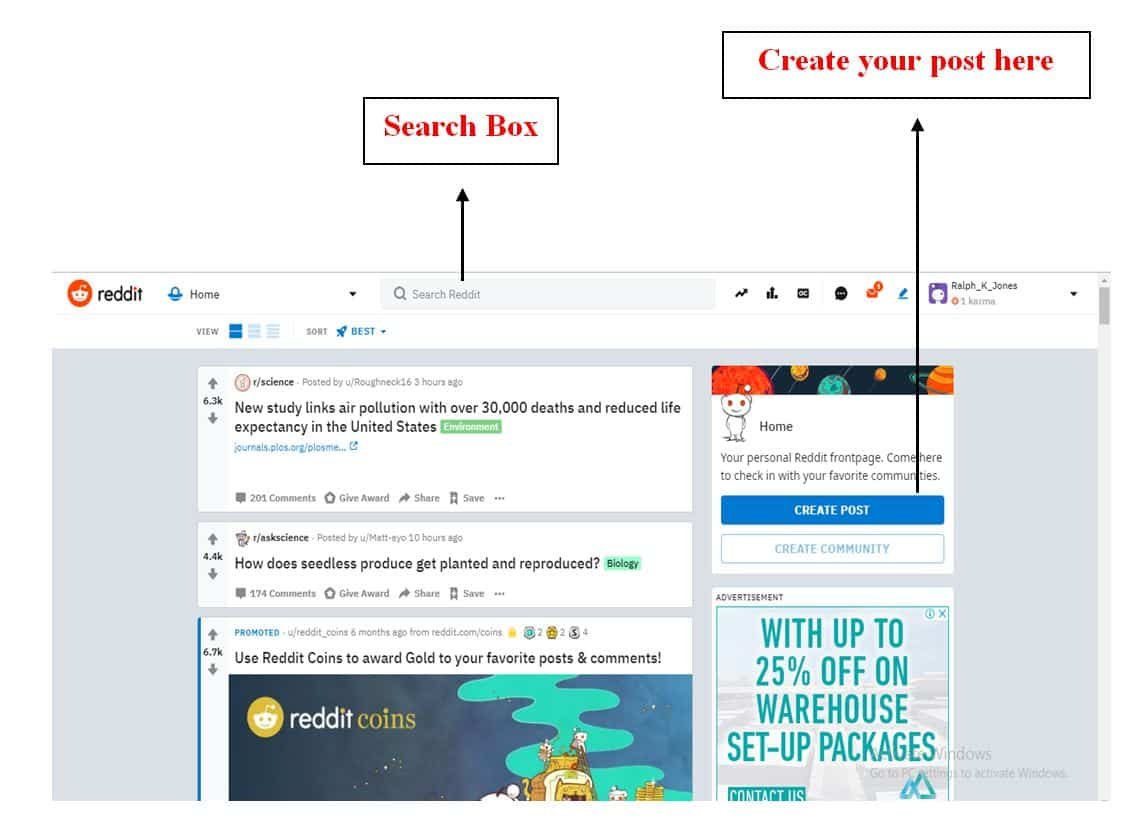 Did you see how easy is it start using Reddit? Have you developed your interest yet? Well, you are going to reveal more amazing options as we move on.
Reddit also provides you with an option of Search Box at the top of the page as shown in the above image. You can enter anything here and Reddit will provide you tons of posts and subreddits matching your criteria.
Let's try searching for something and see what happens!
Wow! Lots of results! You can see that when you enter "How to use Reddit?", you get several subreddits which are further followed by many posts related to the same topic. At the top of the page, you have the options of choosing the "Posts" and "Communities and users". You can also see these options in the image below.
You can also subscribe to any of the subreddit by clicking the blue "Join" button which lies on the right side of your posts. You can also see that in the above image.
Now that you are done with understanding the basic working of Reddit, it's time to participate in a discussion and create your first post on Reddit. Sounds fun? Let's do it!
My First Reddit Post
Creating your own post on Reddit can be fun. You can ask any question whether it's the most intelligent one or even the silliest, stupid question. You can add images, videos, text anything you want! You are free to ask away and share your opinion.
So, follow us and create your first ever post on Reddit! Remember, you are born free and Reddit gives you that "freedom of expression".
As you can see the blue "Create Your Post" button on the extreme right of your screen, this button will take you to the following screen:
In the above image, you can see the main page where you will create your post. This page has got a section of TITLE and a section where you will type your query. Remember, TITLE is compulsory and you cannot skip it. The title must be descriptive enough so that it doesn't leave a vague impression on anyone's mind.
However, it is your choice to enter any enter in the body or choose to post only an image or a video.
Did you see the tags at the bottom of your post page? Can you guess what these tags represents? Let's understand these tags.
OC:
OC is the abbreviation of "Original Content". It is an indication for the other users that your post is solely your original content.
Spoiler:
Spoiler refers to the same term which you normally use in your regular life. It is an indication that your post contains content which can disclose a secret or simply reveal something to collapse your surprise. It can be a spoiler of a movie, book, show or absolutely anything.
NSFW:
This tag means NOT SAFE FOR WORK. If you find this tag in any of the Reddit posts then don't you dare open that post in any public place. It might contain offensive content. If you are also planning to submit a post which you think can be disturbing for someone, then you must choose the NSFW tag.
Flair:
The last but not the least tag is Flair. You can think of Flair simply as a filter which can help users to filter and find a particular post. For example, the post we just created in the above images is about "How to use Reddit?". You can add a flair "Reddit Guideline" here so it can be easier for the users to filter the post. The syntax of flair goes as: /r/redditguideline
Let's submit our post now.
Cheers! You post has been submitted.
You should also be careful about the ENVELOPE icon at the top right of your screen. You will receive notifications regarding your posts in that envelope.
You are done with understanding the main flow of Reddit till here.
Now we will see that how can you make the best use of Reddit using various search keywords. Some of the most common yet very significant keywords are as under:
"I am looking for"
"I need help regarding"
Any Suggestions"
"I need tips for"
"How can I"
"What do you mean by"
"Help needed"
"Anyone there to help"
These are the keywords which will take you to the best available posts. Don't forget to use quotation marks with while you search for these terms.
Using these terms is an indication that someone needs help with something. Let's try using one of these terms in our search box and see what happens.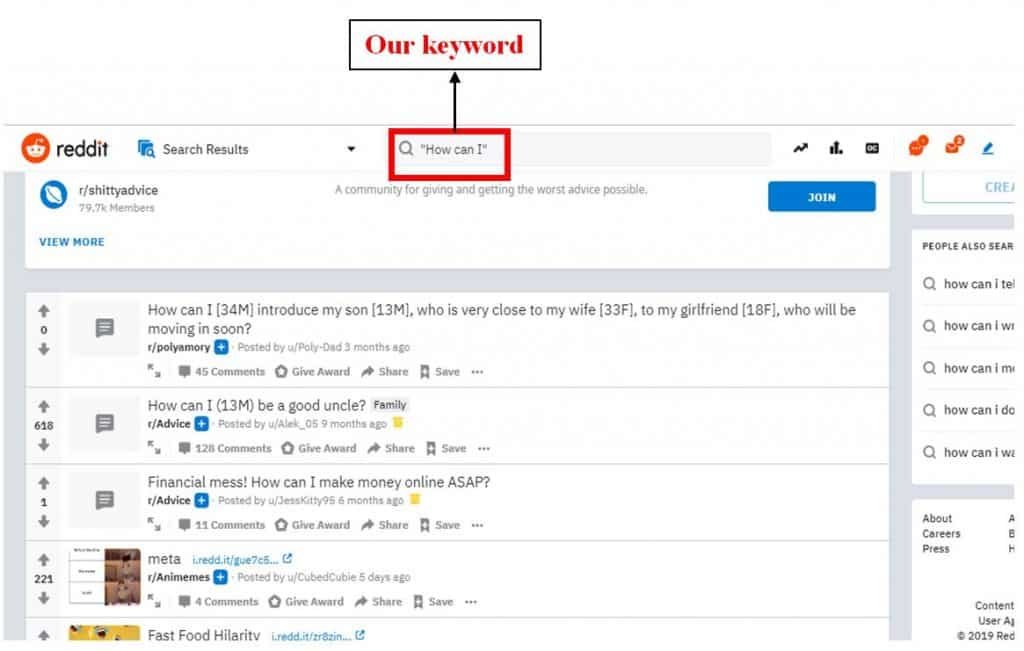 Try doing it too and you will see that the search results will give you different posts on various "How can I's".
Another very common term on Reddit is "Ask me anything", also commonly known as AMAs on Reddit. This is one of the most interesting terms and it offers you to ask anything from the eminent people and celebrities. The amazing thing to know here is that CELEBRTIES do answer these questions.
What if we tell you that former U.S president, Barack Obama has also answered one of the questions on Reddit. Now that's the power of Reddit!
Till here we are hoping that you have understood about the basic functionalities and complicated user interface of Reddit. If you have, then you should be ready to experience your life in a much different way.
Now let's move to something a bit complicated. It's about the LANGUAGE of Reddit which will surely confusing for you as the first time Reddit user.
UPVOTE The positive vote indicating a useful post.
DOWNVOTE The negative vote indicating an inappropriate post.
KARMA It is an indication of your account's quality. It consists of points or scores. The more upvotes you get on your posts; the more karma points you earn.
OP It is the abbreviation of ORIINAL POSTER and it refers to the user who created a specific post.
MOD It is the abbreviation of MODERATOR and it refers to the account which is responsible for managing the quality of Reddit account. The MOD account keeps an eye on the policies, rules, regulations and permissions. This account has the control to ban any account, remove any post, comments or even a user from Reddit.
X-POST Here X stands for Cross. It is a cross post which is just like sharing. You can share any original post by using its URL and adding "X-POST from [the real post]". You can take it as a special permission which allows you to share subreddits without violating the copyright policies.
OC It is the abbreviation of Original Content and it refers to the post that you have created. In simple words, the post you create is known as OC.
REPOST As the name suggests, REPOST refers to a post which has been shared already.
IRL It is the abbreviation of "In real life" and it refers to the genuine experiences you have in real life.
FTFY It is the abbreviation of Fixed That for You and it refers to any correction which is made due to any reasons like typo error.
TIL It is the abbreviation of Today I Learned and it refers to anything you didn't know before. In other words, if you learn something new on Reddit then it comes under TIL.
LURKING As the name suggests, LURKING means that you aren't contributing anything but you are consuming many things (or subreddits) from Reddit.
Now that somehow mastered the art of using Reddit to some extent, the next steps are to understand and follow some of the most important rules which are defined by Reddit. You can also call them Reddiquette as they are about teaching you the right attenuates for suing Reddit.
Follow These Rules
Rule # 1: Be Aware of the Subreddits
If you are joined a subreddit then as a Reddit user and the part of that particular subreddit, you must be aware of everything posted there. You must also be aware of the subject of that particular reddit. Failing to do this will result in creating irrelevant posts which are unmatchable with the subreddit.
Moreover, not having enough know-how of your subreddit might end you up in submitting the same post twice which is again unfair and unjustified.
Rule # 2: Know the Reason Behind Your Votes
You know that you have the right to upvote or downvote any post you want. But is it really about what you want only? Well, you need to be sensible here.
Understand that Reddit comprises of a large community which is impacting the world on a larger scale. Moreover, it isn't just any other social network where you can LIKE or SHARE other posts. You have a responsibility on Reddit and you should upvote any post only if you are sure that it is beneficial to you and to the community.
Additionally, you will also find the rules of each subreddit on the very right side of your screen. The following image shows the exact same thing.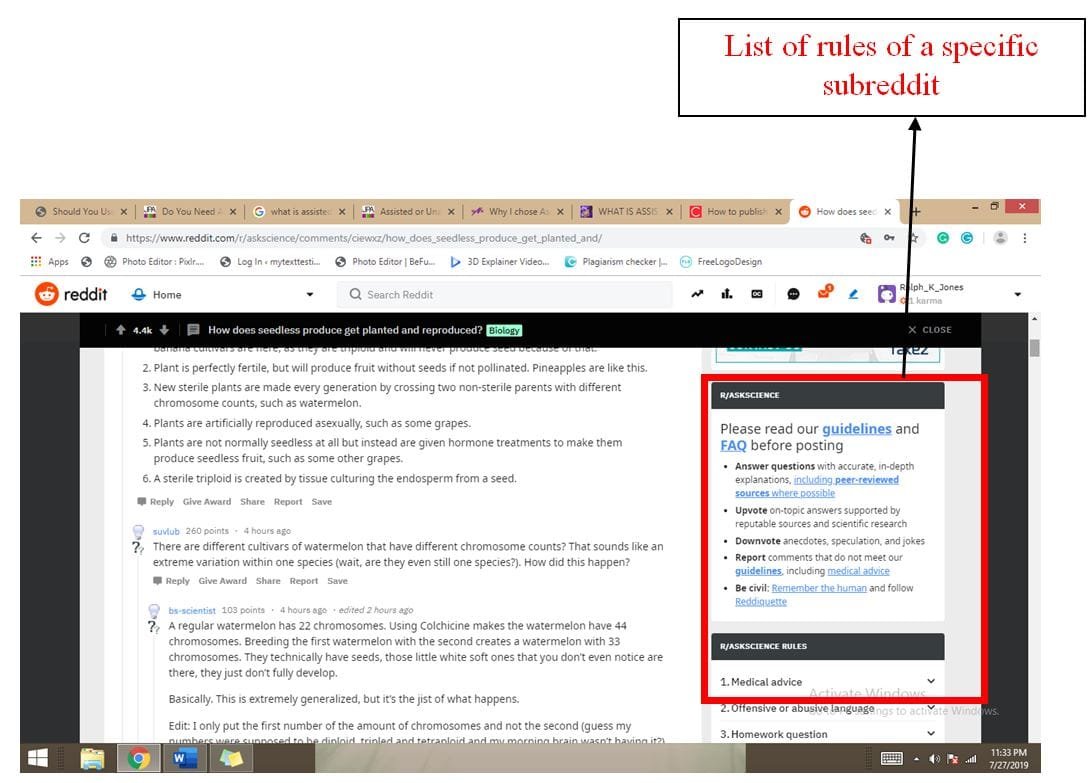 Those six set of rules in the above picture are for this specific subreddit. Remember that each subreddit has its own set of rules which are distinct from other subreddits. Therefore, make yourself aware of these rules so that you can prove yourself as a productive member of Reddit community.
What if you just want to read and relax on Reddit?
Reddit is all about providing you with the best possible knowledge and insights into various subjects. That is why, it is absolutely legit for you to spend your time on Reddit, read the posts and enhance your vision.
However, as a new Reddit user, you will certainly find many issues while you try to search for and read anything for the first time as it is a bit tricky process. How is it tricky? Well, Reddit is a combination of text, images and links. You will often find yourself clicking on a link and moving to another website. In other words, you will have to leave Reddit main page. This might get a little frustrating in the beginning. However, there is a solution!
The trick of staying on Reddit is to find and click on the option of "comments".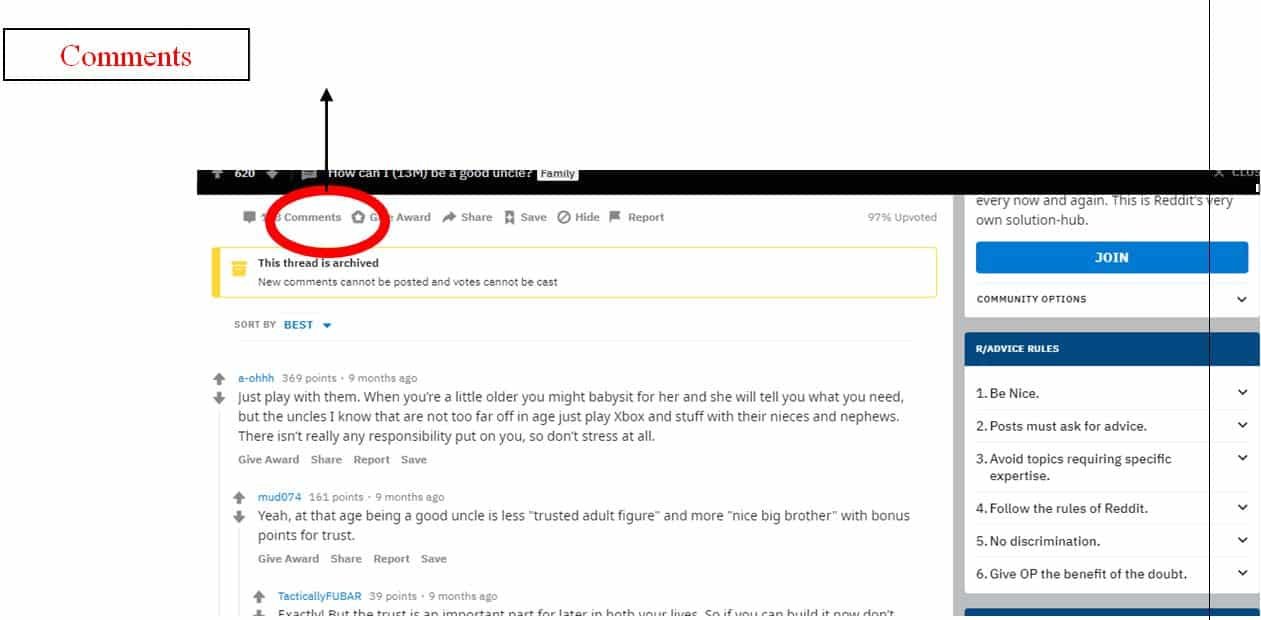 Clicking on the "comments" option which keep you on the same Reddit page as well as it will allow you to know more about that post through the comments.
Not Interested in a Subreddit Anymore? Here's What You Can Do
If you find yourself losing interest in any subreddit then you can easily unsubscribe it by moving from the right to the left of the screen. You will find the LEAVE button.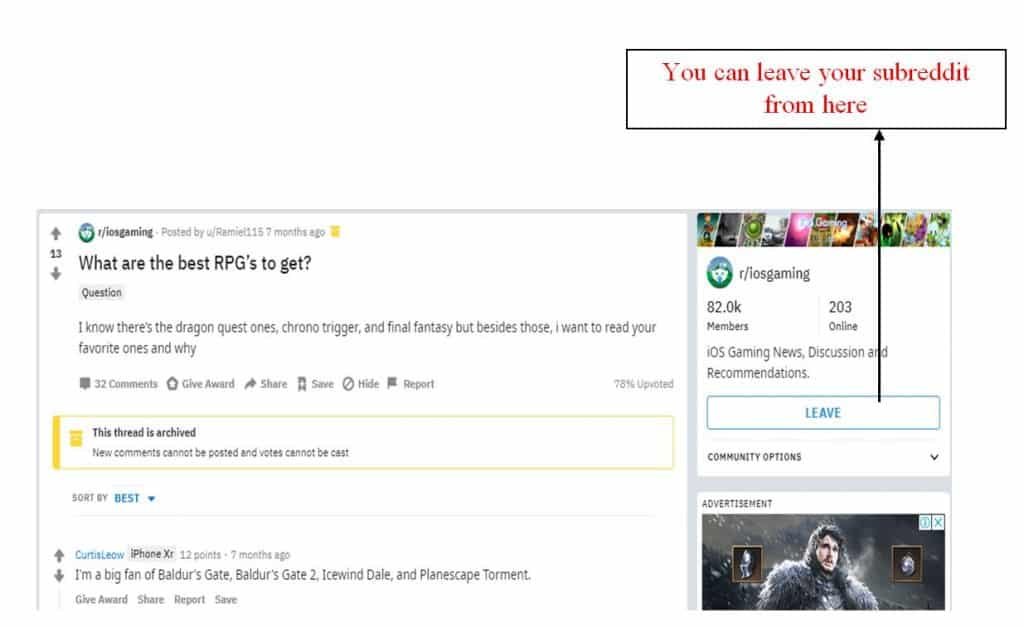 What is Reddit Gold?
If you find yourself becoming a Reddit fanatic, then Reddit provides you with some amazing offers. Reddit Gold membership is an option which provides you the authority to modify your avatar, use a variety of themes, remove adds, create subreddits and many more. These features can only be accessed by Reddit Gold members and its prices is as low as $4 for an entire month.
The Reddit App!
Did you get excited already by reading the above title? You won't believe how useful this app is just like the website itself. This app allows you to go through the content in a matter of seconds using your cellphone.
With more than 100K communities, you can surf, explore, laugh and comment on any post of your choice!
You can download the Reddit app for free and join the fun!
This app is both for Android and iPhones and it will take your Reddit browsing experience to a whole new level. Using this app you can pin any subreddit you want. Moreover, you can quickly move from one subreddit to another. Another amazing aspect of this app is the night mode which is specifically targeted for the Reddit readers who have a habit of reading late-night. The app also contains shortcuts for viewing subreddit so every task is now easier for you because of this amazing app.
Let's go through some of the features of Reddit app quickly and then find out how can you get started with this app.
1. Alphabetical Order of Subreddits
The Reddit app offers you organized subreddits in alphabetical order. Moreover, if you have a favorite subreddit then you can also pin it and it will appear on the top of all subreddits in your list.
2. The Night Mode For Night Crawlers
If you are a constant Reddit reader who loves to read at night then Reddit offers you an eye-opening view. It is easier to switch to night view as shown in the following image:
This is how you can easily switch to night mode and get things going.
3. Switching Between Views
You will find two kinds of views in the Reddit app. One is the card view and the other is the Classic view. The card view offers a zoomed version of the app with large previews of images and videos. You can easily switch the view by going in the Settings option and then choosing your desired view.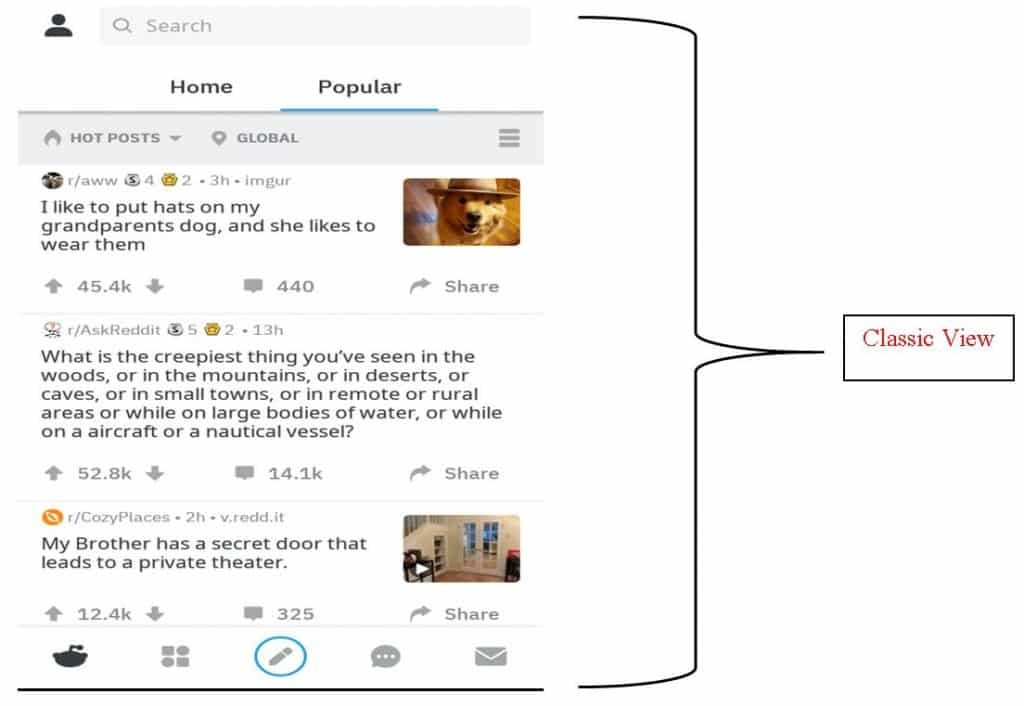 4. The Amazing Sidebar
The Reddit app also comes with an easy-navigating option where you can go through the list of subreddits at the sidebar.
To find it, you need to find the three-dot menu at the top of the screen and then tap Community Info.
5. IT'S FREE!
The last but not the least is that Reddit app is free of cost and is open to everyone!
How to Start With The Reddit App
Getting started with the Reddit App is easier than you think. You can get it from Google Play or Apple store by typing Reddit in the search box. After you are done downloading the app, tap and open it. You will see the following screen:
Since you have already created an account on the Reddit website, so you will tap on the LOG IN option and sign in using your username and password.
Now that you are done downloading and signing-in, you can create a post, subscribe to subreddits, join communities and easily surf through the app whenever you want.
The above shows you how you can upload a link, image, video or simply type any text and create the post you want. This way you can easily create a post on the go!
Tips and Tricks of using Reddit!
Feeling Overloaded?
As a new user, you will more likely feel overloaded with so much content appearing all at once on the main page. Don't be offended by that because you already have a clear idea of what's a subreddit.
If you have understood that each section is a subreddit which is dedicated to a specific subject. That is why when you open the main page, you find a huge flow of information from various subreddits.
The best way to avoid getting confused with irrelevant posts is to subscribe with specific subreddits.
Follow and Get Acquainted
Get socialized and follow some Redditors! You can easily follow their posts and even invite them to your own personal subreddit. To add a Redditor find the option of preference and there you will find the option of friends where you can type the name of a Redditor and find it. After you are done with that, you can go and check the posts of that specific Redditor from reddit.com/r/friends.
Slideshows
Slideshows are an easy option if you want to view the images of a Subreddit. To do it, navigate to the specific Subreddit page and find its URL. Now, edit your URL by adding thee letter p in the URL (after Reddit). Just by adding one letter you will be able to see the slideshow of all the images in that Subreddit. For example:
http://www.reddit.com/r/balloons is the URL of a reddit. Then add the letter p like this:
http://www.redditp.com/r/balloons and watch the amazing slideshow of balloons on this subreddit.
Get More Karma Points
Karma will get you where ever you go! That's the case with Reddit as well. The better your posts are, the more your karma points will be! You can earn more Karma by commenting on the posts and famous subreddits. Additionally, you can also answer the FAQ's which will lead you to more Karma points.
Just remember! More upvotes = More Karma points
Therefore, it is important for you to participate on Reddit in as useful way as possible. Your every click, every vote, every comment and every post can make a huge difference in defining your role and responsibility towards your Reddit community.
The Mobile Mode
We have already mentioned the mobile mode of Reddit which is specially designed for the Android and Apple users. If you don't have a smartphone in any case or you don't have enough space to install the Reddit app then you can also experience it in your PC. For that. Type the following link in your web browser:
And there you! Explore the wonderful features of Reddit app and enjoy the variety of themes and views.
Did you know you have the choice of choosing themes in reddit app?
Here's how:
Reddit Hot Keys
Reddit comes with several hot keys which are your shortcuts to enhance your efficiency and output. To get the best experience out of your Reddit account, make use of these shortcuts. You will not only save your time but you will also be more productive by using these shortcuts. Let us share some of the hot keys with you:
C is for open posts.
To Upvote a post, press A and you are done!
To refresh the feed, hit the R key.
To open a new tab, press the L key.
To quickly go into the inbox, press the I key.
S is to save any content quickly.
The most useful is to go to a specific subreddit by pressing R.
Z is to Downvote a post.
However, you must note here that to use these hot keys, you must download and install Reddit Enhancement Suite which is a famous Reddit app. This app also provides you with the an efficient and easy to use interface. Moreover, you can also watch videos using this app. So, you see? Reddit offers a huge set of functionalities with added benefits.
Other than Reddit Enhancement Suite, there are also plenty of apps which are specified for Reddit and can be much helpful for you. Among them are Relay for Reddit, Boost for Reddit and Now for Reddit.
Multiple Accounts
The beauty of Reddit is that it offers lots of leverage to the user. It even allows you to create multiple accounts. So, you can make two accounts, one for personal use and the other for business need. Creating the second account of Reddit is as easy as creating the first one. Reddit account is the best to use for digital marketing.
More accounts mean more subreddits and more subreddits means better life!
Before Packing Up!
Now that you have almost mastered the art of Redditting, let us tell you some of the most popular and must-haves subreddits to subscribe and follow.
The "Eye Bleach" Subreddit
Want to throw a disgusting thought or terrible image out of your mind? With tons of eye-catching and appealing set of images, videos and posts, you will forget everything which is making your mind distracted. Try using this subreddit! You will thank us later.
https://www.reddit.com/r/EyeBleach
The 'Shower Thoughts" Subreddit
This subreddit is for all those laughs, pranks and funny ideas that might hit you in the shower. This subreddit will turn your unluckiest day into a carefree and cheerful day. Try using it now.
The "Life Hacks" Subreddit
To gather some amazing ideas from cleaning up your pet's mess to training your baby how to poop, this subreddit will teach you everything on the go. It is also popular as a "Motherly" subreddit since it is loaded with tons of advices and ideas on almost every subject.
The "Futurology" Subreddit
Will it take you to the future? Or is it a time machine? Well, it's not less than that. This subreddit is loaded with tons of technological revolutions that are most likely to happen in the near future. This subreddit knows all about the greatest and most challenging technologies which you are going to experience in the years to come.
So, Sit Back And Enjoy The Ride
So, here's the complete guide to a site where all the magic happens that is why it is known as the front page of the internet! No matter in which of the world you live in, Reddit welcomes you to its community and explore the vast world of subreddits. Even if you have a tough schedule and hectic working hours, you can read the comments, go through the posts and keep you updated. We assure you that you will get the most immersive experience of your life on the internet.
However, there is surely a drawback of using Reddit, IT IS HIGHLY ADDICTIVE AND IT WILL TAKE PLENTY OF YOUR TIME. Are you even reading us now or is already surfing Reddit? Well, we will leave you here with REDDIT.
Main Image Source : Pixabay
Also See : What To Do If The World Ends Right Now?
Microsoft Windows 10 review – Why You Should Upgrade To New OS?