Latest 7 Stunning Nail Art Design Ideas for You
Eager to have stunning Nail art Design? Are you watching so many amazing nail art designs in google search regularly but confused how to do? Here, we are going to cover the most simplest but latest nail art design ideas and we are not going to cover 1 or 2 but there will be long list of 7 designs for your nails.
So in this list, you will find from day-to-day casual nail art designs to fancy, trendy occasional nail art designs as well. You will not only find the pictures but easy to understand text guide so you can learn easily.
Keep Reading…
#1- Mix & Match themed Nail Art Design
This one can be use anywhere in college, at work or even party and special occasions. Trick part is if you want to match the colours with your dress theme or want to give colour themes? In both cases, it is super simple for beginners. As you can see in the picture, 1 hand's nails are having blue shades and other hand's nails are having all pink shades so we can say one is mix and match of blues and 2nd is MNM of pinks.
You can choose any Nail Colour and can apply different shades of that colour. OR you can take help from your dress to choose colour. Hopefully, this would be the simplest one for you. Stunning too, yes?
—
#2- Spiral Candy Style
Not now, but in my childhood, we used to have this style of colourful candies in our town's market 😀 Being a candy lover, I love this nail art idea.
In this design, again you have two creative ideas. One applying the same design to all nails and 2nd choosing different colours for each design.
Simply, apply a base coat of white nail colour, take any colour such as pink, draw wavy lines from a specific point to outward. Each wavy line should be thinner to wider. You're done. Finally, applying transparent nail polish will not only lock your design but will add shiny fresh look.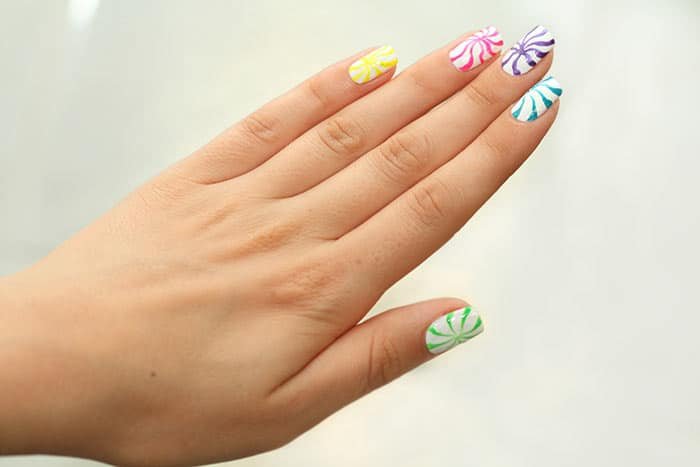 —
#3-Shaded rainbow style nail art design
This is another easy nail art design. You won't believe it is way easier than it looks in the image.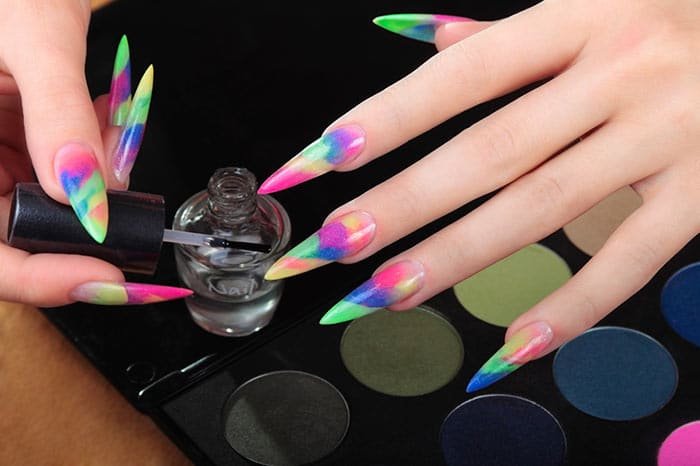 Use transparent Nail polish and scatter some eyeshades here and there. When the polish is about to dry, smudge the colors with the help of a sponge. Let it dry fully and apply a final coat of transparent nail polish once again.
All done! whatever colours you will use, each time you will have new stunning nails look.
—
#4- Glittered Aquarium French Nailart
Mostly girls are having this kinda nail design by using nail stickers, while this is really easy to make at home too. With the help of scotch tape, cover your required part of the nail. Don't cover the tips of nails. Apply Any desired color on tips and put lots of glitter. Let it dry. Remove the scotch tape. And, give it final touch by applying transparent nail polish on the full nail.
I hope, it wasn't hard, hmm??
—
#5- Nude and White Polka Dots
Polka dots look so classy. Having this kinda nail art is really simple. All you need two colour nail polishes. Such as Nude and White colours used in this design. Apply white base coat and put dots of nude colour. And, apply a nude base to have white polka dots. lastly, use transparent nail polish. You can try different colour combinations.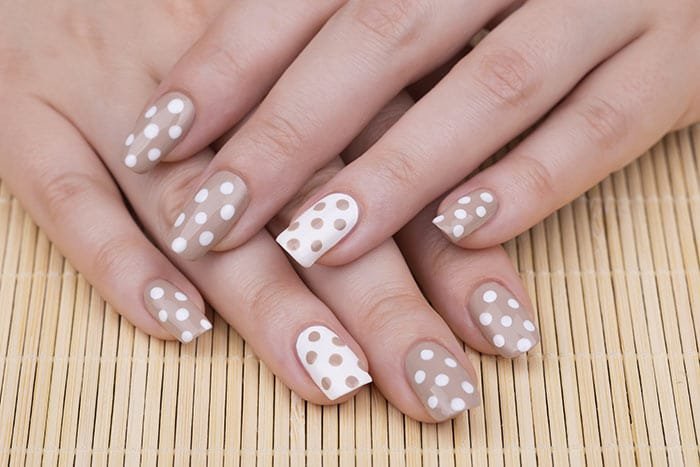 —
#6- Lovely Valentines day nail art design
This lovely nail art is best for valentines day. So, you can try it before going for a lovely date. Get Red and white nail polish colours. Apply each colour on different nails, such as few red and few white. Place red coloured nail art jewellery such as small and medium hearts, crystals and dots etc.
…
Top 7 Trendy DIY holiday nailart design ideas
—
#7- White Ends NailArt design
This simple but cute design is really easy to be applied as can be seen in the picture. This is also known as half-moon nails. Make a moon with white nail polish on ends of your nails, and colour rest of your nail. Any colour can be applied other than white to differentiate the partitions.
So, have you enjoyed the above article? Were all the images appropriate and fulfilled the requirements? Please comment below and let us know your precious thoughts!
Don't forget to check: DIY Side Roses NailArt Design Tutorial
Main Image Source : Pixabay
Also See :Cute Simple Red Nail Color On Long Nails