Fashion preferences vary, but there are several versatile blouse styles that can form the foundation of a well-rounded wardrobe. Here are five must-have blouse styles that every fashionista might consider owning:
1. Classic White Button-Down Blouse:
A crisp white button-down blouse is a timeless and versatile piece that can be dressed up or down. It's perfect for professional settings when paired with tailored pants or a skirt, and it can also be worn casually with jeans or even as a layering piece under sweaters or blazers.
2. Silk or Satin Blouse:
A silk or satin blouse adds a touch of elegance and luxury to any outfit. It drapes beautifully and works well for both formal and semi-formal occasions. You can pair it with a pencil skirt for a chic office look or with trousers for a dinner date.
3. Off-the-Shoulder or Bardot Blouse:
An off-the-shoulder or Bardot blouse adds a hint of romance and femininity to your wardrobe. It's a great option for summer or vacation outfits and can be paired with shorts, skirts, or even wide-legged pants for a boho-chic vibe.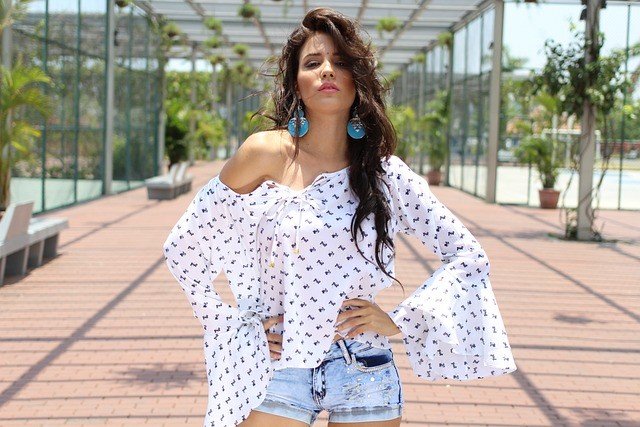 4. Statement Sleeve Blouse:
Blouses with statement sleeves, such as bell sleeves, puff sleeves, or ruffled sleeves, can instantly elevate your outfit. These blouses add drama and flair to your look and can be a great way to showcase your personal style.
5. Wrap Blouse:
A wrap blouse is universally flattering and can be adjusted to fit your body shape perfectly. It's a versatile choice that can be worn casually with jeans or dressed up with a skirt. The wrap style adds visual interest and can create a flattering silhouette.
Remember that fashion is about expressing your individuality and feeling confident in your choices. While these five blouse styles are considered versatile essentials, feel free to experiment with different colors, patterns, and materials that resonate with your personal style. Building a wardrobe with a mix of classic and trendy blouses ensures you'll always have the perfect top for any occasion.