The 4 Friendliest Destinations to Travel Alone
According to the findings, a survey identified some of the most popular rising places for single female travellers in 2022.
In an increasingly interconnected world, the lone traveler movement is getting more and more traction: Sixty-two percent of American female travellers said that they have taken an overseas journey without a companion at least once throughout their lifetimes.
Among the reasons given, 45 percent said that they prefer to travel alone because it allows them to do what they want, and 48 percent believe that traveling alone allows them to interact with others more effectively.
Using data from more than 155,000 destinations in 227 countries, Booking.com, a digital platform that connects travellers with accommodations and experiences, identified some of the emerging destinations that women of Generation Z (aged between 16 and 24 years old) are most interested in visiting on their own.
Must See: Top 10 Destinations for Female Solo Travellers in Australia 
Perth, Australia
Perth is not only the state capital of Western Australia, but it is also known for its beautiful weather, beaches, and wine-growing regions. In this area, nature and urban life live in perfect harmony with one another.
In addition, it boasts more daylight hours than any other large city in Australia, allowing you to make the most of the beach and other attractions while there. Increasing numbers of eateries and areas of interest are planned in the Perth area in 2022. The National Museum of Western Australia is slated to open later this year as part of the city's ongoing revitalisation.
Bordeaux, France
This French city, famous for its wines and vineyards, has much more to offer than just wine and vineyards, and is quickly becoming a significant rising destination for single female travellers.
You may take in the ancient French architecture of the Place de la Bourse, take a walk in the Jardin Public, or go shopping on Rue Sainte-Catherine, which is the world's longest pedestrian street and the longest pedestrian street in Europe.
Utrecht in the Netherlands
A tiny, easy-to-navigate city centre constructed around the historic Utrecht Cathedral Tower, which is the highest of its type in the Netherlands, makes this a pleasant destination for solitary female travellers to explore.
Near the canals, you'll discover a diverse selection of cafés, boutiques, and pubs, making it a great place to take a walk. In addition, there is the option of visiting the neo-gothic castle de Haar, which is the biggest in the Netherlands and a must-see.
Rangoon, Burma
Yangon is the capital of Burma and the country's biggest city. Its architecture is a combination of British colonial style, contemporary skyscrapers, and Buddhist pagodas.
The Shwedagon pagoda, one of Rangoon's most famous landmarks and has become a symbol of the city, is a must-see attraction. Taxis are reasonably priced, and many lodging establishments provide bicycle rental services.
You may also pay a visit to the Santa Maria Cathedral and the Yeshua Synagogue while you are in the city. People who appreciate food may sample the many cuisines of the region, which range from mohinga, a fish soup with rice noodles, to laphat, a tea leaf salad.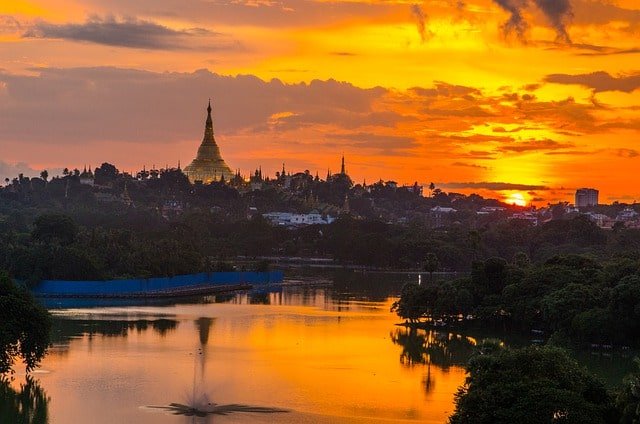 Also Enjoy: Woman Solo Travel Australia How to do it Safely