If you're wondering what's up with the sudden rise in petrol prices across Australia, you're not alone, here's what's happening: According to the ABC, some gas stations are charging as much as $232.9 per litre, while the national average unleaded price has hit a new high of 219.9 cents per litre. If you own a car, you've probably avoided driving it lately in order to save money on gas. It's not your imagination: gas prices in Australia have hit an all-time high.
There are no surprises here: just last week, Sydney was reported to have the most expensive gasoline in the country, at 231.9 cents per litre for standard unleaded. As the cost of filling up the tank continues to grow, gasoline prices are likely to touch 14-year highs in some parts of the country. The main cities are bearing the brunt of the misery, with some locations seeing prices as high as $2.50 per litre.
All figures accurate as of 11:11PM 13/03/2022
Why Are Petrol Prices Rising In Australia?
In response to Russia's military entry into Ukraine, global crude oil prices have already reached their highest levels since 2014.
As the situation worsens, we may expect prices to rise even more. Russia is the world's second-biggest exporter of crude oil and refined gasoline, as well as the world's largest exporter of natural gas. Global energy markets are increasingly factoring in Russian supply interruptions as a result of Western sanctions, as well as Russia cutting off shipments to Europe, its key market for both oil and gas.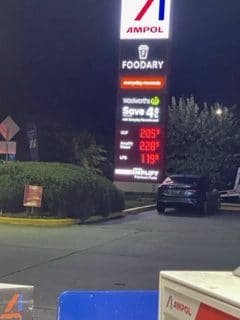 Changes in retail prices are mostly dictated by international price benchmarks for refined gasoline, so Australians will experience these market concerns as well. Changes in overseas prices often take more than a week to filter through to retail prices in Australian cities, and much longer in outlying locations.
However, based on international trends, we may expect petrol prices in Australia to reach an average of $2.10 per litre in the near future. Australia is prohibited from importing Russian crude oil or gasoline. However, the global oil market functions as a single large pool, with changes in market conditions in one location immediately affecting markets in other parts of the world.
More than half of Russia's oil and the majority of its natural gas are shipped to Europe. Over 30% of Europe's crude oil and refined gasoline imports, as well as 40% of its natural gas imports, come from Russia. Germany has already attempted to halt the construction of a new gas pipeline between Russia and Germany in the Baltic Sea in retaliation to Russia's actions against Ukraine.
Market watchers are concerned that Russian gas transiting via Ukraine and into Europe could be disrupted as well. This would result in severe shortages in some countries, as well as a rise in the price of gasoline and other fuels like oil.
Riding a horse may be our last alternative in the near future for transport, as the globe begins to resemble the bygone days even more!
There is also a lot of pressure to make sure that the economic sanctions imposed on Russia aren't weakened by Moscow's oil and gas trade profits. Sanctions on Russian energy exports, for example, have been advocated by Brookings Institution analysts.
Read This: Fuel prices Australia: Diesel to set price record for fourth day as unleaded petrol to reach $2.40 by March
The Costs For Gasoline In Each Capital City:
Adelaide
Average: 219.9

High: 221.9

Low: 214.5
Brisbane
Average: 219.3

High: 223.9

Low: 195.9
Canberra
Average: 209.1

High: 121.9

Low: 193.9
Darwin
Average: 205.8

High: 209.9

Low: 203.9
Hobart
Average: 219.9

High: 231.9

Low: 195.9
Melbourne
Average: 219.6

High: 232.9

Low: 187.9
Perth
Average: 211.1

High: 215.9

Low: 199.7
Sydney
Average: 209.9

High: 223.9

Low: 197.7
Not Just That
Read on: How bad can it get?
Leaving aside the Ukraine-Russia conflict, there are additional variables impacting the rise in petrol prices across Australia. Demand for oil has regained to pre-epidemic levels as international economies open up again, after plummeting substantially in 2020 owing to the covid-19 pandemic. Major oil-producing countries, on the other hand, are straining to supply this demand, driving up prices. Typically, rising global oil costs are blamed for rising fuel prices in Australia; the most recent increases have seen petrol prices near $2 per litre. However, tax accounts for more than a percent of the cost, and it has just increased.
Things Could Get Ugly 
The fast increase in petrol prices across Australia is having an impact on everyone. The chances of a Russian invasion of Ukraine, as well as response from the US and other NATO members, have increased, prompting some to fear that Russia's massive oil reserves may be cut off. Crude oil prices have risen to a seven-year high as a result.
As much as I detest admitting it, this is one of the reasons why you should be worried about foreign policy. On the other hand, the seven-year high in crude oil prices does not explain why Australian gasoline prices are at an all-time high. While crude oil isn't at all-time highs, the Australian dollar is significantly lower than it has been in the past. Oil was $100 USD a barrel seven years ago, but the Australian currency was extremely strong at the time – roughly 90 US cents. At the moment, a barrel of oil costs $95 USD, while one Australian dollarydoo only buys 71 US cents.
In Singapore, the cost of refining oil into fuel has risen to its highest level since July 2008. When shipping and taxes are taken into account, your local gas station will have to pay a record 167.1 cents per litre to purchase the fuel. They obviously need to make a profit, so they add a few additional cents to the price. According to CommSec, we're also spending a record amount on gasoline, with a national average of roughly $250 each week. This suggests that individuals are still driving as much as ever, if not more. The issue is that it has a knock-on effect, making other goods and services more expensive.
We don't know when gasoline prices will start to fall again as the Ukraine issue continues to worsen. So keep an eye out and make sure your tank is always full!
See More:
The keys to the war between Russia and Ukraine: causes, sanctions, what role does NATO play and future consequences
WAR IN UKRAINE: Elon Musk activates internet service in Ukraine