Ten Australian Street Foods to Enjoy
I was trying to find my way to happiness and it led to the next food stall. The only thing better than food is more food. Variety of dishes are available as one travel from place to another. Good food is something that brings people together. The one thing that every country has despite the variation in cultures is mouth-watering street food. Every country has tasty street food, the one that is spicier than the dishes you read on an expensive restaurant menu, where you find authentic food. Street food is nothing less than a guilty pleasure. Travelling is incomplete without food. You cannot travel to a different place and not try its authentic dishes and tasty street food.
Street Food Oz
Australian street food is not behind in awing you with its flavours and aromas that are going to leave you spellbound. Australia with its market that celebrates the fresh produce and mouth-watering street food. There are many delicacies that are found on this island continent, different types of meat, cooked with vegetables with sauces and spices that will make your taste buds tingle. Australian street food is as authentic and scrumptious as you will find in any country. If you love hanging with the locals of a country that you are going to receive a lot of recommendations about the best place to dine. With so many street food alleys, you can try a new dish every day for your entire trip. You can walk around the streets, talk to people, discover the rich heritage of this beautiful country while you dine on some of the finest delicacies. Even those of you who prefer the sobriety of a restaurant must give the street a chance. Let your taste buds run free and wild and get lost in the multitude of dishes that the street has to offer. There is something for everyone in the tasty street food of Australia. You are not going to be disappointed. Here are some of the best Australian street food that you should try.
1. BARBECUED SNAGS
Who doesn't love a good BBQ? Gathering friends and family and having a BBQ night is something that everyone is familiar one and also loves to do. True Australian street food that will make you fall in love with it, barbecued snags are a must-try. The sausage with the variety of meat is generously brushed with garlic butter and is then BBQed. One of the most delicious street foods in Australia, it is one of the most adored snacks in Australia. If you are social and become friends with one of the locals during your trip, there are chances that you might get an invite to a BBQ night with homemade sausages.
2. MEAT PIES
Those who have already been to Australia cannot say that they've never tried meat pies in Australia. It is nothing less than impossible. On every foodie's list, this Australian street food should definitely be the next dish that you need to try. Stuffed with types of meat, you can enjoy this dish as a snack or can whip up some gravy and mashed potatoes and enjoy a heavy brunch. You will find this dish on the menu of every party, which simply means the party doesn't start till meat pies are there.
3. JOHN DORY FILLET
This dish is clearly a very common mouth-watering street food. And your trip will be incomplete if you don't try this. John Dory is a fish found in Australia and is also one of the most delicious street foods in Australia. For the best experience, you should try it at a place that serves it with herbal oil. You can enjoy this dish with chips or salads or potatoes. If you are having a get together at someone's house then you are likely to find this on the menu.
Read More: Unique Australian Foods to Try Before You Die
4. BARRAMUNDI
Barramundi is everywhere in Australia and thanks god for that. It is utterly delicious. Cooked in butter, barramundi is a treat for those who love seafood. With its crisp outer layer and soft inner meat, barramundi is truly enjoyed when eaten on the streets. This Australian street food is what you have been waiting for. It is highly recommended by many foodies as well as the locals. You are bound to be mesmerized by this mouth-watering dish.
5. THE BURGER SURPRISE
Next on our list of delicious street foods in Australia, is this burger. For those who have travelled to Australia know what the surprise is and to those who are going to Australia for the first time and order a hamburger with 'the lot' you are in for a big surprise. You would be expecting the usual evergreen trio of lettuce, tomato and pickles but what you will receive is going to blow your mind. The usual hamburger comes with a fried egg and pickled beetroot and there is a chance that you will find grilled pineapple there. It is enough to say I guess that an Australian hamburger is something that will surely make you realise you are on the other side of the globe.
6. HALLOUMI BURGERS
Australian street food is full of different types of burgers. Majorly available in Sydney they are a part of the city's Greek street food style. This tasty street food is the perfect dish if you want to try Halloumi cheese. It also has buttered lettuce which enhances the flavour and makes the burgers more appetizing. If you like hamburgers and like trying out different types of food then you should try this burger. It is not going to disappoint and chances are that you might end up ordering more than one.
7. PIG IN BLANKET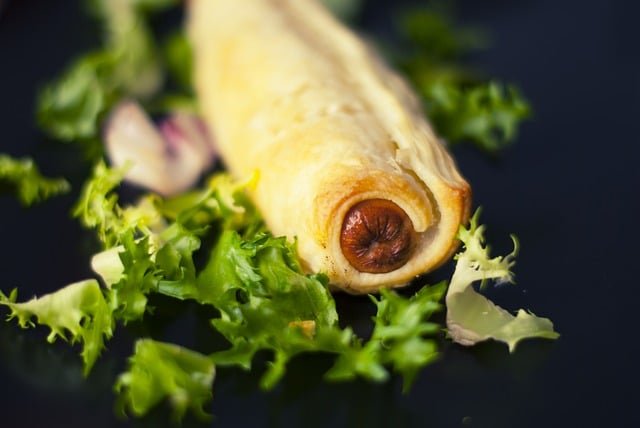 More like rolling my taste buds with flavours. This tasty street food is famous and there are chances that this dish might be recommended to you by a lot of friends. You should try these on the streets and enjoy the authentic taste. This Australian street food is going to melt in your mouth and the meat inside is cooked with spices and is bound to make you swoon. If you are going to Australia then you should have this mouth-watering street food. It will be the highlight of your trip.
8. LAMINGTON
For all of those out there with a sweet tooth, you should try this amazing dessert. Often called 'the national cake of Australia' this dessert is so tasty that chances are you might end up borrowing its recipe and trying it at home. The desert is a square-shaped sponge cake coated with chocolate and then shreds of coconut are added to enhance the taste. There are chances that you might find a surprising jam and cream filling. They are easily available in bakeries and the next time you have a piece have it with a warm cup of tea.
9. PAVLOVA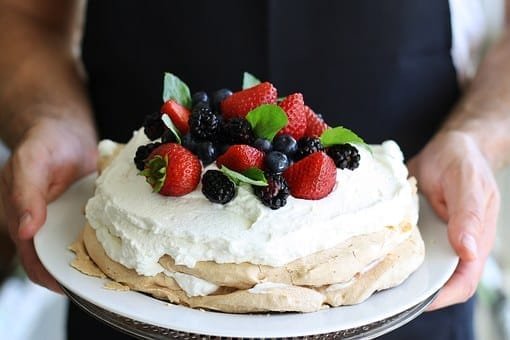 Another dessert for your taste buds, notably Australian street food has no shortage of desserts. Made with Meringue, cream and fruit, this dessert is going to the tastiest one you have ever tasted. One of the most delicious street foods of Australia, the desert was named after the Russian ballerina Anna Pavlova, you should try the classic one with strawberries, kiwi and passion fruit before you try its variations. Visiting Australia and not trying this should be a legal offence. No one should be denied of this mouth-watering street food.
10. GOLDEN GAYTIME
Do you love ice-creams? Is that even a valid question? Everyone loves ice-creams. This Australian ice-cream is what you should try if you want to know what Australian street food is. Vanilla ice-cream wrapped in toffee ice-cream and then dipped in chocolate and if that is not enough to water your mouth then this ice-cream is further sprinkled with biscuit crumbs. A classic example of Australian street food and what this country has to offer.
CONCLUSION
Good food with good people is there anything else you need more. Food is the solution to bad moods; it brightens one's day. Travelling is incomplete without checking out the types of food the country has to offer. Trying types of food from a place is like looking through the pages of its heritage. Some dishes over time have remained the same while some dishes have been changed and altered with the modern version. Foodies love trying new food because let's face it, what's there not to like. Life is short, eat what you want. Eat the dessert first if that's the way you like it. Try as many cuisines you can because that is the only way you will know how the world tastes.
Read More: Top 10 food you Must Try in Australia in 2020

REFERENCES:
Also See : Why Go on a Camping Holiday?