If you want to receive up to thousands of dollars per month, the Internet provides several opportunities you can seize. One of them is the Fiverr Affiliate Program, a trendy career that has become appealing for freelancers since it started in 2019.
You will understand how to gain up to $3000 in revenues by promoting Fiverr. This article will also show you the basics of affiliate work. But first, it is crucial to know: what does Fiverr offer?
See: The Best Fiverr Gigs To Earn Money Online
The significance of Fiverr today
Fiverr is one of the largest digital markets today. Although it started in Israel, Fiverr is now available in over 160 nations. This platform allows freelancers to sell their services to buyers who need them. At the same time, clients can discover sellers and assess their offerings. The site gives them the means to communicate, pay, and manage their financial assets.
To promote this service, Fiverr launched an intelligently engineered Affiliate Program. Affiliates may share referral links to potential clients. Then, for each purchase, they will receive a commission.
The Fiverr Affiliate Program has many perks. Since this website has a founded reputation worldwide, it bears prestige among freelancers and potential clients. It also caters to sellers with different skill sets, so you can attract many people to use Fiverr. Furthermore, the cookies attached to the referral link last for twelve months, so you can receive commissions anytime within that time frame.
The services offered by Fiverr
Fiverr also offers various services aside from the gigs available on their primary website. They range from translation jobs to music production to programming. But the company has other offerings that you may promote.
Fiverr Pro involves preferred professional freelancers who cater to big companies. Because of this, the rates here are expensive. Even the commission you can earn is high—you will receive $150 if you convince someone to purchase from Fiverr Pro.
Learn from Fiverr is an educational site made by the company for aspiring freelancers. If your prospective client ordered a course on this platform, you will receive $30.
And.Co, which was also made by Fiverr, provides management assistance to freelancers. The commission rate is also $30.
1. Join the Fiverr Affiliate Program
Of course, the first step to success is to join this affiliate program. While signing up, you should provide your account information and contact details. Then, you will answer a brief survey and check its terms, conditions, and privacy policies. You will access the Fiverr Affiliate Program dashboard once you finish this.
2. Use the statistics and marketing tools on the dashboard.
To earn high revenues, you need to use the tools that can assist you to promote Fiverr to more people. These tools include deep links, widgets, and banners.
Furthermore, data can provide you with insights into convincing potential clients. The program shows you how many people clicked the referral links, the number of new clients who registered, and the commissions you gained in total. This way, you can strategize your campaigns.
The Fiverr Affiliate Program also assists you in handling your finances from the site. It reports your incomes so far based on the commissions you gained. This online service also allows you to withdraw cash to your bank account or online wallet.
This program has commission rates based on the plans that you successfully referred. You can read their user guide and policies to learn more about this.
You can reach thousands and even millions of potential Fiverr buyers on social media. Share the referral links and spread the advantages of Fiverr on Facebook, YouTube, and blog sites.
Here are the steps to create Fiverr affiliate deep links: First, open your account on the site. From the dashboard, open the Marketing Tools, then access the Default and Deep Links function. Copy the generated referral link based on which services you want to promote.
If you have a blog, discuss the power that Fiverr provides. Write articles about the excellent gigs and online services on this platform. Create reviews, tutorials, and resources. These can help customers assess how Fiverr can assist them. While doing this, apply search engine optimization to increase your visitor count.
Fiverr also provides related affiliate banners and headers that you can attach to your site. Use it since this may increase your earnings.
Quora is like a mixture of social media and blogging. There, you can answer questions about Fiverr, freelancing, and other tasks. Take advantage of this format, which can demonstrate your credibility. Answer inquiries about these topics, and provide the referral links to drive people to Fiverr. Quora lets you do this for free!
Of course, do not forget traditional email campaigns. Contact your friends, colleagues, companies, and establishments that need Fiverr services and freelancers.
See: The Best Fiverr Gigs to Help You With Our Business
4. Promote beautiful gigs.
To attract potential clients, show them what sellers on Fiverr can do. Writing listicles about the best gigs may help. Then, show the impressive projects and products they offer. This way, readers will see how Fivver freelancers can help them too. In the end, ensure to add the referral link to have a commission.
You can search communities that talk about particular niches and tasks. Examples include video editing, blogging, SEO, web development, and graphic design. Since members of these groups need solutions for their job requirements, they are more likely to visit your referral link to learn more. But make sure to follow the administrators' rules when you do this to get approved.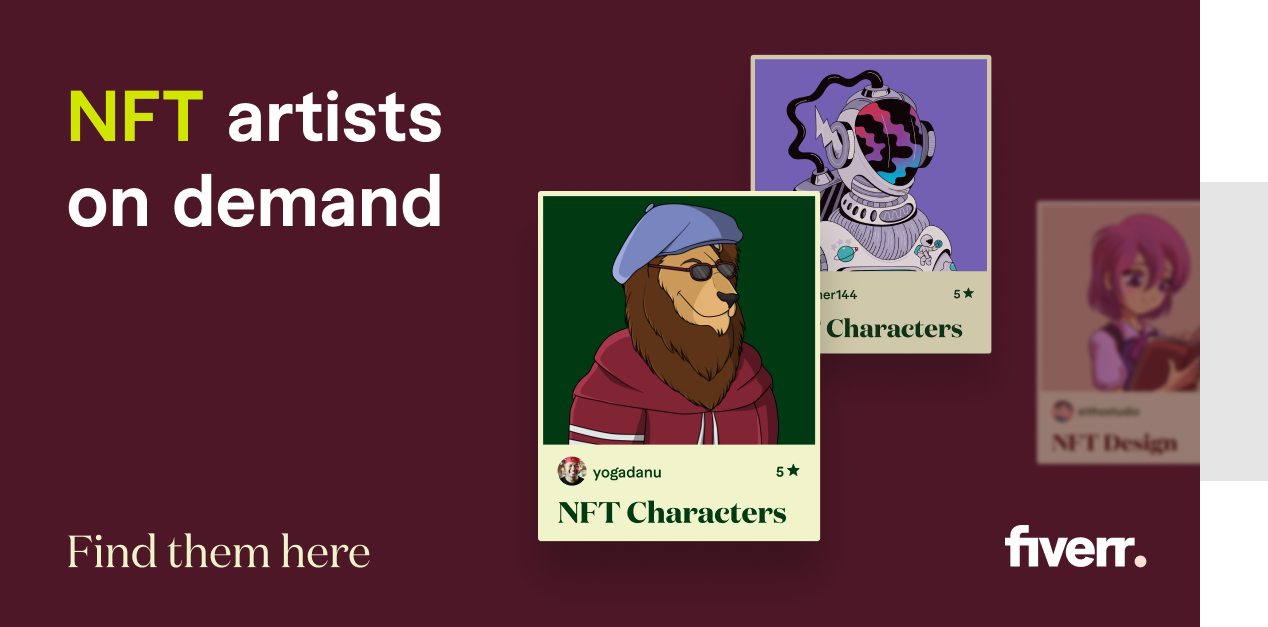 6. Actively comment.
You may add referral links to comment sections on YouTube, blog sites, and social networks like Reddit and Facebook. Doing this may increase engagement.
7. Be honest and professional.
As an affiliate, you must persuade first-time buyers to visit and purchase something from Fiverr. Readers and prospects appreciate your integrity and decent image. So do not exaggerate in promoting this website. After all, you do not have to do this: Fiverr is full of excellent freelancers and impressive gigs.
Enjoy: How To Make $5000 A Month From Fiverr: A Complete Guide For Newbies