Migs Ranked Best to Worse
List of aircraft manufactured by Russian Aircraft Corporation MiG, previously Mikoyan, a Russian aircraft manufacturer. MiG-28: a fictional aircraft used as a main antagonist in 1986's Top Gun. The real MiG-28 that was used was a Northrop F-5.  Aircraft in the MiG family made by a Soviet design bureau founded in 1939 by Artem Mikoyan (M) and Mikhail Gurevich (G). (The i in MiG stands for "and.")
Ghost Of KYIV Ukraine Hero, Is He / She Real?
1.     Mig-21 – 1956 Fighter and Interceptor
Developed by the Mikoyan-Gurevich Design Bureau in the Soviet Union, the Mikoyan-Gurevich MiG-21 is a legendary fighter/interceptor that has been in service since 1956.
2.     Mig-35 – 2009 Multirole Fighter
As a multirole fighter, Mikoyan MiG-35 is a Russian aircraft designed by Mikoyan, a subsidiary of UAC. It competes with the Eurofighter Typhoon, F/A-18E/F Super Hornet, Dassault Rafale, JAS 39 Gripen and F-16 Falcon
3.     Mig-25 – 1964 Interceptor and Reconnaissance Aircraft
MiG-25 is a Mikoyan-Gurevich supersonic interceptor and reconnaissance aircraft that was one of the fastest military aircraft to enter service. Its first prototype flew on 6 March 1964 as a reconnaissance variant called Ye-155-R1.
4.     Mig-3 – 1940 Fighter and Interceptor
Russian Aircraft Corporation MiG, formerly Mikoyan, produced the Mikoyan-Gurevich MiG-3 during World War II. MiG-3, 1940, Fighter and interceptor with a Mikulin AM-35A engine of 1,350 horsepower.
5.     Mig-23 – 1967 Fighter and Fighter-Bomber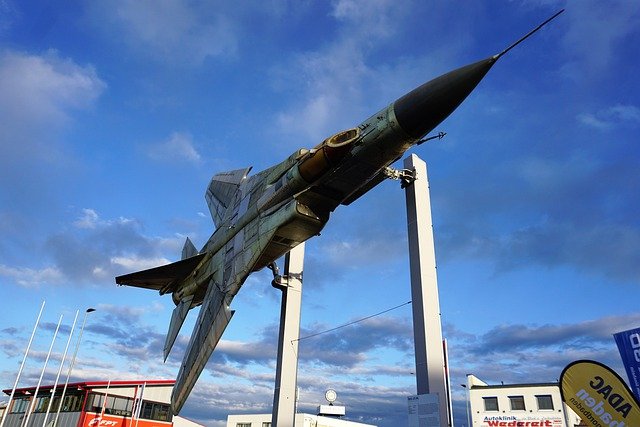 Mikoyan-Gurevich MiG-23 is a Soviet variable-geometry fighter aircraft originally designed by the Mikoyan-Gurevich design bureau in 1966. It belongs to the third generation of Soviet jet fighters and was first manufactured in 1967.
6.     Mig-29M – Improved Multirole Fighter Variant of The Mig-29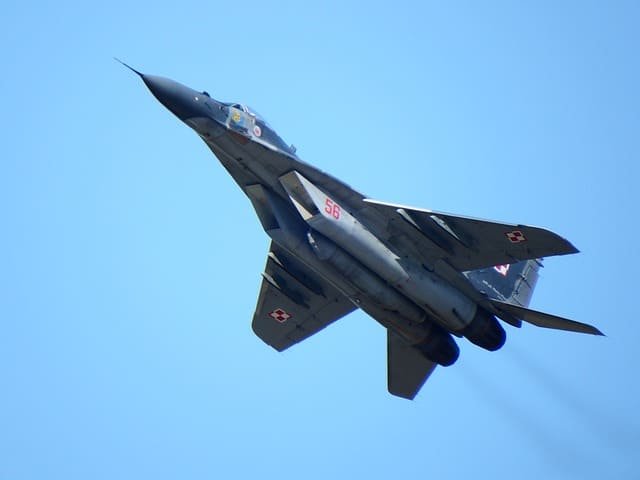 A revised version of the MiG-29M/M2 was developed. It had enhanced air-to-air and air-to-ground high-precision weapons, as well as a significantly increased combat range thanks to an increase in the capacity of its internal fuel tank.
7.     Mig-19 – 1952 Fighter
A well-acclaimed Cold War fighter, 
the Mikoyan-Gurevich MiG
–
19 
was
produced
in
many
versions
by
a
variety
of
manufacturers, including 
the SM-1 
in
1952
that achieved 
supersonic flight 
at 
16400
ft.
and
the 
SM
–
11
produced in 
1974
.
8.     Mig-31 – 1975 Interceptor
Soviet Air Forces developed the Mikoyan MiG-31 supersonic interceptor aircraft that was built as a home-defense interceptor and never exported or used in combat. It was developed to replace the MiG-25 "Foxbat" in place of the Russian-built MiG-31 "Mikoyan MiG-31".
9.     Mig-29 – 1977 Air Superiority Fighter and Multirole Fighter
MiG-29s are twin-engine jet fighter aircraft designed in the Soviet Union by their Mikoyan design bureau. When MiG-29s were introduced in 1977, they were compared to Russia's Legendary Air Superiority, and the Multirole.
10.  Mig-29K – 1988 All-Weather Carrier-Based Multirole Fighter
Mikoyan MiG-29K is a Russian all-weather multirole fighter aircraft … The MiG-29K performed its first flight on 23 July 1988 at Saky by test Since the first flight in 1988, accidents have occurred in 2011, 2016, and 2019.
11.  Mig-1 – 1940 Fighter
During World War II, the Mikoyan-Gurevich MiG-1 was a Soviet fighter aircraft built in response to a requirement for a high-altitude fighter issued in 1939. One Mikulin AM-35A liquid–cooled V–12 engine was fitted to one of the prototypes, and the aircraft was seen in action on 5 April 1940.
12.  Mig-17 – 1950 Fighter
Mikoyan-Gurevich MiG-17 high-subsonic fighter aircraft, which, on 17 March 1950, lost its horizontal tail and crashed after tearing it off. A major problem for allied air forces operating over Vietnam during the Korean War, the MiG-17 was a refinement of the MiG-15 from that conflict.
13.  Mig-15 – 1947 Fighter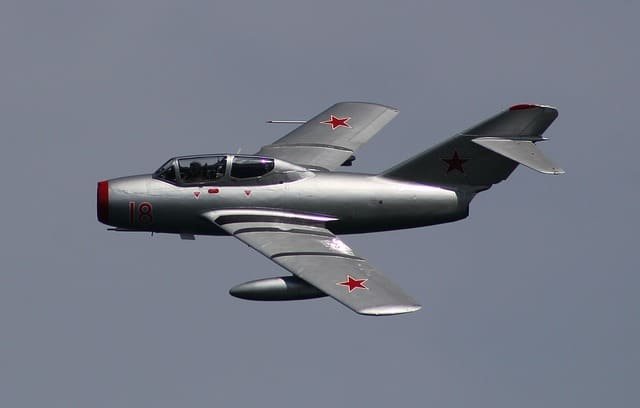 Mikoyan-Gurevich MiG-15 is a jet fighter aircraft developed by Mikoyan-Gurevich for the Soviet Union. It first flew on 30 December 1947. The MiG-15 is a single-seater, single-engine Soviet jet fighter, and it was the first aircraft to benefit from the British sale of Rolls-Royce engines to Russia.
14.  Mig-9 – 1946 Fighter
Despite its impressive appearance – no doubt enabled by captured German research following World War II – the Mikoyan-Gurevich MiG-9 was the first turbojet fighter developed by Mikoyan-Gurevich after World War II.
15.  Mig-27 – 1970 Ground-Attack Aircraft
The Mikoyan-Gurevich MiG-27 is a variable-sweep ground-attack aircraft originally designed by the Soviet Union's Mikoyan-Gurevich design bureau, and later known as the Swing-Wing Ground Attack aircraft [1975].
Also See: Top 10 Special Forces Around the World