Meaningful & Inspirational Quotes by Sigmund Freud
Sigmund Freud's Most Inspirational Quotes
A collection of beautiful and Inspirational Quotes by Sigmund Freud, this article we look at Sigmund Freud's most inspiring quotes. Quotes often give context; they can mean different things to different people, here you will find some of the best quotes by Sigmund Freud.
The act of birth is the first experience of anxiety, and thus the source and prototype of the affect of anxiety.

Sigmund Freud

Dogs love their friends and bite their enemies, quite unlike people, who are incapable of pure love and always have to mix love and hate.

Sigmund Freud

Knowledge is the intellectual manipulation of carefully verified observations.

Sigmund Freud

It is not so much that man is a herd animal, but that he is a horde animal led by a chief.

Sigmund Freud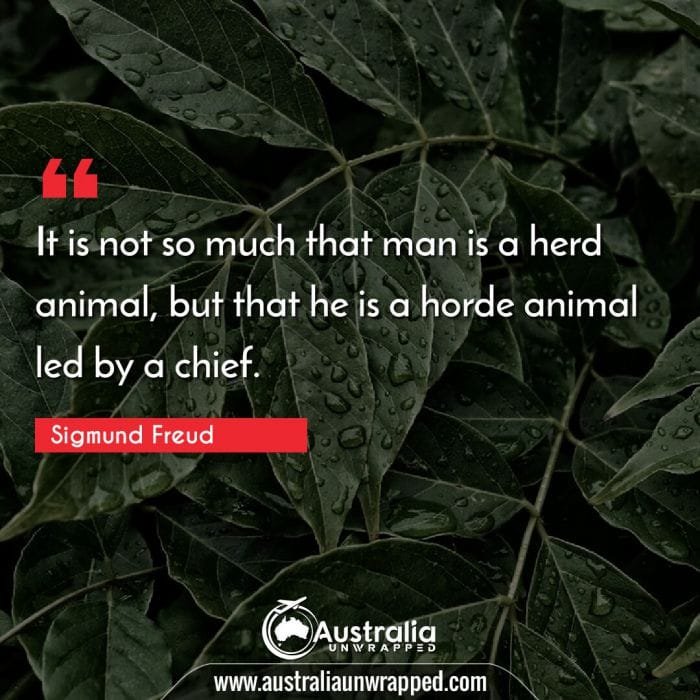 Dreams are often most profound when they seem the most crazy.

Sigmund Freud

The great question that has never been answered, and which I have not yet been able to answer, despite my thirty years of research into the feminine soul, is 'What does a woman want?'

Sigmund Freud

A man who has been the indisputable favorite of his mother keeps for life the feeling of a conqueror.

Sigmund Freud

Anxiety in children is originally nothing other than an expression of the fact they are feeling the loss of the person they love.

Sigmund Freud

The interpretation of dreams is the royal road to a knowledge of the unconscious activities of the mind.

Sigmund Freud

How bold one gets when one is sure of being loved.

Sigmund Freud

A woman should soften but not weaken a man.

Sigmund Freud

Children are completely egoistic; they feel their needs intensely and strive ruthlessly to satisfy them.

Sigmund Freud

Every normal person, in fact, is only normal on the average. His ego approximates to that of the psychotic in some part or other and to a greater or lesser extent.

Sigmund Freud

Neurotics complain of their illness, but they make the most of it, and when it comes to taking it away from them they will defend it like a lioness her young.

Sigmund Freud

public self is a conditioned construct of the inner psychological self.


Sigmund Freud
A piece of creative writing, like a day-dream, is a continuation of, and a substitute for, what was once the play of childhood.

Sigmund Freud

Neurosis is the result of a conflict between the ego and its id, whereas psychosis is the analogous outcome of a similar disturbance in the relation between the ego and the external world.

Sigmund Freud

Most people do not really want freedom, because freedom involves responsibility, and most people are frightened of responsibility.

Sigmund Freud

Just as a cautious businessman avoids investing all his capital in one concern, so wisdom would probably admonish us also not to anticipate all our happiness from one quarter alone.

Sigmund Freud

What we call happiness in the strictest sense comes from the (preferably sudden) satisfaction of needs which have been dammed up to a high degree.

Sigmund Freud

Creativity is an attempt to resolve a conflict generated by unexpressed biological impulses, such that unfulfilled desires are the driving force of the imagination, and they fuel our dreams and daydreams.

Sigmund Freud

I cannot face the idea of life without work. What would one do when ideas failed or words refused to come? It is impossible not to shudder at the thought.

Sigmund Freud

America is the most grandiose experiment the world has seen, but, I am afraid, it is not going to be a success.

Sigmund Freud

Two hallmarks of a healthy life are the abilities to love and to work. Each requires imagination.

Sigmund Freud
Quote to Inspire by Sigmund Freud
Hope you enjoyed this beautiful collection of quotes by Sigmund Freud. Please pin your favorites or share via social media, Also we would love to hear your favourite quote in the comments section below. One life, get inspired and find your perfect quote.
More Famous Quotes