Staying below your daily carbohydrate limit on the keto diet can be somewhat of a challenge, especially if you are new to the low carb, high fat lifestyle. The good news is there are plenty of delicious homemade carb-substitutes you can have, and yes, even cinnamon rolls make the cut. Whether you're an ex bread fanatic or someone who just loves indulging in something sweet after dinner, here are 5 easy keto-friendly recipes to satisfy those insatiable carb cravings. Read on if you're looking to wow your tastebuds. 
1. Keto Cinnamon Rolls
Ingredients: 
175 g shredded mozzarella cheese

80g almond meal, or grind 80g whole almonds in a

food processor

30g full-fat cream cheese

1 egg

½ tsp baking powder
Filling: 
Frosting: 
2 tbsp full-fat cream cheese

1 tbsp greek/full fat yoghurt

2 drops vanilla stevia
Method: 
Preheat the oven to 180

°

C

elsius. Melt the mozzarella and cream cheese in a non-stick pot over low heat.

Take off the stove and make sure the cheese is melted, but not bubbling. Stir in the egg.

Stir in almond flour and baking powder. Start to combine using a fork, then use your hands to make a ball of smooth dough.

Divide the dough into six 50g portions. 

Form long rolls, then flatten out with your hands as much as possible.

Prepare your cinnamon filling: boil water, then stir in the sweetener and cinnamon. Spread paste over the flattened dough rolls.

Roll each portion of dough into a bun (as if you're rolling a swiss roll) and cut sideways in half. You should end up with 12 final buns.

Place buns on a non-stick baking sheet or in a pie dish and bake for 20 minutes.

While the rolls are in the oven, prepare the frosting by mixing cream cheese, yoghurt, and stevia.

Spread over the warm rolls and serve.
2. Keto Pizza Dough 
Ingredients:
140g shredded mozzarella cheese

55g ground almonds

2 tbsp full-fat cream cheese

1 egg 

Keto-friendly pizza toppings

, as desired (we like mushroom, broccoli, cheese and pepperoni)
Method:
Preheat the oven to 180

°

Celsius. Place the grated mozzarella, almond meal, and cream cheese in a microwave-safe bowl. Microwave on HIGH (100%) for 1 minute, stirring halfway, or until melted and combined. Add the egg and, working quickly, beat with a wooden spoon until combined.

Place dough between 2 pieces of baking paper and roll to line a 32cm pizza tray. 

Remove the top piece of baking paper and slide the dough with the bottom piece of baking paper onto the pizza tray. Prick with a fork. Bake for 10 mins or until puffed and golden.

Once cooked, flip pizza base over and cook the other side for a further 5 minutes or until the top is golden. 

Top with your favourite pizza toppings and cook as you would a regular pizza. 
3. 2 Ingredient Keto Pasta 
Ingredients:
1 cup mozzarella cheese

1 egg yolk
Method:
In a bowl, melt cheese for 1 minute. Stir until the cheese is completely melted. If needed, heat for an additional 30 seconds or until the cheese has completely melted.

Allow mozzarella to cool for exactly 1 minute. Add egg yolk and stir to mix into the cheese, until you have a uniform yellow dough.

Place your dough on a flat surface lined with parchment paper. Place another piece of parchment paper on top of the dough. 

Use a rolling pin over the top piece of parchment paper, and roll dough until it is 1/8 inch thick.

Remove the top piece of parchment and cut the dough into ½ inch wide strips, then refrigerate pasta overnight.

When ready to cook, bring a pot of water to boil. Do NOT salt the water.  

Cook pasta for about 40 seconds to 1 minute. Be careful not to overcook, or pasta may disintegrate.  

Remove pasta from the pot and run under cold water to cool it down. Gently separate any strands that are sticking together. Allow pasta to cool until it is only slightly warm to the touch. 

Pasta will firm up as it cools. Serve with your favourite

keto-friendly pasta sauce

.
4. Keto Donuts 
Ingredients:
100g Ground Almonds

75g unsalted grass fed butter melted

50g granulated keto sweetener

4 eggs

2 tbsp thickened cream

1 tsp baking powder

1 tsp vanilla extract
Icing:
Melted Dark, Milk or White Keto Chocolate 
Method:
Preheat your oven to 175

°

Celsius. Prepare a silicone donut tray/mould.

Melt the butter and then place into the food processor along with cream and sweetener. Blend until smooth. 

Add the eggs and vanilla extract and blend until combined. 

Add ground almonds and baking powder and mix. 

Spoon the dough into your silicone donut pan – do not overfill!

Bake for 15 minutes or until lightly browned. Remove from the oven and let cool completely before removing from the pan.

Top with melted Keto chocolate, if desired. 
5. Low Carb Blueberry Muffins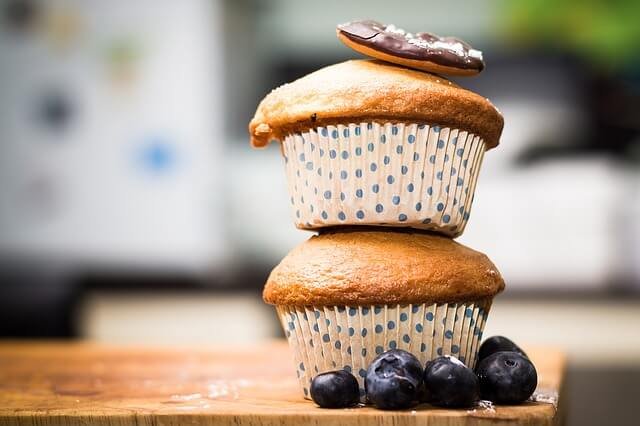 Ingredients:
4 large eggs

2 tablespoons full cream milk

4 tablespoons unsalted butter, melted

1 tablespoon pure vanilla extract

½ cup granulated Keto sweetener

½ teaspoon salt

180g almond meal

½ teaspoon baking soda

150g fresh blueberries (NOT frozen) 
Method:
Preheat your oven to 170

°

Celsius. Line 8 muffin cups with paper liners and lightly spray them with oil spray. Alternatively, use silicone muffin cups. 

In a medium bowl, whisk together the eggs, milk, melted butter, vanilla, sweetener and salt.

Stir in almond flour and baking soda, whisking until very smooth. Using a rubber spatula, gently fold ½ cup blueberries into the batter.

Divide batter evenly among muffin cups. Evenly scatter remaining blueberries on top of the muffins, gently pressing them in.

Bake muffins until golden and a

toothpick inserted in the centre comes out dry

– about 20 minutes.

Remove the pan from the oven. Carefully remove the muffins from the pan. 

Place on a wire rack to cool for about 20 minutes before removing the paper liners and serving.
___________
And there you have it – 5 amazing recipes that are sure to satisfy your tastebuds and crush those carb cravings! What are some of your favourite Keto recipes? Be sure to leave a comment and let us know.