Is Homestay Care Limited (ASX_ HSC) Probably a Good Investment Or Not?
Things You Should Know Before Investing in Homestay Care Limited
Homestay Care Technology Group is a data analytics company that was formed in Australia in 2016. The company is situated in the health care sector. HSC is described as a software as a service (SaaS) company, which means that their products are software that is sold to their customers.
HSC focuses on using artificial intelligence and machine learning to deliver decision making insights to careers and caregivers that can help improve the level of health care service being provided to the patients. HSC uses the latest technology possible to provide top of a line health care experience to the users.
Products and Services
HSC has got products that can help improve life and health in the following areas
Emergency response services
Geospatial intelligence
Vital signs
Telehealth
Smart home
Internet of things sensors
HSC prides itself in using next generation artificial intelligence and machine learning to create innovative products that can create a better living experience for the users.
The products or services offered by HSC can be categorized as
HSC Home
HSC home is a secure and safe, smart home solution offered by HSC for everyone but in particular for persons with disabilities, as it can greatly increase their accessibility. HSC home delivers a completely connected home experience that the users can access at anytime from anywhere, using any smartphone, tablet or computer.
The home automation system comes with a smart hub that can control 98 devices and sensors. Users can therefore control cameras, lights, water, heating and anything else that has been connected with a sensor.
The home automation system also comes with an ageing in place suite, that allows the family members to monitor the health of the elderly members at home with ease.
Also See: How To Make A Realistic Budget (And Stick To It)!
TALIUS
TALIUS is an AI powered platform that uses machine learning to monitor and the behavior of individuals. TALIUS is thus primarily aimed for carers and caregivers who look after the elderly. TALIUS can therefore be used in senior homes, to track and monitor the health and behavior of the elderly. Allowing the caregivers to look for signs of changes in behavior, which can help them diagnose certain conditions early. It also allows carers and caregivers the peace and security of mind.
TALIUS comes with monitoring apps and emergency response service if required. It can be scaled based on the needs of the customers.
HSC Care
HSC care is a telecare services platform that provides the ageing in place suite that has been mentioned above. HSC care comes with sensors that can be placed throughout the house or facility. These sensors can monitor everything around the house or the facility thereby building up a database of behavior and routines. If then any deviation occurs, it can be quickly detected and investigated.
Also See: How Long Does It Take To Transform Your Body To Muscle – Day 35
Financials
It must be kept in mind that HSC was created in 2016, it is therefore still very young. It is also in a very technology oriented sector and thus one should expect expenditure on research and development to be quite high, which is typical for young tech intensive companies.
The financial position of HSC therefore does not display very encouraging signs for investors looking for quick returns in the short term.
Since its inception, the company has constantly been in loss.
It can be clearly seen that the company is in loss however the net loss figure has been going down in the last three years. Which can be seen as a positive sign, this shows that the revenue stream of the company has started to pick up.
The revenue in 2020 was AUD 3.11 million and as compared to the previous year, this registered +438% increase on a year on year basis, which is a remarkable growth. Similarly the net income growth for the company in 2020 was +46.37% which is a very positive figure.
Needless to say that since the company is making a net loss since its inception, it does not therefore pay any dividends. The dividend policy for the future is not clear, since it has never paid out any dividend.
The balance sheet position of HSC is showing good signs, for a young company. The total assets have more or less remained constant in the last two years and the debt levels are also under control.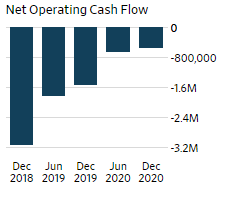 The cash flow situation was alarming in 2018 but as it can be clearly seen, it has been getting better every year.
The liquidity position is showing stable signs. The current ratio is 4.13, whereas the quick ratio is 3.41. This shows that at least the company is not strapped for cash in the short term. Which is a good sign.
The margins and returns are all in the negative. So from an investors point of view, so far there has not been any return on investment. So what does all of this mean?
Firstly, this is a very young company. Hardly 5 years old in a tech intensive sector, so it is not unusual to see high expenditures in the first few years of operations. There are some very good signs. For example the trend for cash flow is improving, revenue and net profit increase on a year on year basis are also very good.
This probably means that HSC is now gaining traction in the market and starting to move towards profitability. The products and services offered are very good and if the level of quality is maintained, together with innovation and competitive edge then it seems highly likely that HSC will break out as a fast growing company.
So long term investors, who have got enough money to buy the stock of HSC and forget about it for a few years, may want to invest in HSC.
Disclaimer
Australia Unwrapped provides only general, and not personalised financial advice, and in no way has taken your personal circumstances into account. Investments go up and down, any questions talk to a financial advisor. This blog is opinion only and in no way should investment decisions be based on this information.
Australia Unwrapped does not endorse or vouch for the accuracy or the authenticity of postings, comments or the article
Main Image Source: Pixabay
Also See: Is Starting a Blog the Best Way to Make Money Online?