Although the COVID-19 pandemic undoubtedly had a lasting impact on families across the globe, the pandemic also taught us a few important lessons about how we live our lives day-to-day. Many have noted post-COVID living to be far more flexible, with students and professionals feeling comfortable to prioritise their health over their busy working schedules. 
No doubt, flexible working arrangements that remain following our years in pandemic lockdowns have been a veritable godsend for many working professionals. Business managers also realised that there were many benefits to hybrid working arrangements on their end as well, including a boost in overall productivity. Employees felt more present and focused during their working hours when they were able to do away with their early morning commute, and work in their own specially curated workspace, amongst other advantages that come with WFH. 
One particularly superb advantage, however, is the freedom to do your job from virtually anywhere on the planet! This possibility is naturally prompting more people to take working holidays. They book holiday packages, take their work computer with them, and then proceed to work from a hotel or other venue rather than from home, allowing them to enjoy their leisure time and weekends exploring a new city or country.
But how exactly do you go about planning a work holiday? Like let's say you were eager to embark on a trip to Australia. What are your options for turning this trip into a remote working opportunity? We'll be seeking to illuminate this process today. Read on to unearth six simple steps to help you turn your Aussie vacation into a genuine working holiday.
Step 1: Ask for Permission
Without this crucial preliminary step, you likely won't get far on your working holiday to Australia. The first thing you should naturally think to do is to ask your boss for permission to take a working holiday. You may need to negotiate with them, as not all supervisors will approve this type of request immediately, mainly because they'll feel wary about whether or not your work will be completed. 
If you can convince them you can perform your duties while travelling with no drop in productivity, however, you should be allowed to go. Simply get a plan together and outline all the tasks you'll be intending to complete while travelling. If you can provide your supervisor with a thorough schedule that they can also monitor remotely, then you'll have a stronger chance of your request being approved.
The trickiest thing to plan for is the difference in time zones. You need to be available for the business when required, so this might mean some early mornings or late nights to catch your colleagues while at work over Zoom or another video conferencing platform.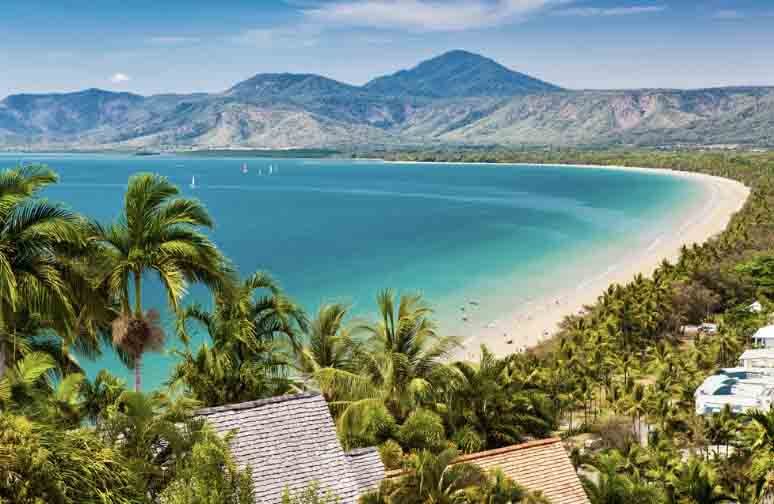 Step 2: Book Accommodation
The next step is to book your flights and accommodation. This should ideally be done nice and early to ensure that you can get the best travel deals. Be sure to also consider peak travel times for Australia to gauge whether you can expect to pay higher or lower than average for your flights and accommodation.
If you play your cards right, you could find yourself lounging around somewhere luxurious like Peppers in Port Douglas for a fraction of the amount you'd expect to spend. And believe us, it's so much more enjoyable to soak up the sun on a pristine Queensland beach when you know you've gotten some serious savings on your travel deal. 
Step 3: Check for WiFi & Other Amenities
When booking hotels for your holiday, it's imperative that you inquire about their internet availability and connectivity. You will need a stable internet connection if you're looking to attend any meetings remotely during your time away. Yes, you can use your mobile data in a pinch, but it can be quite difficult to work without a solid and secure internet connection.
Similarly, you'll want to make sure that there is a desk and perhaps even a desk lamp in your booked accommodation. Once again, although you can absolutely try to make do by simply working on the bed of your hotel room, this may not be the most productive – or perhaps even comfortable – environment for you.
Step 4: Plan Your Trip
Once the essentials have been sorted out, it's finally time to start fleshing out your trip itinerary with all the fun things you'd like to do during your time in Australia. You should have a rough idea of the sights you'd like to see in and around the cities or townships you'll be staying in, so we recommend planning around these must-do activities first. For instance, if you're looking to go to Sydney, allocating time to see the Sydney Opera House and the Harbour Bridge should be a top priority, alongside any other activities or attractions that are available in and around the city centre. 
And be sure to book any connecting transportation between your itinerary items in advance wherever possible. This will allow you to focus on your work and leisure time while travelling in Australia without stressing about getting to your next destination.
Step 5: Have a Budget, & Stick to It
Just like any other holiday, a working holiday can see you spending some serious money, if you're not careful. For this reason, it's imperative that you set a budget for your travels and take efforts to stick to it as well!
This can be done by setting a budget for every single day of your trip, rather than trying to set a budget for the trip as a whole. It can be stressful trying to calculate your spend over multiple days away, but going day by day should feel simple enough, especially if you'll still be busy at work for a fair chunk of time every day.
We also recommend using your debit card while travelling over credit cards. It can be tempting to run up the credit card while you're abroad, but international transaction fees and interest can be expensive. It's better to spend your own money and portion your savings out slowly to reduce the risk of accruing debt that takes you by surprise.
Step 6: Plan Your Work in Advance
As we mentioned earlier, you'll want to put a work plan or schedule in place when seeking permission from your supervisor. But it's important that you look over this work plan before jumping on your flight, just to make sure that all appointments like client meetings or department meetings are set in stone, and you'll be guaranteed to be where you need to be in order to sit in on those appointments remotely. 
If you're looking to attend any business meetings in person during your time away, it's also important to make sure you've packed the right wardrobe for these appointments. Try making a checklist of items that you'll absolutely need to pack for your work responsibilities, and then separate your work attire and equipment from your leisure wear and other holiday items when packing. 
And Remember – Save the Drinks for After Hours!
Now that we've outlined all six steps, we'll leave you with one final guideline for making your working holiday as enjoyable (and productive) as possible. Yes, a holiday isn't complete without cocktails, or at the very least a cold pint of beer at a classic Aussie pub. But remember that you should only drink when you're not on the clock! 
It may be tempting to grab a cocktail when you're on your laptop, but it's unprofessional, even if you happen to be working out of the office. Your company will likely also have a policy about alcohol consumption – usually, it is only allowed at special events or parties. So stay by the book and save the booze for when you've logged off for the day.
So long as you follow all six of these steps (and this final little tip regarding your holiday tipples), you'll be sure to enjoy your time down under without falling behind on your work!