Fiverr Affiliate Commission Rates
Fiverr offers services suitable for almost every type of business. Fiverr affiliates is a marketing program that rewards marketers with commissions for bringing new users to the platform. Five affiliates only offer commission from first-time buyers to the platform.
Fiverr has a dynamic CPA commission structure. You get this once someone makes a purchase through your affiliate link.
Commission plans
Fiverr Business
Fiverr business is a place for freelancers to offer their services. Which includes: writing, designing, marketing, editing, etc. This is the primary marketplace where freelancers sell services. The commission for these services ranges from $15 to $50.
This plan offers $100 CPA once an account reaches $100 + 10% revenue share for 12 months
Also See: Highest Paying Gigs on Fiverr for Side Hustles in 2021
Fiverr Affiliates
This is where partners earn commission by promoting services on Fiverr through a given link.
This plan has a 10% system of every affiliate earning for a lifetime
Learn from Fiverr
This is an online platform that offers people to upgrade their skills. This is available to anyone to use. They take courses on digital marketing, design, branding, and many more. Learn from Fiverr is where freelancers can take courses to better their skills in their relevant fields.
Fiverr primarily focuses on freelancers who are already on the platform, but anyone outside is welcome to take the course. The commission is $30 for each course order.
Gives 30% of every course order
AND.CO
This is an app offering freelance tools. It helps businesses and freelancers manage their businesses. This aims to provide more structure to freelancers and small businesses. The SaaS application helps freelancers to manage their own gigs, have proper time management, and organise schedules. The commission for every AND.CO pro plan is $30.
Also See: How to Promote Fiverr Affiliate Programs
Gives 50% of AND.CO pro plans
Fiver CPA commissions
Fiver offers different commissions depending on which category your buyer purchases from. You qualify for CPA commissions once your buyer purchases on Fiverr for the first time.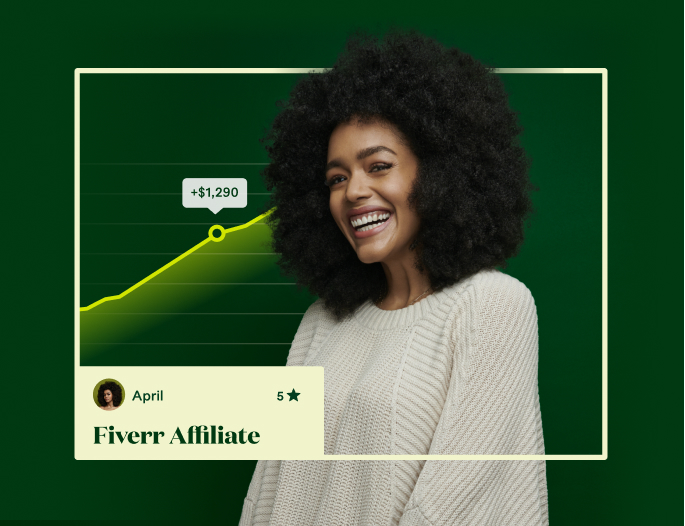 $150
Offers $150 for all Fiverr pro services
$50
Offers $150 for:
Industrial and product design – Graphics and designs
Data science – Data
Mobile apps – Programming and tech
E commerce development – Programming and tech
$40
Offers $40 for:
Website building and CMS – Programming and tech
Lyric and music videos – Video and animation
Web programming – Programming and tech
Data processing – Data
Architecture and interior design – Graphics and design
Game development – programming and tech
Website design – Graphics and design
$30
Offers $30 for:
E-commerce product videos – Video and animation
3D product animation – Video and animation
Logo producing – Logo maker
SEO – Digital marketing
T-shirt and merchandise – Graphics and design
Research and summaries – writing and translation
Business consulting – business
Proofreading and editing – writing and translation
Financial consulting – Business
Producers and composers – Music and audio
$25
Offer $25 for:
Illustration – Graphics and design
Gaming – lifestyle
Articles and blog posts – writing and translation
Video marketing – digital marketing
Social media marketing – digital marketing
Resume writing – writing and translation
Voice over – music and audio
Short video ads – video and animation
Also See: How to Quickly Make Money Online in Australia
$15
Offers $15 for all other categories

Australia Unwrapped provides only general and not personalised financial advice and in no way has taken your circumstances into account. Investments go up and down; any questions, talk to a financial advisor. This blog is opinion only, and in no way should investment decisions be based on this information.
Australia Unwrapped does not endorse or vouch for the accuracy or authenticity of postings, comments or the article.
Also Enjoy:  How to Promote Fiverr Affiliate Programs