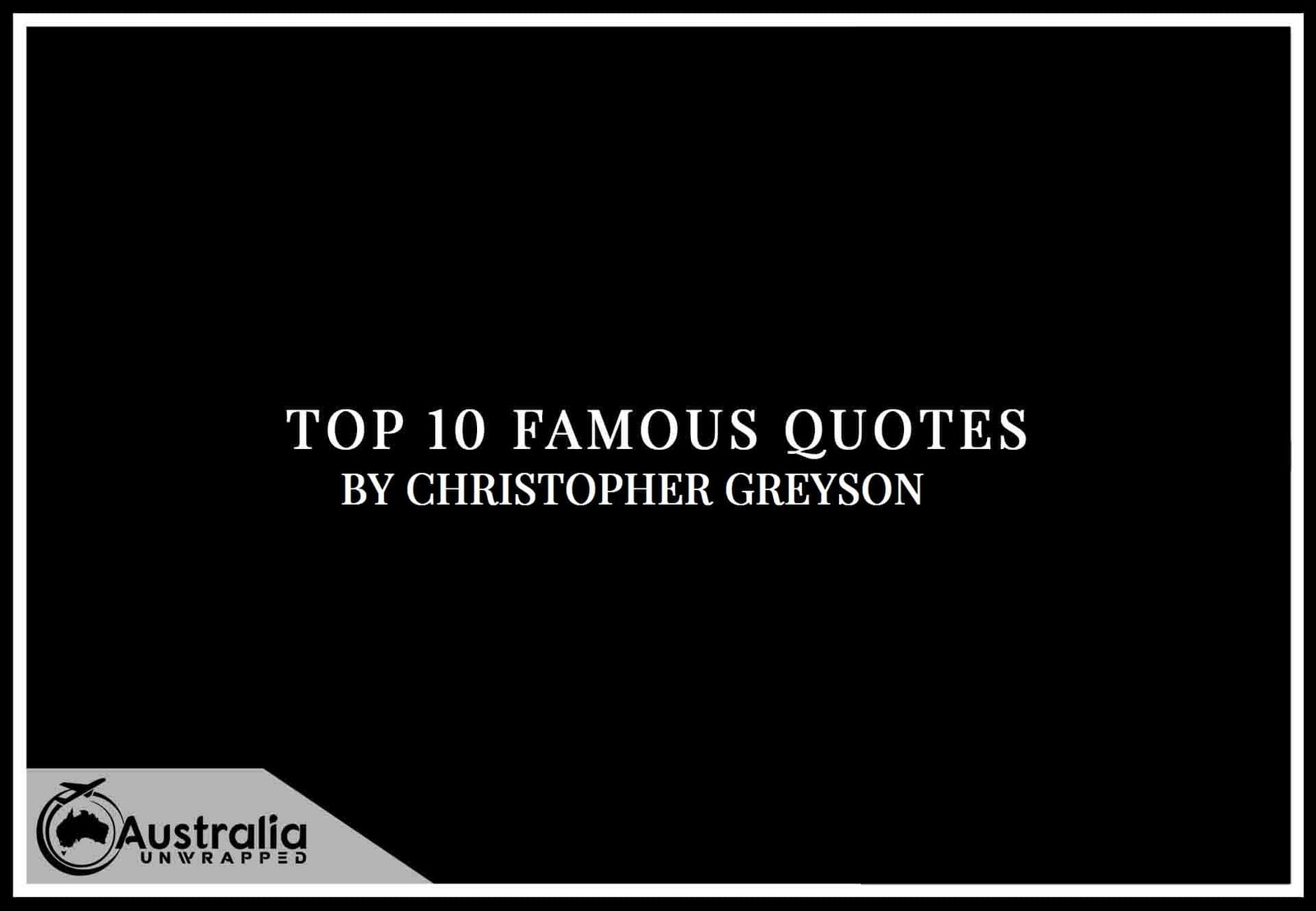 Ten of My Favourite Christopher Greyson Quotes
Love reading? Then it's likely you will love a good quote from your favourite author. This article covers Christopher Greyson's Top 10 Popular and Famous Quotes that we at Australia Unwrapped have collected from some of his greatest works. Christopher Greyson quotes to remember and here you will find 10 of the best. A memorable quote can stay with you and can be used along your journey. Choosing Christopher Greyson's top 10 quotes is not easy, but here they are:
Popular Quotes
"Her father called her Spitfire,"
― Christopher Greyson, The Girl Who Lived
"Car 68?" The dispatcher's voice crackled over the radio. "Copy." "We got a 10-10 in progress at The Boar's Butt." The Boar's Butt was a local bar and pizza joint that mainly catered to the same crowd of rowdy guys. Jack always laughed at the name. "Any other info?" Jack swung the car around and hit the lights. "Bartender called it in. No other details. Backup is"
― Christopher Greyson, Girl Jacked
"I asked my dad that when he ran out in the rain to get the door for my mom. He said he did it for three reasons. One, it lets the other person know my focus is not on me; it's on you. Two, it says what we're doing, we're doing together. Three, it shows any guy watching that you're with me and I think you're special enough to treat you right."
― Christopher Greyson, And Then She Was Gone
"entire restaurant was a large, open room with a kitchen at the back. There were five booths against the wall and next to them were five large tables, each covered with checkered red and white vinyl tablecloths. Dwight Yokum's version of 'Little Sister' played over the jukebox, and the smell of pizza and beer filled the air."
― Christopher Greyson, Girl Jacked
"The old woman's cry for help rang in Jack's ears. Her face flashed through his mind—desperate, helpless. A victim. Jack had been a helpless victim, prey, in the past. Not now. Jack was the hunter now. The adrenaline surging through his body was like rocket fuel. I've got this."
― Christopher Greyson, And Then She Was Gone
"Pain immobilizes people. Pain locks them in place so they spend hours, days, and lifetimes held captive."
― Christopher Greyson, Girl Jacked
"some people are born mean." Aunt Haddie's voice softened. "And some people change."
― Christopher Greyson, And Then She Was Gone
"You need to guard your heart. You love deep. You'll hurt deep. Go slow."
― Christopher Greyson, And Then She Was Gone
"Psychology. I cannot express my sympathies strongly enough."
― Christopher Greyson, The Jack Stratton Collection
"He looked off into the distance, detached from"
― Christopher Greyson, Girl Jacked

10 Famous Quotes by Author Christopher Greyson
10 quotes by Christopher Greyson there you go! It's never an easy task picking the best quotations from great writers, so please if you disagree or have more to add, please comment and share your opinions. My 10 greatest Christopher Greyson quotes will likely be different from yours; however, that's the best thing about them, each quote can mean something different to each person. So don't wait, comment and shares your best Christopher Greyson Quote.
One Final Bonus – Christopher Greyson Quote
"One more question." Henry waited until Faith put her finger down before continuing. "Do you ever remember your father wearing a baseball hat?" Like a kid flipping through the pages of a scrapbook, she ran through images of her father in her mind. No baseball cap. But it didn't matter. Faith just wanted to stop seeing the man the world believed killed her sister. Yet the tighter she closed her eyes, the faster the images came. Her father at her horse show, sitting in the stands at Kim's soccer game, his smiling face as he pushed her on the swing . . . Faith pressed her palms against the sides of her head and started screaming. The office door flew open. Dr. Rodgers, Titus, and two men in navy-blue suits rushed into the room. Like a boxer against the ropes, the images rained down on Faith like blows, but she was helpless to stop them. Each one sent her head reeling until she felt like she was falling—tumbling into oblivion, welcoming the darkness and an end to the pain. She felt Titus's strong arms around her, carrying her back to her room."
― Christopher Greyson, The Girl Who Lived