5 of the Most Stylish Accessories for Men
Quality and Elegant Accessories to Suit Any Man
Woman has almost a monopoly on accessories, often leaving guys out in the cold when it comes to adding a bit of style. Sure we have cufflinks and errrrr… Well, you get the point, it's time for men to fight back, add some panache to our clothing, along with a little bit of mix and match, you can be sure you're looking a million dollars when you finally come out of Covid-19 lockdown. Here are 5 of the most stylish accessories for men and if you order them soon, they are sure to arrive before lockdown ends, ensuring when you are back out on the town you won't go unnoticed. Here are my picks for accessories to suit any man.
This post contains some affiliate links. If you click through and make a purchase, I'll earn a commission, at no additional cost to you.
1. Azuro Republic Gold Classic Actaeon
The most gold I have worn in a while is my wedding band; however, Azuro Republic's gold classic Actaeon has certainly opened my eyes to the male accessory market. With a black and white natural stone design along with a central hub of intrinsically crafted gold beads, this bracelet would look good in any situation. Whatever your wearing, whether it is a designer suit for an important meeting or just chilling down the beach singing song's about good times around the campfire it's a value add a conversation piece.
The Azuro Republic's gold classic Actaeon would surely be well received as a uniquely thoughtful and of course, very cool gift. I can imagine if this was gifted to me always remembering who gave it to me and for what reason, as it's such a unique and attractive product that exudes style.
Key Facts Gold Classic Actaeon:
Gem: Sparrow Stone & Howlite Stone
Colour: Quail Green & Milky White
Ornament Material: 3 Microns 24k Gold Plated Beads
Diameter: 8~10 mm
Length: Tailored to size
Weight: 20~35g subject to length
2. Oakley Men's Oo4060 Crosshair Aviator Metal Sunglasses
The Oo4060 Crosshair Aviator is my honest to goodness favourite pair of sunglasses. In terms of men accessorizing, a good pair of sunglasses goes a long way. Sunglasses primarily protect the eyes from the sun, however low quality glass can be counterproductive. With Oakley, you get quality eye protection that looks cool and lasts.
See More: Oakley Men's Oo4060 Crosshair Aviator
For sunglasses it has to be Oakley, they have a range of style to suit all men. However, if you're looking for a gift, the ultimate men's accessory guaranteed to make him smile then grab a pair of these stunning Aviators today.
Key Facts Crosshair Aviator Metal Sunglasses:
Oakley Plutonite Lenses provide 100% UV Protection.
PRIZM Lens Technology designed to enhance colour, contrast and details.
The C-5 alloy frame material, scatter-resistant lenses, and spring hinges withstand drops and falls.
Unobtanium earsocks and nose pads grip your face when perspiring and help provide a secure and custom fit.
Microbag included to clean and store your Oakley sunglasses.
Read More: Ideas for Him
3. Citizen Watches Men's CA0648-09L Eco-Drive
People check the time on average 400 times per day, having an elegant, comfortable and beautifully designed watch makes it all the more pleasurable. The Eco-Drive by Citizen grabs a well deserved third place on our 5 of the Most Stylish Accessories for Men list. For me, the black, red and white along with the bold clock face make this timepiece a must-have accessory.
See More: CA0648-09L Eco-Drive
A treat for yourself, or a gift for your partner this watch represents a gift that keeps on giving, the gift of time. For more information on this classic men's accessory click HERE.
Key Facts CA0648-09L Eco-Drive
44 mm Case Diameter
Date
Japanese-quartz Movement
Water-resistant to 100m (330ft): in general, suitable for swimming and snorkelling, but not diving
Dial: Ivory, Luminous Hands
4. BOSS Crosstown_4 Cc Coin, Men's Wallet, Black
Boss Wallets are a gift that only needs to be given once, as the quality of the product is made to last. Beautifully crafted leather, elegant and distinctive style and a great brand make this accessory essential for any man to have. I have had a BOSS wallet for the last 5 years, and it's still going strong, it was a gift from my mother of all people, but at least she got this one right.
See More: BOSS Crosstown
As a gift then it's hard to go wrong with a quality wallet. The BOSS Crosstown is certain to be well received. If you're looking at levelling up your essential accessories then with a quality product like this you cannot go wrong. See MORE.
Key Facts BOSS Crosstown Men's Wallet:
Brand: Boss
Series: Crosstown
Dimension (L x W x H): 10cm x 9.5cm x 2cm
Wallet Type: men's wallet
Format: landscape
5. Brixton Men's Stout Pork Pie Hat
Fifth place on or 5 of the Most Stylish Accessories for Men is a Brixton hat. They have a very cool vibe, easy on the eye, and certain to raise one of two eyebrows. If you want to define your look and get noticed for the right reasons then Brixton Men's Stout Pork Pie Hat is the go.
See More: Stout Pork Pie Hat
Brixton is a class act when it comes to the hat game, they offer a combination of old classic stying along with a Brixton spin. The Stout Pork Pie Hat comes in a range of colours and offers timeless class find out more HERE.
Key Facts Brixton Men's Stout Pork Pie Hat
100% WOOL FELT
Imported
No Closure closure
Hand Wash
4cm/1 5″ Brim
Folded satin band
Metal Brixton b-shield
5 of the Best Men's Accessories on the Market
So there you have is 5 smart, desirable and classy accessories for men. I have selected some classics like sunglasses and wallets, and some contemporary ideas such as the stunning Azuro Republic's Gold Classic Actaeon. Whoever said men cannot accessorize is clearly mad, let me know your favourite accessory or anything you feel could have been included. Let's all come out of lockdown looking a million dollars. One life, one chance, live the life you want, define yourself.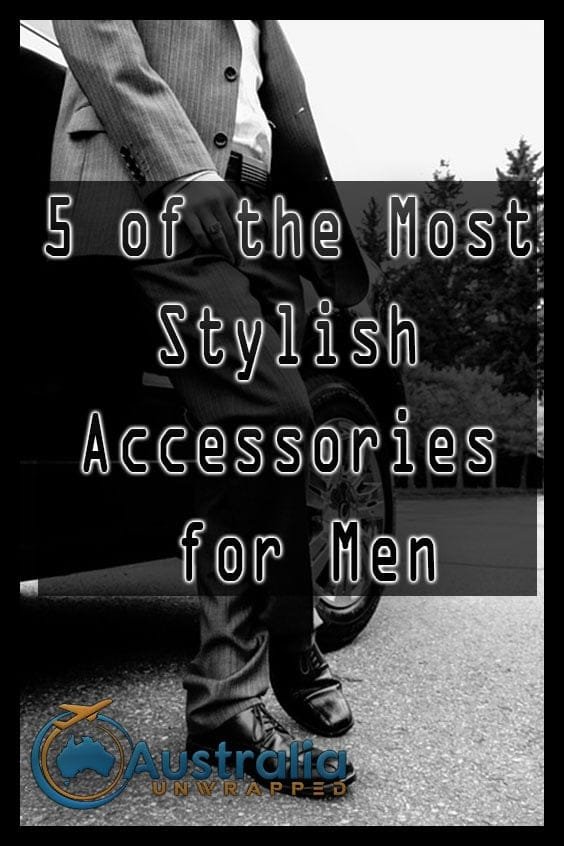 Main Image Source : Pixabay
Also See : Greatest Game TV Shows of All Time – Official Top 10