10 Best Things to do in Darwin, Australia
Situated in the north of the country, Darwin is a state capital of Australia. It is known as the tropical paradise on earth. Due to its tropical climate, it is one of the best tourist destinations. People from Melbourne and Sydney visit Darwin frequently to enjoy an escape from the outside world and enjoy the cool weather of Darwin.
Darwin experiences continuous rainfalls during the monsoon season and its weather stay pleasant in summers. There are plenty of things you can do in Darwin from visiting the historic spots, nature, and gourmands to a thriving and captivating beauty of the city.
As the city is in the extreme north of the country that is why many foreigners are unaware of the wonders which are present in this city. The waterfalls, culture, wildlife, sunsets, drinking, cafes and cuisines, there is so much to explore in Darwin that you will forget about other parts of the country.
Let's learn more about the wonders which are hidden in the beautiful city of Darwin. Its national parks and worth-visiting tourist destinations will make it your most favourite city in Australia. So, let us see what are the top 10 best things to do in Darwin.
1. Visit the Crocodiles
Darwin city centre is famous for its crocodiles. Crocosaurus Cove is one of the largest reptiles displays in the world. Australia is the home of cold-blooded creatures and deadly animals. Similarly, Darwin is famous for the Cage of Death where you will be inside a box and the box will be hanged over a tank full of crocodiles.
https://www.australiaunwrapped.com/2019/08/01/top-5-destinations-all-australians-must-see/
You can also book a crocodile tour and enjoy the site of freshwater crocodiles. Moreover, Darwin is also famous for its national park. You can interact with various wildlife animals like lions, monkeys, tigers, tortoises, lizard, dingoes and snakes.
2. Don't Miss The Coastlines
Darwin is also famous for its coastlines. It is surrounded by warm waters which is full of box jellyfish and crocodiles. If you visit the place, don't forget to take a safety boat as the water can be risky due to the deadly creatures present in it.
Moreover, these coastlines are also full of tropical birds and other inhabitants. You will be mesmerized with the vibrant colours of various bird species present on these coastlines. You can spend a memorable evening watching sunsets on these coastlines. It is going to be a life-long experience.
3. Take the Red Bus tour
Darwin is famous for its red bus which will take you to an extensive tour around the city's famous sites. The city has a rich history which is worth watching. The red bus takes you to a two-hour tour, stopping at various stations. It is an affordable ride if you want to visit the main spots in Darwin. From museums to the scenic beauty of the Timor Sea, the red bus will take you to all the beautiful places.
https://www.australiaunwrapped.com/2015/09/12/top-10-things-to-do-in-darwin-australia/
There is a total of eleven stops which are offered by the red bus service. Thus, it is one of the best things you must try when you visit Darwin.
4. Take a Look at the Botanical Gardens
One of the heavenly spots in Australia is George Brown Darwin Botanical Gardens. These gardens are extended over 100 acres and are only one of the few ones where you will find both estuarine and marine plants. Moreover, the amazing thing is that everything here is natural. From plants to waterfalls and wildlife, these gardens are true examples of beauty and nature.
Darwin's Botanic garden is also famous because they survived two famous wars of history. The World Ware 2 and the famous Cyclone Tracy. To the present day, these gardens are full of tropical orchids, exotic plants, extravagant bromeliads which will leave a lasting impression on you.
The Botanic Gardens are only a 30-minute drive away from the Darwin city centre. Moreover, the gardens are also close to the Mindil beach so you can also take a walk at the beach before you visit the gardens.
5. Try Fishing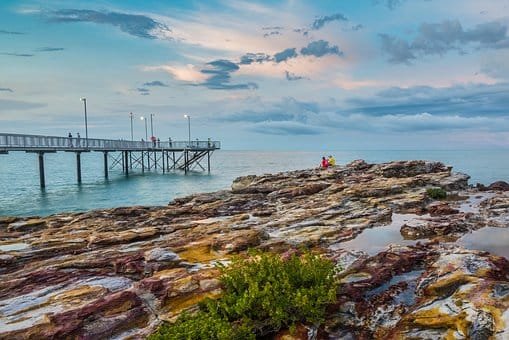 One of the favourite sports in Darwin is fishing. For fishing, you don't even need the complete set of gear like a boat. All you need to take with you is a rod and some lures. Fishing in the vast and peaceful warm waters is a once-in-a-lifetime experience.
In Darwin, you will find many shops who sell fishing gear and equipment. So, you can easily grab a rod and a reel and start your fishing adventure. Moreover, it is also one of the best time times, especially for the weekends.
6. Visit the Art Gallery
Darwin is also full of rich cultural heritage. Standing just near to the city, Darwin has survived some major incidents in the history including World War 2. That is why you will find many amazing art galleries and museums in the city. Moreover, unlike many other tourist spots, these museums and art galleries are entirely free. You can spend as much time here as you want to. One of the famous "The Museum and Art Gallery" is just a 5-minute drive away from the main city. To reach there, you can also take public transport.
7. Learn About the Wartime History
It's really fun to explore the wartime history of Darwin. There are many cruise ships close to the waterfront where you can find World War 2 in their original form. Darwin is well-known for its part in World War 2. It was the time when the city was destroyed and blown up.
Those tunnels, which were used during the war, were built back later on. Their main purpose was fuel storage. You can find these tunnels hidden under a cliff in Darwin.
8. Beat the Heat in Waterparks
Darwin is full of waterparks! As the warm waters of Darwin can be really risky, that's why water parks are there to spend a warm day in the cool water slides. If you have kids with you then water parks the safest destinations where you can enjoy the fun of swimming, cycling, and many other activities.
Moreover, these water slides are gigantic and must not be missed if you visit Darwin. There are also sports spots like basketball courts, skate spots and picnic areas in these waterparks.
9. Skydiving
Skydiving is another fun way to enjoy your trip to Darwin. Although skydiving is a common activity and you can find it anywhere else in the world. However, the mesmerizing view of the tropical city of Darwin, when you are high up the sky is breathtaking and has its charm. Therefore, skydiving is one of the best things to do when you visit Darwin.
Landing at the sparkling-water beach is going to an everlasting feeling for you.
10. Visit the Jumping Croc Cruise
Jumping croc cruise is one of the busiest spots in Darwin. It is a place where you use a riverboat on the Adelaide River. It is a saltwater river which is full of crocodiles. Moreover, these crocodiles are also one of the most dangerous kinds in the world. This boat tour is always accompanied by a guide.
During the tour, the guide hangs raw chicken over the water to attract the crocodiles. You will watch tons of crocodiles jumping out of the water to catch their prey.
It is one of the best chances where you can experience wildlife right in front of your eyes.
https://www.australiaunwrapped.com/2019/07/21/top-10-nature-highlights-in-australia-in-2020/
Also See : Top 10 Things To Do In Darwin Australia